Jane Austen's appearance on the new £10 banknote is strangely appropriate – and not just because 2017 is the bicentenary of her death. Austen's writings display an acute understanding of the importance of money – but less well known is the fact that her daily life, and indeed her career, were marked by a close family connection with the world of banking.
My new book tells the story of her relationship with her favourite brother, Henry, a London financier with a small empire of country banks who acted informally as her literary agent. Several banknotes issued by her brother's partnerships in Petersfield and Alton in Hampshire bear the Austen name. An original "Austen" banknote is currently on display in Jane Austen's House Museum in Alton.
This was a time that saw a revolution in finance as a facet of the 21-year war between Britain and revolutionary France. It included, aptly enough, a vast expansion in the use of banknotes.
Family ties
One often forgotten, but notable influence in Jane's childhood was Eliza de Feuillide. She was a first cousin and a fascinating figure who would become Henry Austen's wife. She brought glamour and an interest in enterprise and money-making. Eliza had received a fortune from her godfather, the director of the East India Company, and married a French aristocrat. When her first husband went to the guillotine, the widowed Eliza encouraged Henry to ditch plans to become a clergyman like his father. Instead, he would launch a career as a London banker.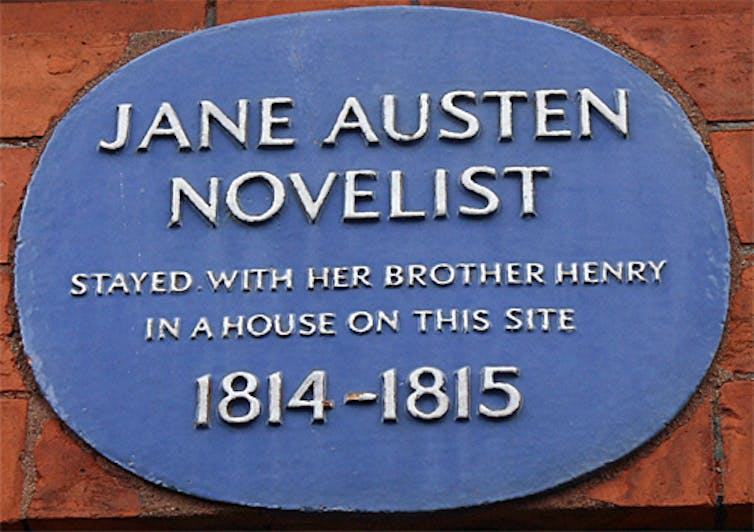 Jane had an avid interest in Henry's business affairs from the start. Optimistically, she hailed his new enterprise with a line in her unpublished novella, Lady Susan:
When a man has once got his name in a banking house he rolls in money.
He did in fact have 15 years of success in finance, weathering some dangerous economic storms, before going bust in a postwar crash and nearly bankrupting the entire family. Jane also lost money but she, like the rest of the family, remained loyal to him. He had supported her efforts to enter the marketplace as a novelist, backed her works financially, helped her to see them through the press, and publicised them among his clientele.
In fact, it was thanks to Henry's connections that she ended up dedicating Emma to the Prince Regent. His client book included many of the top politicians of the period, and I argue that this helps to explain why Whig aristocrats were among the earliest recorded fans of the novels. Ultimately, though, bad loans to some of those clients precipitated Henry's downfall.
The details have to be pieced together. Henry Austen's business failure was an embarrassment to the family and they were determined to brush it under the carpet. There was no reference to it in the 1871 memoir of Jane Austen by her nephew James Edward Austen-Leigh, which first brought the novelist celebrity after her death, and very little of Henry's correspondence has survived.
Jane's sister, Cassandra, destroyed thousands of letters with subject matter considered indelicate. Previous biographies of the novelist refer to the bank business in passing, and tend to downplay its importance. Since the late 1990s, however, some valuable articles have been published in the journal of the Jane Austen Society by independent scholars which present new archival evidence.
Paper profit
My research on bank ledgers, unpublished family papers and visits to locations associated with the Austen family, have offered up some more gems, one of which emphasised again how fitting it is that Jane's image will appear on UK currency.
The one-time Portal paper mill is now a gin distillery for Bombay Sapphire, and my entry price to the historic buildings included a cocktail (downed in the name of research). But back in the early 19th century it was a successful business for a Huguenot refugee called Henry Portal, whose grandsons sometimes did duty as dance partners for the Austen girls. Jane teased Cassandra about Benjamin Portal's "fine eyes". Why is that relevant here? Well, the Portal mill manufactured all the paper for Bank of England notes, and for many other banks across the British Empire, until the late 20th century.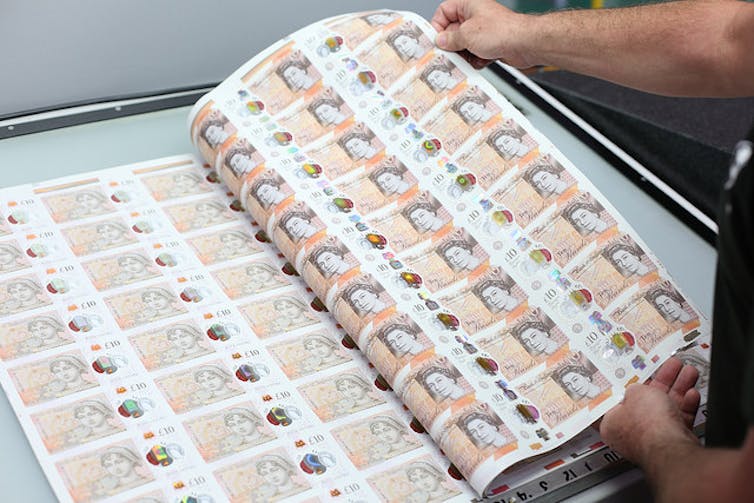 Jane once declared to Cassandra: "I write only for fame, and without any view to pecuniary Emolument." But money was a pressing necessity. The death of her father in 1805 had left his widow and two unmarried daughters in straitened circumstances, reliant on support from her brothers. After receiving the profits from Sense and Sensibility and Pride and Prejudice Jane revelled in the new experience of making money independently: "I have … written myself into £250 – which only makes me long for more."
While Henry dived into risky transactions involving the illicit sale of army commissions or loans to spendthrift aristocrats, Jane Austen's approach to publishing had a similar tone: it was (apart from the sale of the copyright for Pride and Prejudice) speculative and at her own risk. Back then, this was a very unusual practice for a novelist. When she presented a scene featuring the card-game Speculation in Mansfield Park, she was dealing with a phenomenon very close to home. Henry Austen, like his namesake in the novel, Henry Crawford, was:
Preeminent in all the lively turns, quick resources, and playful impudence that could do honour to the game.
Henry Crawford does his best to "sharpen" the "avarice" of Fanny Price, just as Henry Austen encouraged Jane to be more aggressive in negotiations with publishers.
W.H. Auden jokingly confessed that it made him "uncomfortable" to see a respectable old maid:
Reveal so frankly and with such sobriety / The economic basis of society.
In truth, Austen had little choice. She herself advised her niece Anna, an aspiring novelist, "write what you know". Jane Austen understood the opportunities and pitfalls of finance and banking, and the experience taught her to pay close attention to the bottom line.