Type 2 diabetes is often referred to as the ticking time bomb because of its insidious onset and vague symptoms. But if it's managed well, people with diabetes can avoid the complications that usually stem from the disease.
Diabetes is caused by an interaction of genetic susceptibility and lifestyle choices (central weight gain, for instance, and lack of exercise), so it's not surprising that its incidence and prevalence is on the increase.
In Australia, 0.7% of adults reportedly develop diabetes every year. And, between 1989–90 and 2011–12, the prevalence of diabetes in this country more than doubled – from 1.5% to 4.2%.
Diabetes' symptoms are subtle and can include tiredness, minor wounds that won't heal, and thirst that often occurs for a long time before diagnosis. When someone finally goes to their doctor with these symptoms, they can be shocked to find they have the illness.
Still, if the disease is well controlled, by keeping blood pressure, cholesterol, and blood glucose levels low, people with diabetes can live relatively free of its complications (heart disease, stroke, eye disease, kidney disease, circulatory problems, and nerve damage, among others). But controlling it is a demanding, all-day-every-day kind of task.
Education at diagnosis
Once diagnosed with diabetes, people are supposed to be educated about the illness so they can manage it. This is not only a fundamental part of care, it also forms part of the national, and international guidelines for diabetes management.
But this is rarely done well, and many people don't get access to any structured quality education early on. Indeed, a recent national survey indicates 49% of people with diabetes have never been offered structured education about the illness.
People have diabetes for life, so perhaps doctors believe there will be plenty of time for education. But, with short consultations and infrequent appointments, time is never made for comprehensive diabetes education.
Apart from the initial testing regimen, people diagnosed with diabetes need to change their lifestyle to incorporate monitoring and treatment, and manage any complications. Diets need to be changed and more exercise introduced to keep blood pressure, cholesterol levels and blood glucose levels down.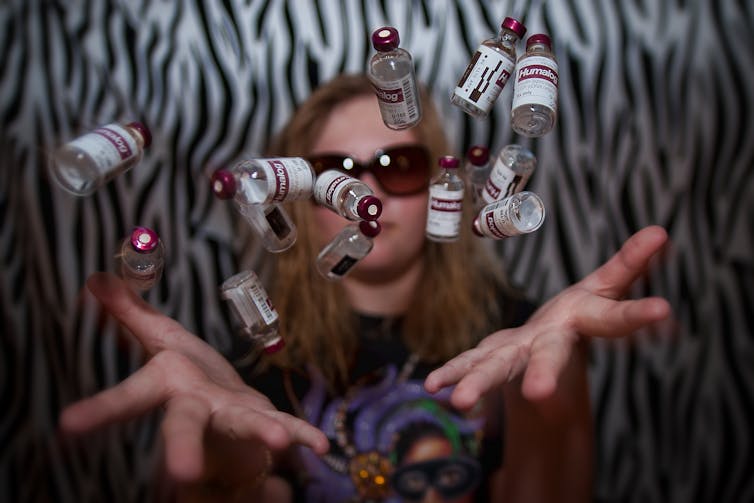 Good, structured self-management education at diagnosis helps people understand all this, and fosters better long-term outcomes. When blood pressure, cholesterol and blood sugars are not kept within the optimal range, people with type 2 diabetes are at risk of developing debilitating complications, such as deteriorating vision due to retinopathy, and the loss of sensation in their extremities, which can lead to foot ulcers and amputation.
Avoiding distress
Recent research shows that if you don't educate people about diabetes well at diagnosis, they continue to hold a range of misconceptions about the illness for some time.
Probably the most important issue is that people believe diabetes will have a large impact on their day-to-day life. And that following treatment advice will result in a reduction in the quality of their life. But this doesn't have to be the case. Small changes in diet and activity, and taking prescribed medication together make a substantial difference.
There's strong evidence showing beliefs that form around the time of diagnosis are good predictors of diabetes distress three years later. Notably, it's not the perceived seriousness, or the duration of diabetes that predicts such distress; it's the illness' perceived impact on life.
Severe diabetes distress is experienced by approximately one in five Australian adults with type 2 diabetes, and it's associated with poor self-management of the illness.
Structured education for those newly diagnosed with diabetes has been shown to benefit people for up to three years after diagnosis. It helps learn skills and gain confidence in being able to manage the illness over their lifetime. But what happens in the first three months after diagnosis sets the course of the disease.
More and more Australians are expected to develop type 2 diabetes in coming years. Of course, prevention is the best answer but, for people who do develop the illness, high-quality education at the point of diabetes diagnosis is vital.