Jeremy Corbyn's unexpected victory in the party leadership contest last year moved Labour to the left, and the rejection of austerity that came with it has helped to stop the "Tory-lite" and "they're all the same" accusations being levelled at the party.
But now that former shadow business secretary Angela Eagle has triggered a leadership contest (before stepping aside for Owen Smith), Labour members have to consider whether somebody else should carry its new leftist banner.
As leader, Corbyn has successfully challenged the Tories' austerity narrative, overseen a dramatic growth in party membership and changed Labour's outlook. The party's leftward shift means that this year's leadership contest is being fought by two socialist candidates, albeit of different shades of red. The end of the New Labour era is upon us.
The incumbant
Early indications are that the incumbent leader Jeremy Corbyn, MP for Islington North since 1983, starts in the strongest position. His promise to deliver a "new kind of politics" is being credited for the huge increase in party membership.
He is maintaining his position on the key issues, believing that members who voted overwhelmingly for him last time expect the party to continue to fight for the "things that matter": rejecting austerity, battling poverty and protecting the NHS.
And as the Chilcot report hangs heavily over some in the party, Corbyn's principled opposition to the Iraq war may feature in foreign policy debates.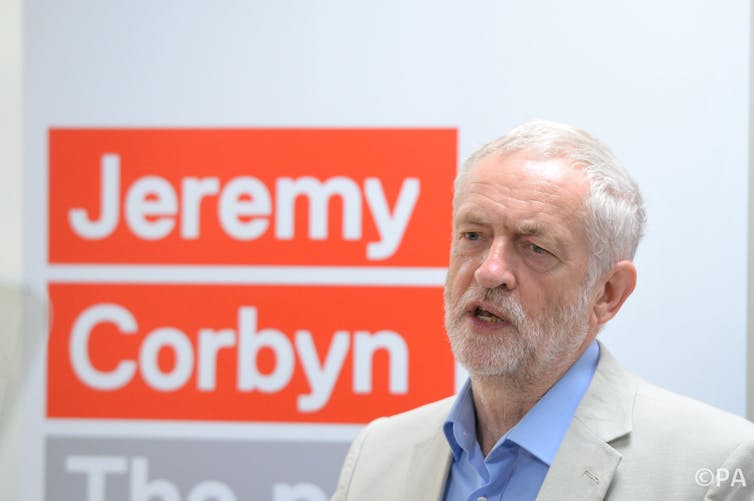 Corbyn won significant support last year and appears to still have the backing of the membership and trade unions, although there is some suggestion that this may be changing.
However, losing the support of the parliamentary party remains a significant problem and he still has work to do to convince the wider electorate.
The challenger
Owen Smith is less well known than Corbyn. He has only been MP for Pontypridd for six years. This opens him up to the charge of not having the necessary experience to be leader. However, David Cameron had less parliamentary experience before he became Tory leader.
His relative newness could even be an advantage. Smith can portray himself as the "change" candidate who will move Labour on from the past as he is untainted by the Iraq War and was not in parliament during the Tony Blair and Gordon Brown years.
Smith was Corbyn's shadow work and pensions secretary, voted for increasing welfare payments and against the bedroom tax. And his campaign has put tackling inequality at the heart of Labour's programme.
His past role as head of policy for a drugs company and his vote to renew nuclear weapons system Trident will not play well with left-wingers. His experience outside parliament, however, could be an advantage with an electorate that has grown sceptical of MPs who have only ever been part of the "Westminster bubble". Smith won the support of 90 Labour MPs to stand in this contest, even when Eagle was still in the running, but as yet party members aren't convinced.
The issues
Both Corbyn and Smith agree that fighting inequality must be central to Labour policy, and both are against the Tories' austerity policies. Smith wants a £200 billion new deal to build social infrastructure, such as hospitals and education facilities.
Corbyn, meanwhile, has made fighting austerity an integral part of his leadership. He has forced the government into u-turns over aspects of welfare policy.
One of the main differences between the two candidates at this point is their approach to Brexit. Corbyn has been widely criticised for not committing to the Remain campaign ahead of the referendum and, the day after the vote, called for Article 50 to be immediately invoked, so that negotiations on leaving the EU could begin.
Smith, on the other hand, has promised to hold a referendum on Brexit negotiations, arguing that many people feel they made a mistake in voting to leave and should be given another chance to decide if they want to go ahead with leaving after seeing the terms on offer for Britain's future relationship with the union.
The big question
A broader philosophical question also needs answering: what's the point of the Labour Party? Careful consideration of this could allow Labour to move on from some of its more divisive issues. If members decide that it is to effect change – radical or gradual – from the top down when in government, then Smith will win. If they believe that building a mass movement which stays true to its principles at all costs is just as important, then Corbyn will continue as leader.
Members must now decide who is best placed to unite the parliamentary party and the wider Labour movement. They must also consider who will appeal most to non-Labour voters. In short, which of the candidates looks most like a potential Prime Minister to the wider electorate?
Both Corbyn and Smith now have an opportunity to show that Labour has a coherent vision for the party and the country. This will need to capture the imagination of supporters as well as non-Labour voters if the party is to return to power. They must make Labour's identity clear, demonstrate what it believes in and what it is for, and ultimately prove that the Labour Party still matters.