How ironic that Scottish Labour won the referendum battle but is tearing itself apart. Following Johann Lamont's incredible resignation comments about the party being treated like a "branch office" to the London HQ, the headlines seem to keep getting worse. Around 200 demonstrators came to vent their anger outside the hotel in Glasgow where Labour leader Ed Miliband was holding a fundraising dinner on Thursday October 30.
Meanwhile two polls found that Labour was on course for a rout in Scotland at next year's general election – one predicted that Labour's representation in Scotland would sink from 40 MPs to just six. On these numbers, the Scottish National Party (SNP) would surge from four to 54, in what would be one of the biggest reversals in election history. Needless to say, that would make a huge difference to Miliband's chances of winning the general election.
Deeper problems than leadership
Scottish Labour is at a genuine crossroads. The three-way fight between Jim Murphy, Sarah Boyack and Neil Findlay might well represent a choice between three different futures. Yet to focus on the three personalities masks the underlying issues facing the party. It may have lacked strong leadership post-devolution, but that is at least partially explained by a constitution that keeps power highly centralised and has made it difficult for the party to have a convincing strategic direction north of the border.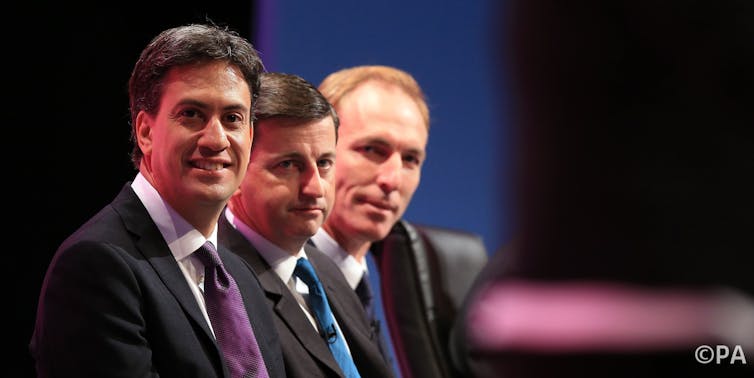 Complacency can take much of the blame. For almost half a century prior to 2007, Labour won every national election in Scotland. It was the institutionalised, hegemonic machine-like party, dominating both representation and also political debate. Its dominance was such that its networks of influence extended beyond politics to economic, cultural and civic Scotland.
Even before Lamont's remarks, Labour was already facing major difficulties. It was in danger of being deserted by many of its former supporters, who had decided in favour of independence and dubbed the party "red Tories" for sharing a platform with the Conservatives. And long before the referendum, the last two Scottish election studies had highlighted that the party seen as "standing up for Scotland" benefits at the polls. It is very difficult for Scottish Labour to be seen as most attuned to Scotland's interests if the public perceive the UK leadership to be exerting a controlling influence over it.
Internal and external threats
If the party is to have any chance of winning back the voters it has lost, it must address two fundamentals. It needs an appropriate party constitution that reflects the reality of the UK's existing and developing constitutional structure and Scotland's place in it. It also needs a strategy within Scotland to deal with the expanding, growing and governing SNP (I'm still not sure some in the party have come to terms with the SNP government).
You can draw an analogy with Rangers, the Glasgow football club. It went through a period of administration, liquidation and "resurrection" that has culminated in a revolving door of rather dubious chairmen, board members, chief executives and "investors" in the new club. The writer Alex Massie has noted that both institutions and their followers have the same delusions of grandeur. Scottish Labour's leadership is not quite as chaotic as that of Rangers – but the party is now choosing its seventh different leader since 1999. And since 2007 it has been stumbling along without much sense of purpose and direction.
Put simply, the party that delivered home rule in 1999 has since struggled to adjust to its reality. The Scottish party has looked conservative in relation to policy-making, while time and again the party has looked London-centric. Long before the SNP became an electoral force, London stalwart Brian Wilson was heard to put down the attempts of then first minister Henry McLeish to talk of a Scottish government by suggesting: "They can call themselves the White Heather Club if they like, but not government." Meanwhile McLeish was caught referring to Labour Westminster cabinet minister John Reid as a "patronising bastard".
Other unionist parties adjusted with greater ease. The Liberal Democrats had a pre-existing federal constitutional structure and the Conservatives have willingly devolved increased autonomy to their party in Scotland. The Labour Party's reforms have not yet resolved the Holyrood-Westminster tension – the pre-1999 structure was only marginally adjusted by the Murphy/Boyack review in 2011.
The next Scottish Labour leader will have to be willing to tell Westminster members of the "Labour family" to ditch the patronising tone and, more importantly, allow those at Holyrood the space to do their own thing – Jim Murphy has been making these noises to the media, but it will take more than words. To do this, the party's constitution will need to enshrine much more Scottish autonomy. Only then will Scottish Labour develop the confidence and assertiveness to compete with the Scottish National Party on an even playing field.
Radical Jim?
In the weeks leading up the unveiling of the new leader on December 13, each candidate (as well as those for deputy) will be reaching out to the party's membership, parliamentarians and union affiliates, each of which has one-third of the electoral college. They desperately need to see a debate that will ignite creative thinking about the party's purpose and where it is going in Scotland. The party must take a radical new direction if it is to re-energise the rank and file and re-connect with voters.
It needs to match the expanding autonomy of the Scottish government with a concurrent expansion of Scottish Labour's right to determine its own policies. And instead of just paying lip-service to the old Labour ideal of "social justice" during the campaign, which will inevitably happen, the candidates must elaborate on what it actually means and how it will inform the future shape and direction of the party in Scotland.
Devolution in Scotland is 15 years old. It is time for the UK Labour leadership to let the Scottish party come of age and do its own thing. The unitary nature of the party's constitution does not reflect the reality of devolution. If the party does not address this problem, it is in serious danger of permanently losing its Scottish heartlands to the SNP. It has already lost its "party of Scotland" label. If it doesn't change, in 2015 the losses will be reflected in Westminster as well as Holyrood.