Football video games make it possible to take on the role of one's heroes. But this is generally possible only if your football heroes are male. FIFA's Women's World Cup may start in Canada on June 6 but women have until very recently remained absent from leading football video games.
It was recently announced that EA Sports' FIFA 16 game is to include women's teams. Football Manager, another popular football video game, does not yet feature women but there are plans to include women's teams in future editions. But don't let this seeming progression fool you into thinking that the scales are being balanced. This is far from the case.
The 12 women's teams present in EA Sports' FIFA 16 game will include Brazil, England, France and Australia. However, current world champions Japan and former winners Norway will be absent. It's worth remembering that there were more than 600 men's teams in FIFA 15.
And Football Manager's apparent plans fall behind even this. The game's creator, Miles Jacobson, said last year that women's leagues will be included when there are ten of them globally with comparable average attendances to the English Championship.
This may sound progressive, but it isn't. Football Manager is actually setting the bar quite high when it comes to including women's teams. The Championship may be English football's second tier but it attracts larger crowds than the top divisions in most European countries.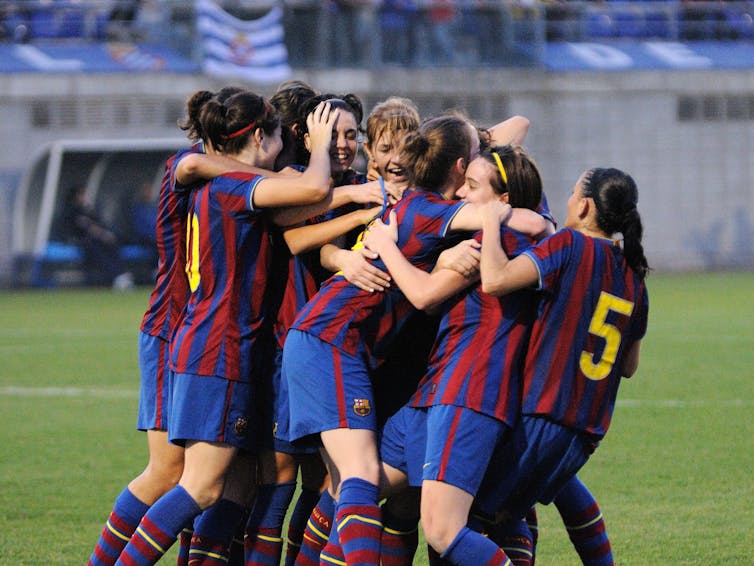 The creators of Football Manager would do well to take a closer look at attendances in top division men's leagues. The average attendance in the US National Women's Soccer League (NWSL) last year was more than 4,000. This means that the NWSL attracts bigger crowds than the majority of top division men's leagues in Europe.
Football Manager's creators argue that it is not commercially viable to include women's leagues, but how commercially viable are certain men's leagues that are included? What about the second tier of Icelandic or Slovenian football? What about the third tier in Northern Ireland?
Including women's teams in games such as Football Manager could make them more appealing to women. This very point has been made by gaming expert Mia Consalvo in a recent edited volume entitled Sports Videogames. So: continuing to exclude women's teams from Football Manager could actually be a commercial own goal.
When I manage my local team Bangor City in Football Manager, they play pre-season friendlies against teams such as Mynydd Llandygai and Bangor University. Mynydd Llandygai is a village side whose players include a former next door neighbour. Bangor University's football team has previously included students I teach.
So I can currently manage a team in Football Manager in a match against my own students but I can't manage teams featuring the world's leading female players. Football Manager has the set bar very high when it comes to what women's leagues need to achieve before becoming part of the game. Unless they move the goal posts, there's likely to be a long wait before this changes.