After holding itself together for four-and-a-half months, potentially fatal cracks are appearing in the Palmer United Party (PUP). With fellow senators claiming that she refuses to attend party meetings and PUP leader Clive Palmer accusing her of being a liar, Jacqui Lambie was "demoted" on Wednesday morning from her position within the party. No longer will her yellow scarf be seen in the PUP party room, nor will she act as its deputy whip or deputy Senate leader.
Cynical Australians might consider it a miracle that the group lasted this long. Apart from Palmer's financial resources, PUP was embryonic and amateur when it entered parliament. At times this has been a refreshing experiment – in an age of professional politicians, new voices were being heard, warts, bikini lines and all.
From its inception, PUP was designed to be different from existing ones. At least that's how it advertised itself. Unveiling PUP on ABC's Q&A in May 2013, Palmer claimed that "the whole place is a bit corrupt" and that "Julia Gillard and Tony Abbott really [are] the same thing". The party was founded on this combination of anti-politics and mining profits.
In an era of popular ambivalence towards democracy, this message may have been enough to get PUP elected. It doesn't necessarily help it stay together.
Shared ideals keep a party going
As frustrating as major parties can be, they haven't survived so long by mere luck. Their shared ideas, their social bases, their organisational infrastructure – each was forged through dispute and debate, and each is essential to understanding their longevity. PUP politicians certainly have ideas, but they're not necessarily shared ones.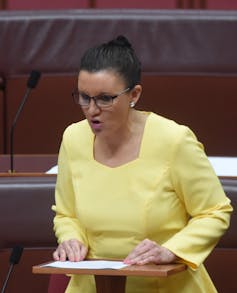 In each of their maiden speeches, PUP politicians expressed a different reason for entering politics. Lambie prioritised the economic plight of Tasmania, and Australia's veterans. Dio Wang talked about the lessons of Chinese history and the importance of economic incentives. Glenn Lazarus emphasised his rugby league career and what that taught him about life in Australia.
Each view is potentially useful, but there's little to suggest they're united in some fundamental way. Their main connection was a general disillusionment with existing parties. They did have a shared belief that politics needed a kick up the arse, an injection of common sense from outside the political bubble.
In contrast, more stable minor parties tend to possess a clearer philosophical compass. No-one would accuse the Greens of lacking a sense of purpose. The group of Australians who support vigorous environmentalism, social liberalism and refugee rights know exactly what they're voting for.
So too the Nationals. Each MP clearly believes that rural Australia is vital to the nation's prosperity and that the state should allocate its resources accordingly.
PUP suffers from the Democrats' dilemma
Though the analogy might seem odd, PUP's closest recent comparison is the Australian Democrats. Because the party prioritised internal democracy and executive accountability – "keeping the bastards honest" – it lacked a solid foundation in ideas. This became a problem when the Democrats were confronted by difficult and divisive decisions, as was the case with the introduction of the GST.
Ideas, however, are not enough. Parties also need a social base – a group of people, united by a set of interests, who look to the party for representation.
PUP's problem is that it's not at all clear what their base looks like. The party didn't originate out of a social movement or an organic groundswell of local support. It began as a one-man revolt against Palmer's former political home, Queensland's Liberal National Party, and, as things grew, the state of politics itself.
While social bases are in constant flux, established minor parties correspond with certain groups of Australians. Since the early 2000s, the Greens have successfully chipped off a certain segment of the Labor vote. The inner-city cliche contains some truth – a decent percentage of young, educated, non-religious voters in knowledge industries now identify with the party.
The Nationals base is even more evident. A quick look at the seats they won in 2013 shows that they still hold a solid if diminishing sway over rural Australia.
PUP's dilemma is akin to the chicken and egg. Without a social base, it lacks a conception of what it represents. But without a clear idea of what PUP represents, it's unlikely that a group of voters will see themselves as its natural supporters.
Is there also a class divide?
Interestingly, when Lambie split with PUP over financial advice laws, she did so on vague class lines with ex-ally Ricky Muir. Neither of them was wealthy before entering the Senate. While this partnership may or may not last, it hints at some of the deeper social reasons behind the party's internal divisions.
Most commentary surrounding PUP has assumed it will eventually collapse in a heap – mostly due to the quality of its representatives. Clive's a charlatan, they argue. Glenn's copped too many head-high tackles. Jacqui's too uncouth to serve in the house of review.
These pot-shots are largely shallow and, at their worst, prejudiced and mean. PUP's real problem is that, launched by anti-political rage, the caucus is now made up of people with different ideas and experiences.
Sticky tape and chewing gum can only do so much. This ship was always on the verge of falling apart.