Heavyweight boxer Tyson Fury has voluntarily vacated his WBO, WBA and IBO world titles, citing mental health problems that have left him "medically unfit" to compete. Fury's mind has been elsewhere of late.
The controversial boxer relinquished the belts he claimed less than a year ago by ending Wladimir Klitchsko's nine-year reign as champion. Since then Fury has pulled out of two rematches with the Ukrainian. Now the British Boxing Board of Control has suspended Fury's licence "pending further investigation into anti-doping and medical issues". This was partly in response to an interview Fury gave to Rolling Stone magazine in which he admitted taking cocaine and revealed he was a manic depressive with mental health issues.
Throw in a further UK Anti-doping investigation into alleged use of a banned substance and life is anything but simple for this most complex of characters.
Reporting mental illness
So how should a story like this be reported? On the one hand, much of the negative publicity since Fury became undisputed world heavyweight champion in Dusseldorf last November has been of his own making. Boxing promoter Kellie Maloney criticised Fury in recent weeks for his "insults to human life". But Fury's mental health issues also mean that, as another promoter Frank Warren put it, he is prone to a "self-destruct button". Warren urged the boxer to stop "putting himself in trouble", particularly via Twitter where Fury often arguably plays out his angst.
Indeed, Fury's team claimed a media "witch hunt" and "lack of respect" was the catalyst for the boxer's latest episode of a longstanding form of bi-polar disorder. But, as the extent of Fury's mental health issues became more apparent, many reporters adopted a supportive tone.
For Paul Farmer, chief executive of mental health charity MIND, the groundswell of attention has been helpful: "It is always significant when someone in the public eye opens up about their mental health problems," read a statement responding to a sharp increase in media enquiries to the mental health charity as word of Fury's plight spread.
It added: "For too long there has been shame and secrecy around mental health so when we see it discussed openly in the media it helps to change the way we all think and act around mental health problems."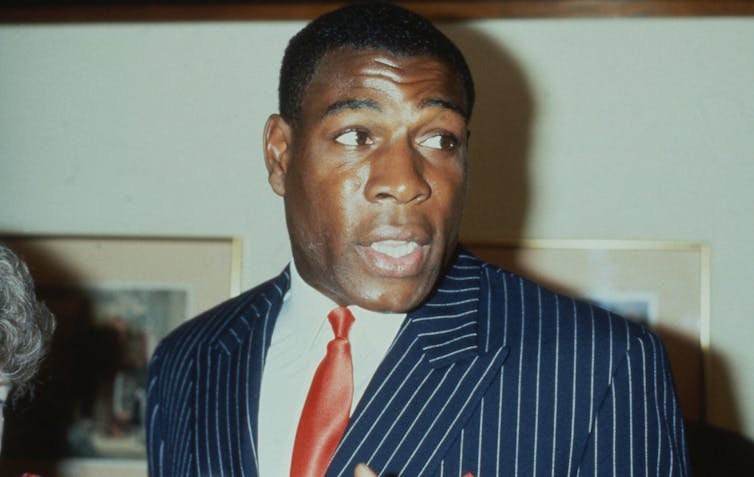 Lessons were learned when in 2003 The Sun responded to public outrage to re-design its ill-judged "Bonkers Bruno Locked Up" splash for a more compassionate late-edition headline "Sad Bruno in Mental Health Home" when former world champion boxer Frank Bruno was admitted to a psychiatric hospital.
It was something of a watershed moment for reporting on mental health, as suggested by consultant psychiatrist Raj Persaud at the time. Writing in the British Medical Journal, Persaud recognised how mental health group SANE helped change the Sun's reporting style, even joining forces with the newspaper to campaign to raise funds for mental health. Bruno's case meant reporting mental health became more sensitive but, for Persaud, it was still far from perfect.
In 2016, it was The Sun that again felt the backlash of public distaste by publishing alarming pictures of a clearly unwell Paul Gascoigne exposing himself as he clambered out of a taxi. Indeed, the sad plight of the former footballer appears to be fair game to a few in the media.
The coverage of Gascoigne clearly raises issues about privacy versus public interest. And it's clear that pictures as well as words are important in how stories should be approached in a sensitive way. Campaign group Time to Change offer useful advice for those reporting on mental health: "The images that are used in stories can be just as damaging as the words or the headlines."
We don't have to look far to see where this can be applied to Fury in recent weeks. However, looking at the Independent Press Standards Organisation's code of practice with reference to its first clause – which says the press must avoid prejudicial or prejorative reference to an individual's mental illness – it appears that due care and attention was largely applied in much of the mainstream media's most recent Fury coverage.
Space to recover
Of course, it is nigh on impossible to legislate for social media where, in particular, Twitter is awash with doubts about the credibility of Fury's mental illness claims. But as fellow professional heavyweight David Allen pointed out: "It's just not the type of thing a person would make up."
Allen should know. He also took an enforced sabbatical from boxing due to his own battle with depression and he has urged Fury to do the same, calling on critics to "leave him alone" while he does.
As you would expect, Fury has the full backing of his promotion stable Hennessy Sports which said that fully focusing on his medical treatment and recovery "will also allow him the time and space to fully recover from his present condition without any undue pressure and with the expert medical attention he requires and his close family support".
The next test for the news and sports media is whether he is granted that space to recover in peace. For that to happen, Fury must also play his part and avoid courting further controversy.