Students did not hold as much sway in the 2015 UK general election as was predicted, according to a new report from the Higher Education Policy Institute (HEPI) think tank. It argues that while the student vote was still important, it was swallowed up by wider national swings – towards the Conservatives and away from the Liberal Democrats.
While changes to the electoral registration for students did not have as negative an impact as some feared on voter turnout, HEPI warns that there are still challenges ahead for campaigners looking to get young people to vote in the upcoming EU referendum and the London mayoral race.
HEPI found that of 14 constituencies it had predicted would be affected by the student vote, eight changed hands. For example, Kingston & Surbiton went from Liberal Democrat to Conservative, and Cambridge and Bristol West went Liberal Democrat to Labour. But the student effect didn't always have an impact on results. Nicky Morgan, the Conservative education minister was seen as vulnerable in her Loughborough seat, but actually won with a 7.9% increase in the vote share.
Pro EU? Plan your action now
According to Eurostat, the UK is home to around 2.5m students in tertiary education, more than any other EU country except Germany. Our students are numerous and far more likely to support EU membership than older age groups. The EU has done a particularly good job winning over students with programmes such as Erasmus, to the extent that one UKIP campaigner called young people a timebomb for Eurosceptics.
If the student bomb doesn't go off, it is likely to be because of low registration and low turnout. For Eurosceptics, young people staying home is good news. If you want out of the EU, the message is simple: your best strategy is to hope for a referendum held during the holidays, preferably after a major sporting fixture, and for student registration to stay as low as possible.
For the "in" camp, students must be targeted and must be targeted now. Perhaps counter-intuitively, it would be a good strategy not to campaign for young votes with young issues. HEPI is correct to point out that young people want the same things everyone else does: a job with a reliable wage to live on, an affordable home, happiness and an equal opportunity.
The pro-EU camp should argue that the EU is a source of economic opportunity after students graduate. They should keep the vote simple. The referendum will, after all, be a well-publicised, clear yes/no choice, less mediated by the political elites young people distrust - it is a vote on a decision, not a vote for a politician.
They must also help students get registered. The rules on electoral registration do not suit students, who move house frequently, and who – until recent changes – could be registered by their university or college. Before the 2015 election the fear that students would fall off the register was well publicised and HEPI identified a surge in last minute registrations, thanks in part to active Students Unions, the Election Commission, and pressure groups like Bite the Ballot.
If you're pro-EU, plan now for registration drives. Don't be put off by low registration: many students will register at the last minute, so push right up to the deadline. It will be especially interesting to see if the major graduate employers who support EU membership are ready to put effort into mobilising students to vote.
Students and the London mayoral election
According to HESA, about 360,000, or 4% of the population of London, are students, and the message for supporters of any candidate in the election must be clear: plan now for how you will drive for student registration, right up until election day on May 5.
HEPI's pre-2015 election analysis indicated that students would swing constituencies, towards Labour or (in Brighton) towards the Greens. But although HEPI considered there was enough red among students to keep the Conservative majority down, they were struck – as many pollsters were – by the ability of the Conservative Party to win in the face of stiff predicted opposition. As for the Liberal Democrats, the party that celebrated a smashing victory among the young in 2010 was left for dead in 2015, falling behind the Greens, UKIP and the SNP among 18-to-24-year-olds.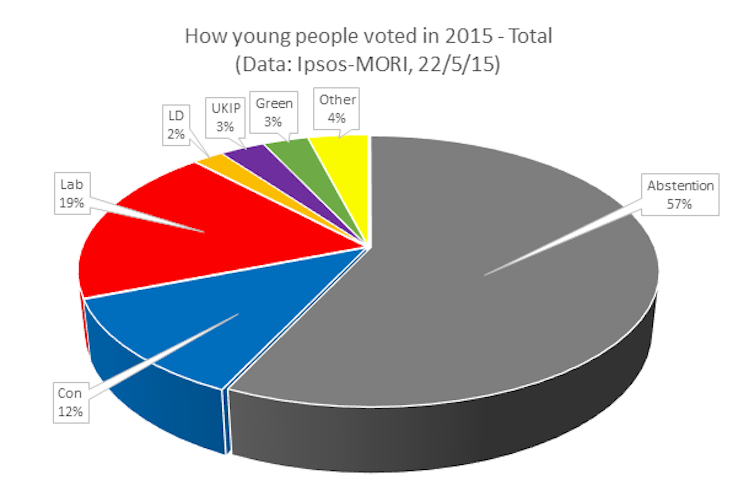 All candidates must realise that students, like young people generally, are disillusioned with public policy. Young people were the worst hit by the recession, and they have borne the brunt of cuts in spending, from the hike in tuition fees to the denial of housing benefit to young people. Students have suffered the same double whammy, but as HEPI indicates, they are focused on their transition to employment and to stable, independent adulthood.
This means candidates who want to court the student vote would be well advised to campaign on affordable housing and stable, well-paid work. Young people are three times more likely to work on a zero hours contract and their income fell further than any other age group during the recession.
The mayoral race has already featured running battles on affordable housing and this will pique the interest of students. NHS funding and improved mental healthcare provision are also both potential votewinners among the young.
For both polls – the EU referendum and the London mayoral race – the message is clear. Students are a potentially powerful voting bloc, but campaigners need to make sure they are registered, and campaign on economic issues. That's the golden ticket.