As the Liberal Democrats descend on Glasgow for their party conference their attention is firmly focused on the forthcoming general election. With an average polling of just 11% and forecasts predicting a loss of 34 seats the party are meeting to develop a manifesto capable of winning back the levels of support experienced in 2010 (when the party received 23.5% of the vote and 57 seats).
Yet, they face an array of challenges, which can be neatly summarised by two events in the run up to party conference.
First, on Sunday, a week before the conference, the prominent MP and former children's minister Sarah Teather announced she would stepping down as an MP in 2015. Her announcement lacked the venom of many political resignations – describing Nick Clegg as a "nice bloke" - but it gave voice to the concerns of many Liberal Democrat supporters.
In her Observer interview Teather reflected: "When I joined the party I had this really strong instinct that it was the party of social justice and liberalism. It was the only party that operated in that space." But now, she reflected, the party seems to have become more concerned with "the reactive pursuit of the latest poll irrespective of what is right and wrong".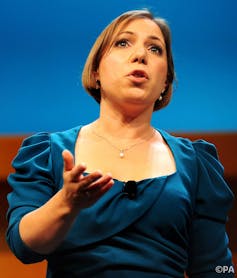 These words echo the views of numerous supporters. According to one poll 79% of Lib Dem supporters have defected since 2010 and many have cited the party's betrayal of its values as their reason for leaving. Indeed, in ideological terms the party is widely seen to have shifted from being a left-of-centre to a centrist party.
U-turns have hurt
These perceptions have been fuelled by high-profile u-turns on issues such as tuition fees, VAT and nuclear power. Such changes raise questions about what the party stands for and whether it can be trusted, questions which the party needs to address if it is to win back trust and regain lost support.
The second indicative event came in the form of Vince Cable's speech to a joint Government/CBI industrial strategy conference where he indicated his disquiet at George Osborne's economic strategy. In his speech the business secretary stated "We can't rest on our laurels. The kind of growth we want won't simply emerge of its own volition. In fact, I see a number of dangers. One is complacency, generated by a few quarters of good economic data".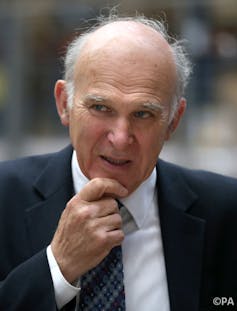 These comments were widely seen as an attempt to present a distinctive Lib Dem position on the economy which rejected many of the measures currently being utilised by the Chancellor to stimulate economic growth.
Developing such positions and outlining the party's achievements in government is a key challenge for the Lib Dems if they are to win back support as even those planning to vote for the party struggle to name any policy achievements.
While the party leadership promote changes to the tax threshold, the pupil premium and green investment bank as evidence of success, 74% of those who voted for the party in 2010 (but have since defected) believe that the party has had little or no influence on government decisions.
In contrast Conservative-led policy changes in health, education and welfare are readily apparent. Cable's tentative attempt to set out a distinctive position for the Lib Dems indicates that the party still has some way to go in developing and articulating a unique identity likely to appeal to voters at the next election.
Unclear message
It is these challenges – how to reconcile the party's identity pre-2010 with subsequent positions, and how to make a distinctive offer to the electorate in 2015 - that the party must address in Glasgow. Both tasks are vital for persuading the public to vote Liberal Democrat, but are by no means easy to address.
With the party divided between social and economic liberals, debates on nuclear power, the economy, tuition fees, green policy and taxation are unlikely to yield unanimous responses, resulting in internal division which may hinder the party's ability to project a clear and consistent message in the run up to 2015.
Resolving these difficulties is, however, vital as whilst many members have been comforted by the by-election result in Eastleigh, the network of local activists and councillors which delivered victory in that constituency is not in place across the country. Indeed, party membership has fallen by 35% to just 42,501, depriving the Liberal Democrats of the foot soldiers who were so crucial to the Eastleigh victory.
These concerns have led for calls from some quarters for a change of leadership, but there is little sign that the electorate or party will eject Nick Clegg from his current post. With Tim Farron's 12,264 majority recently described as "nuclear-proof", Clegg's 15,284 majority is positively insurmountable, and there appears little appetite amongst MPs for a leadership contest.
While the leader will almost certainly survive into the next parliament it seems likely that his party will suffer significant losses unless the conference in Glasgow can begin develop a distinctive and consistent platform of policies on which to fight the next election.