Sexual harassment, exploitation or abuse – some of which reportedly occurred at Oxfam in Haiti and has involved staff at other aid agencies elsewhere – is never excusable. But the backdrop in which these sorts of acts occur is key to understanding the misconduct of some aid workers.
My experiences at a refugee camp in Kenya – where I travelled in 2016 to research stress and burnout among aid workers – provides some helpful insights. The camp is regarded by aid agencies as a "non-family duty station". These are areas deemed too unsafe or inhospitable for staff to bring their partners or families. Aid workers there were therefore living there on their own, despite – in the case of the Kenyans I met – some being married with children.
Those with families living elsewhere could only travel to see them during the rest and recuperation period of about a week which happens every couple of months and is common in most humanitarian operations.
Most aid workers spend the majority of their time in the secure and gated compounds that border the refugee camp, residing in small air-conditioned prefabs or shabby guesthouse rooms. During working hours, if they are not in the camp, they are in their office on the compound, usually located within metres of their sleeping quarters. An aid worker's social life is usually largely confined to this compound. Interaction with the local or refugee population is restricted to working hours and there are rules and regulations that discourage any type of friendship or relationship beyond providing aid and assistance.
This type of arrangement has its benefits and disadvantages. There is a sense of collegiality and mutual support among aid agency staff – although I also found Kenyans and expatriates often socialised separately. Friendships between aid workers develop quickly and are intense, driven by shared, exhilarating and at times dangerous experiences that transcend their more ordinary life back home. While the realities of the refugee camp itself may be harsh and upsetting to witness, the humanitarian compound provides a safe haven to escape to at the end of the day. It is a site for both work and play.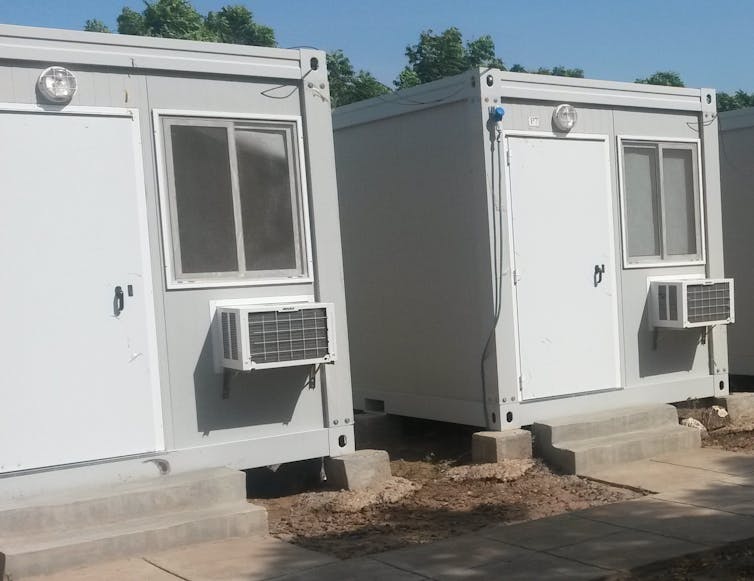 Cut off from normal life
The policies and culture of aid agencies mean that close working relationships and immersion in the humanitarian mission often come at the expense of a normal private life. The ability to find, or maintain, a long-term relationship was a challenge acknowledged by several Kenyan and international aid workers I spoke to. One aid worker, from another African country, told me:
When you come to a place like (this) you have been removed from your place, your normal life, where you had a life and probably where a relationship would have developed because that is where you know people, you have friends … I don't deny that you could meet someone here. But in a way this never feels like home, for you to build something.
These emergency situations, where humanitarian workers are brought together under unusual and immensely challenging conditions, at times create a culture where anything goes – and the norms and etiquette found back home no longer apply. Some of my informants referred to prostitutes being used by aid agency staff. And they also mentioned the affairs they witnessed among colleagues.
A female Kenyan aid worker described it to me:
Here, people do … it's said in kiSwahili, 'helping one another'. There's nowhere we are going, but just for that comfort, for that companionship. But when you're out of this place, at the airport, we don't know one another.
A Kenyan man told me that he'd seen many marriages break up due to colleagues having affairs. He believed that some aid workers see the compound lifestyle as an opportunity to "indulge" in "excesses", including all-night partying and drinking, even when they are expected at work the next day.
Power imbalance
There is little opportunity for aid workers to engage with the local population in a way that goes beyond a client-provider relationship. As the reports of the Oxfam case and others show, this runs the risk of an existing power imbalance being manipulated to fulfil the whims and desires of the aid giver. In such a context, the victim or survivor has no voice or means to hold the person in power to account.
This working environment is a problem for two reasons. First, aid agency regulations against bringing a spouse or children to the field may well be justified, but currently there is a pervasive institutional culture that allows for casual intimacy elsewhere, without repercussions. Second, the structural separation that exists between aid workers and their beneficiaries entrenches a power imbalance that can be – and is on occasion – abused.
Aid agencies must ensure codes of conduct are fully implemented and monitored. And there must also be better leadership and management, both in the field and at headquarters, to ensure staff are fully vetted, trained and prepared pre-deployment, and that they receive the social and professional support they need. This may include peer-to-peer mentoring and the existence of confidential, possibly independent, systems where abuse or traumatic experiences can be reported. One idea would be to create a professional body to support and protect aid workers.
It is also crucial that both aid agency managers and staff foster a new working culture, with zero tolerance for impunity and where both aid workers and the people they serve are able to speak up and be heard on the abuses they witness or experience.