I love watching a good adventure movie, especially at the start of summer. I have some great memories of eating popcorn in the local suburban movie theatre while we watched aliens take over a spaceship or a group of kids hunt for long-lost treasure in an underground cave.
At the same time, even as a kid, I remember thinking how awful some of the racial and gender stereotypes were.
I specifically remember watching Indiana Jones and the Temple of Doom and cringing at the representations onscreen, especially, the ruthless and flat-dimensioned South Asian characters and the ridiculous idea that Indians ate monkey brains — and then there was little Short Round, Indy's child guide and sidekick played by the young Ke Huy Quan.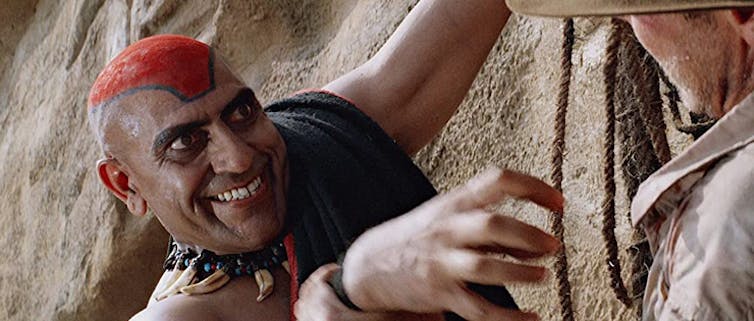 With the series, filmmakers George Lucas and Steven Spielberg showcased nostalgia for the early mid-century with Indiana Jones, the humanitarian Hunter College professor turned adventurer at the centre. Indy outran all kinds of harrows to ensure the ancient artifacts he chased ended up where he thought they belonged: "in a museum." (Another now famous line is from Black Panther when Erik Killmonger asks a museum curator: "How do you think your ancestors got these?")
Guilty pleasure or irredeemable Orientalism?
Well, the final Indiana Jones movie, Indiana Jones and the Dial of Destiny is coming out tomorrow, 42 years after the first movie was released.
As the series comes to an end, we explore Indy's complicated legacy — and his famous line: "it belongs in a museum."
Will Indiana Jones and the Dial of Destiny reflect the changes in anthropology departments and the growing movements from Indigenous and Global South communities to return stolen objects and ancestors from western museums? Will it consider that Eurocentric notions of what holds heritage has finally expanded beyond the artifact?
Will this new movie be full of highly problematic stories? Or a guilty pleasure? Or, can it be both?
Historian Christopher Heaney has spent a lot of time thinking about this. He's written a book about the "original" Indiana Jones and wrote "Burying Indiana Jones" for The New Yorker. He's a professor of Latin American History at Penn State University and he joined me on Don't Call Me Resilient — our last episode of the season, and just in time for summer blockbuster season — to unpack everything Indiana Jones.
Read more
"Indiana Jones, Hollywood's chief colonial pilferer, is back" (Monthly Review)
Empires of the Dead by Christopher Heaney (Oxford University Press)
"The Racism Behind Alien Mummy Hoaxes" (The Atlantic)
"It does not belong in a museum" (Black Girl Nerds)
"Can Indiana Jones overcome its Orientalist past?" (The New Arab)
Decolonizing Museums by Amy Lonetree (UNC Press)
From The Conversation
---
Read more: To accurately portray histories, museums need to do more than 'reimagine' galleries
---
---
Read more: Benin bronzes: What is the significance of their repatriation to Nigeria?
---
---
Read more: Protecting heritage is a human right
---
---
Read more: Belize shows how local engagement is key in repatriating cultural artifacts from abroad
---
---
Read more: Museums are returning indigenous human remains but progress on repatriating objects is slow
---
Our recs: Kids adventure movies/shows