The annual Lowy Institute Poll on Australian attitudes to the world and global issues for 2018 has been released. Among a series of interesting findings, one thing is clear: support for climate action and renewable energy continue to grow.
In response to the survey's questions on climate and energy, 59% of respondents agreed with the statement: "climate change is a serious and pressing problem. We should begin taking steps now even if this involves significant costs."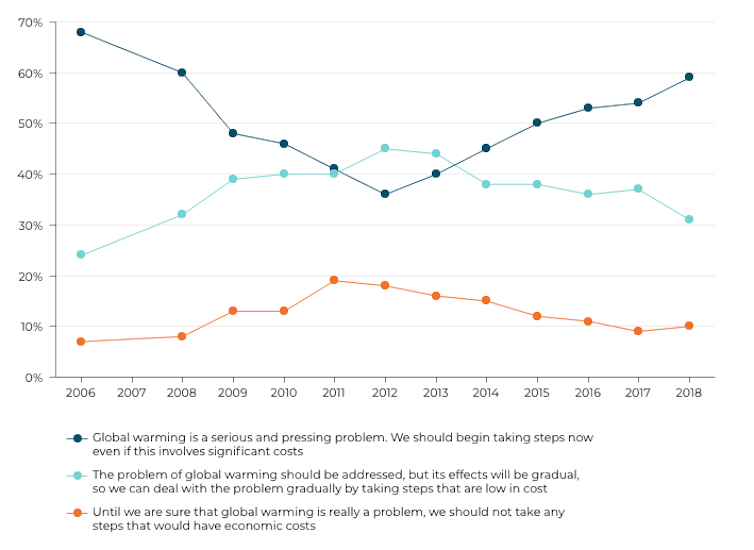 This represents an increase of 5 percentage points from 2017, and a consistent increase in support for this statement over the past six years. It suggests that support for climate action in Australia is bouncing back towards its high point of 68% in the first set of Lowy Polls in 2006.
---
Read more: It's ten years since Rudd's 'great moral challenge', and we have failed it
---
What's more, while the federal government doggedly pursues a "technology-neutral" energy policy, Australians don't seem to be buying it. Public support for a large-scale energy transition in Australia is even more emphatic than support for climate action.
According to the Lowy poll, which involved a nationally representative sample of 1,200 adults, 84% of Australians support the statement that "the government should focus on renewables, even if this means we may need to invest more in infrastructure to make the system more reliable".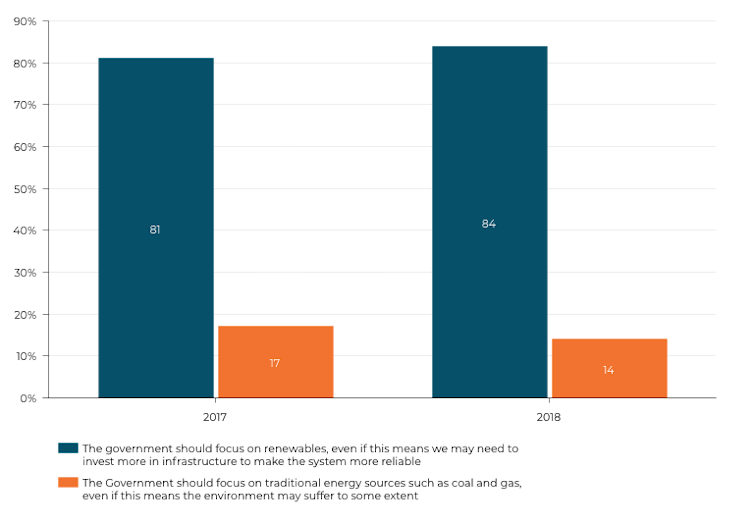 This is a staggering verdict, one that casts a shadow over Australia's rising greenhouse emissions and the looming Commonwealth-state negotiations over the National Energy Guarantee.
Both figures suggest that most Australians are genuinely concerned about climate change, a finding consistent with the ever-growing scientific consensus.
The big question is: will Australia's political leaders respond to this support for climate action and energy transition by putting legitimate policy in place?
It's political
Two key impediments present themselves here, both political.
The first is Prime Minister Malcolm Turnbull's own party. Most governments around the world that have instituted legitimate climate and energy policies have at some stage faced down their political opponents. But the biggest political opponents to Australian climate action are the government's own internal pro-coal cabal, featuring former prime minister Tony Abbott and backbench energy committee chair Craig Kelly.
This group has fought their more moderate colleagues tooth and nail on climate and energy policy. In the process they have painted even relatively timid policies – such as the National Energy Guarantee – as extreme or fiscally irresponsible. Abbott even recently claimed he had been misled on whether the Paris targets he announced as a "definite commitment" – a 26-28% reduction of greenhouse gas emissions by 2030 relative to 2005 – were actual targets.
The second impediment to climate leadership is trepidation on the opposition benches after a bruising decade of climate policy wars. Previously, Kevin Rudd's Labor had a field day with John Howard's climate inaction in 2006-07, which coincided with the high point of public concern in Lowy polls.
But the party's current leadership is all too aware that turning public concern into sustained public consensus is tricky. In the face of Abbott's scare campaign on carbon pricing and an associated collapse in public support for climate action, Rudd infamously walked away from acting on the "greatest moral challenge". When Rudd's successor Julia Gillard finally legislated a carbon price, Abbott promised that the 2013 election, which he duly won, would be a "referendum on the carbon tax".
---
Read more: Two new books show there's still no goodbye to messy climate politics
---
The new Lowy poll continues the trend of an inverse relationship between climate action and public concern. When the federal government is perceived as doing little (such as from 2013 to now), support for strong climate action has grown. But when the government announces or pursues genuine climate action (2007-13), support has waned.
Aligning policy with politics won't be easy, and will take real leadership. Will we see it from Bill Shorten's Labor if he wins office?
Security and economics: grounds for hope?
If we can't rely on our leaders to lead – or even to respond faithfully to public opinion and scientific consensus – is there any hope for strong climate policy in Australia? There is, and it's in some strange places.
When we think of concerns that might stymie action on issues like climate change, we might think of factors such as national security or economic growth. But in Australia and elsewhere, these concerns are arguably beginning to drive calls for climate action.
In May, a Senate inquiry into the national security implications of climate change concluded that it represents a clear and present danger to Australian security. The Lowy poll suggests that the public endorses this sentiment – Australians ranked climate change as a more pressing threat than cyber attacks, foreign interference, or the rise of China.
---
Read more: Senate report: climate change is a clear and present danger to Australia's security
---
While some Australian politicians are steadfast in their support for coal, despite the questionable economics, mainstream financial institutions and even energy companies like AGL are shifting away from fossil fuels. Far from economic considerations preventing climate action, as they seemed to in the 1990s, the economy might just be starting to drive that action.
The climate message, in short, seems to be reaching the Australian people. But will it get to those we've elected to represent us?