How can we as academics make sense of the horrific attack Thursday at Garissa University College, a young institute of higher education located in Northeastern Kenya?
On one level, such violence against unarmed civilians seeking education to improve their future is as incomprehensible as it is ghastly. Reports claim 147 known fatalities, scores more injured. All remaining students have transferred to the Eldoret campus of the associated Moi University.
The Somalia-based terror group al-Shabaab has taken credit for the attack, asserting that it is retaliation for Kenya's involvement since 2011 in a US-supported African Union military intervention to fight terrorist in Somalia. Al- Shabaab's statement provides a religious motive for the attack, in which some Muslim students were spared and their Christian counterparts slain.
Yet the attack is not as simple as a war over religious differences, or as stark as suggested by headlines like, "Islamic Extremists from Somalia Kill Christians in Kenya."
Already, Kenyan religious leaders, both Muslim and Christian, have banded together to condemn the attacks and to urge Kenyan unity in response. On Twitter, hashtags like #KenyaUnites and #OneKenya are trending.
The root of the violence likely stems instead from three factors.
First, Somalia has been largely ungoverned since 1991. Second, there is a long history of violence and state neglect in Northeastern Kenya. Third, the Kenyan government is beset by corruption, arguably leading to its poor response record to repeat terrorist attacks.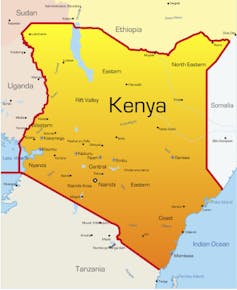 State collapse in Somalia
The country of Somalia, whose border is less than 100 miles from Garissa town, has not had a central government recognized throughout its territory for nearly 25 years. Instead, regional and local warlords compete with semi-recognized state entities based in Mogadishu, Hargesia and Garoowe. Al-Shabaab gained power in these conditions as a breakoff group from the Union of Islamic Courts, which governed from Mogadishu in 2006.
With the blessing of the US and the African Union, Kenya invaded Somalia in October 2011 in order to push al-Shabaab away from Kenyan territory. Attacks on Kenya have risen in frequency since then.
Since 2008, there have been 116 al-Shabaab attacks in Kenya. From this, we can understand the attack on Garissa as part of the Global War on Terror and as the unsurprising result of decades of instability in the region.
Discrimination against northeastern Kenya
At the same time, insecurity in the Garissa area can be traced back to the Shifta Wars of the 1960s. At that time, some Kenyan Somalis attempted to secede. Although they have always been stopped from doing so, efforts to create a Greater Somalia uniting Somalis across five countries have arisen repeatedly over the decades. Repeated flare-ups of discontent in Northeastern Kenyan have been accompanied and reinforced by discrimination against ethnic Somalis throughout Kenya.
In the 1980s, Kenyans of Somali ethnicity carried distinct ID cards; more recently, many Somali-Kenyans have been jailed as foreigners.
The part of Kenya in which Somali-Kenyans live has historically been among the poorest and most under-served in the country. The fact that Kenyans from this region are referred to as "Somali-Kenyans" itself reveals discrimination, as no other ethnic group in the country is labeled in this way. Although it clearly does not appear to be the case, it would not be shocking to find that disgruntled, marginalized Kenyans from this region of the country were involved in the attack.
Corruption in Nairobi
Violent incidents have occurred in many parts of Kenya in recent memory, with considerable criticism directed at the government of Kenya. Only a year and a half ago, Kenyan experienced the tragedy of the Westgate mall standoff and massacre, in which 67 people lost their lives and the capital erupted in fear. Many questions about the attack have still not been answered.
Both before and since then, there have been frequent US, UK, UN and other diplomatic warnings of likely terror targets -– not only institutions like universities and malls that are associated with Western ideas and ideals, but also places of mass gathering like the Likoni ferry linking Mombasa to mainland Kenya.
In the face of these threats, however, the Kenyan government demonstrates its own low administrative capacity. It has limited ability to prevent attacks, and responds clumsily once attacks happen.
The day after the attack, Interior Secretary Nkaissery denied knowledge of warnings made about Garissa shortly before the attack happened.
At root is a combination of low budgets (common to all developing countries), combined with endemic corruption – Kenya is considered one of the most corrupt countries in the world.
Just this past week multiple cabinet secretaries have been embroiled in scandal, as the Ethics and Anti-Corruption Commission of the country released a "list of shame," detailing allegations of high-level government corruption. The largest scandal in recent years, the Anglo-Leasing affair, involves the misappropriation of security contracts worth $770 million
Even Kenyan defense forces meant to be fighting al-Shabaab have been accused of profiting from interactions with the organization.
Recent accounts insist that al-Shabaab has weakened. Given this week's attack, as well as other evidence, we must reconsider these claims.
The safety of many more Kenyans hangs in the balance.