These days, when Australians of Irish Catholic descent have occupied the highest positions in the land, it may seem hollow to talk of them as marginalised.
But right up to the 1970s the Catholic-Protestant divide was deeply entrenched – with painful and often lasting social consequences for those who dared to marry across it.
Siobhan McHugh, a journalism academic and oral historian, captured some of those experiences in interviews we're showcasing on this month's episode of Trust Me, I'm An Expert – a podcast where academic experts surprise, delight and inform us with their research.
Here's a teaser:
Among the stories McHugh collected was the tale of Susan Timmins. Her parents, Julia and Errol, married despite their different religious backgrounds. After Julia died in childbirth, neither side of the family helped Errol and he subsequently put Susan and her brother into an orphanage.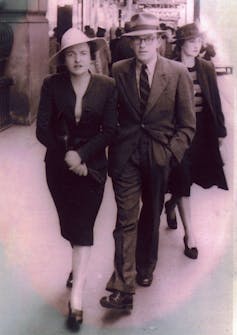 In this episode, McHugh explains what drove her to unearth these stories and how they fit into broader debates about race, class and sectarianism in Australian society.
"It's actually a myth that there was once this sort of polite and white Australia before the multicultural kind of Australia that we have now. Actually, this period is misrepresented by the term Anglo-Celtic, which suggests there was a cosy community of British and Irish at the time," she said.
"That is actually absolutely the opposite of what the truth was. The truth was that there was this over 70% Protestant majority and about 23% Catholic minority – and the minority of Irish Catholics were deliberately kept as an underclass."
Trust Me, I'm An Expert is out at the start of every month. Find us and subscribe in iTunes, Pocket Casts or wherever you get your podcasts.
You can read more about what the podcast is all about here, and find our previous episodes here.
---
Music in Episode 3 of Trust Me, I'm An Expert:
Kindergarten by Unkle Ho, from Elefant Traks
Lee Rosevere: Thoughtful, from Free Music Archive
Music in Siobhan McHugh's segments by Thomas Fitzgerald, with vocals by Kavisha Mazella.
Additional audio sources:
Radio Documentary Series, Marrying Out: 2 x 50 minutes
Additional material:
History Australia journal article by Siobhan McHugh on mixed marriages
National Library of Australia: Sectarianism and Mixed Marriage Oral History Collection by Siobhan McHugh (indexed)