Las Vegas is soon to host one of the most lucrative boxing matches of all time. Dubbed "The Money Fight" it features UFC (which stands for the Ultimate Fighting Championship) star Connor Mcgregor making his boxing debut against undefeated boxer Floyd Mayweather. What is not in doubt is that both men will leave the bout much wealthier than they go into it – both expected to earn in excess of US$100m for their participation. With US$90m worth of tickets for sale and US$500m of pay-per-view revenue expected to be made, it's set to be boxing's most lucrative match ever.
But, despite these figures, it is worth wondering which of the two combat sports represented in this event will come out in better shape. Or whether the much promoted encounter represents a zero sum game for the two sports, in which the gain of one will be at the cost of the other.
UFC has presented mixed martial arts (MMA) to the world for around three decades. In that time it has gone from being accused of being mere "human cock fighting" to becoming a popular, if still controversial, sport. It fills arenas around the world and was valued at close to US$4 billion in 2016.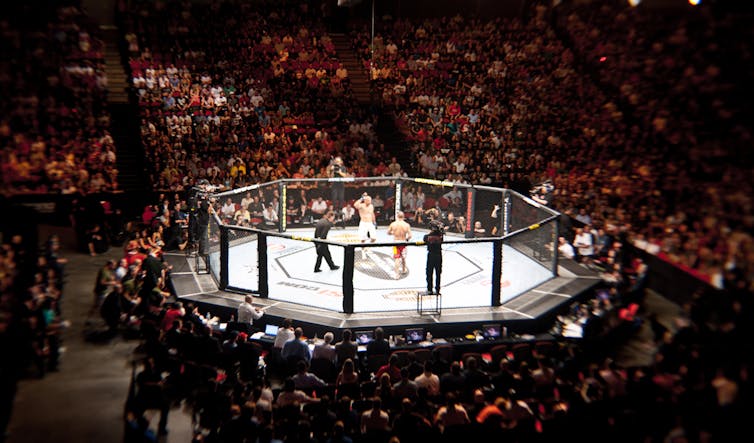 The sport's popularity is largely predicated on the star appeal of a small number of charismatic competitors, including Conor "The Notorious" McGregor. Claims that its fighters are tougher than other athletes is also a big part of UFC's brand. A heavy defeat for McGregor in Las Vegas might therefore do significant damage to the UFC brand, especially if a humbled McGregor is then able to make a successful return to his former hunting ground.
The decision to allow the UFC's top star to compete in a high profile bout with the world's best boxer is potentially damaging to both Mcgregor's reputation and the branding of the overall sport that he is associated with. But at least McGregor will be rewarded handsomely whether he wins or loses the fight.
Worse for boxing
While MMA has been on an upward trajectory, boxing's financial future has become less clear. Some recent matches, such as Anthony Joshua's victory over Wladimir Klitschko in April 2017 and Mayweather's victory over Manny Pacquiao in May 2015 have raked in the cash, and attracted large crowds. But there is a more deep-rooted feeling that the boxing business is in decline.
It is telling that a new eight-man tournament dubbed the World Boxing Super Series has been launched, created by one of combat sports' most powerful promoters and will offer combatants a share of US$50m. It's clearly the hope that it will bring in some big names, as well as big money through ticket sales and sponsorship.
In some part, the decline in popularity of boxing may be due to the increased popularity of UFC, and associated MMA events. They are fighting for the same market share. The McGregor-Mayweather match therefore has the potential to reinvigorate boxing, especially if a boxer like Mayweather, who is at the end of his career, is able to publicly humble a current UFC star in front of such a big audience.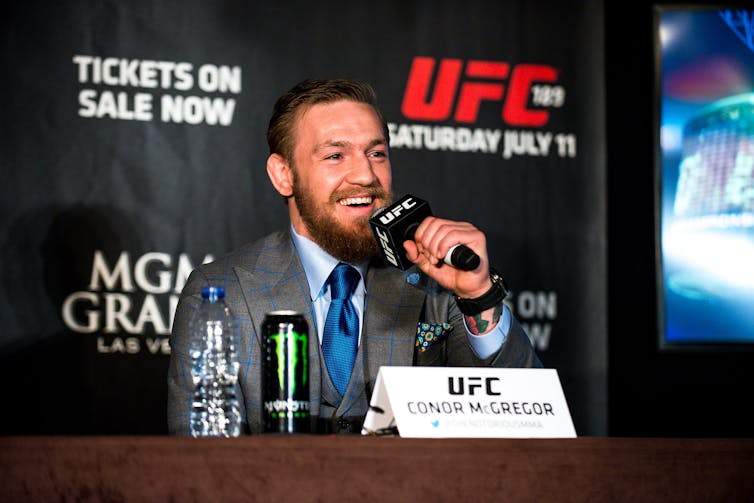 Ultimately, though, the odds are against boxing. McGregor might not need to even win the superfight in order to do further damage to the sport's lustre. McGregor is fighting on Mayweather's turf. If he puts in a creditable performance (for example by lasting the full 12 rounds of the fight or by offering some credible offence before succumbing), then even this could constitute a small victory for McGregor and UFC.
Mayweather has often been portrayed as the best pound for pound boxer of all time, and if he is unable to deal with a rowdy upstart from a rival sport in a quick and conclusive manner it may add further credibility to the rise of UFC as a rival to boxing. It is therefore likely that representatives from both corners, invested in the bout emotionally and financially, will attempt to claim a moral victory after the fact.
Could it be a win-win?
An alternative way of thinking about the match-up between the two men is that it is an opportunity to attract new fans to both of the two sports. There's a chance for cross-promotion. If this is the case then the pre-fight publicity may have turned off as many new fans as it has attracted, with accusations of racism and homophobia so far dominating the fight's press. While it may be possible that some new fans will be attracted to the spectacle of the two men squaring off, it is unclear whether such fans are likely to become die hard followers of either sport, meaning the most significant impact will be on how perceptions of the two sports are affected.
Some things are certain about the upcoming bout: further insults will be thrown and further exaggerations of earnings will be proposed. But it remains difficult to see who will be the true winner from the collision, and it may take several years before the full impact of the result is truly felt in the two competing businesses. Nonetheless, the encounter will surely be felt beyond the bank accounts of the two fighters, and will affect the future health of the their respective sports.