What started last May with a dawn raid by the FBI at the Baur au Lac Hotel in Switzerland, will shortly end with the election of a new FIFA president at the football world governing body's extraordinary congress on February 26.
FIFA supposedly stands on the cusp of a new era with five candidates up for the presidency, each of them advocating a programme of change. Sepp Blatter was banned from standing in the election, as was his one-time close associate Michel Platini, while numerous other possible contenders have either been arrested or else banned from football for life.
The five candidates standing in the election are:
Gianni Infantino, UEFA general secretary;
Jerome Champagne, consultant and former adviser to Sepp Blatter;
Prince Ali bin al-Hussein, president of the Jordanian FA;
Sheikh Salman bin Ebrahim al-Khalifa, president of the Asian Football Confederation and FIFA vice-president;
Tokyo Sexwale, mining tycoon and member of FIFA's anti-discrimination taskforce.
Bookmakers' odds have been fairly stable for several months, with Sheikh Salman out ahead closely followed by Infantino and then Prince Ali. Sexwale and Champagne have remained on the margins throughout.
Bringing up the rear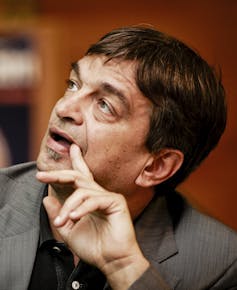 It is no surprise that Blatter's former confidante, Champagne, has struggled; he is stuck in no-man's land. Once a FIFA insider, he is perhaps seen by some as being too close to the governing body's old guard. At the same time he has been a vocal critic of FIFA, which won't have endeared him to many of those with whom he once fraternised and now needs the support of. Champagne tried and failed to challenge Blatter during last May's presidential election; with this campaign, his time finally seems to have run out.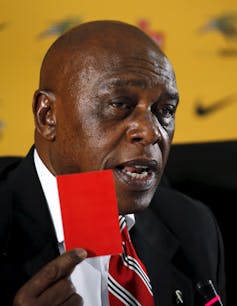 Sexwale has got striking credentials. He was an inmate with Nelson Mandela on Robben Island and an anti-apartheid campaigner in South Africa. This brought him to the attention of Blatter, who recruited Sexwale to FIFA's anti-discrimination taskforce. But the South African has just seven years experience in football, the least of all the candidates. This may explain why he has failed to successfully court the African vote – the Confederation of African Football has given its backing to Sheikh Salman.
The challenger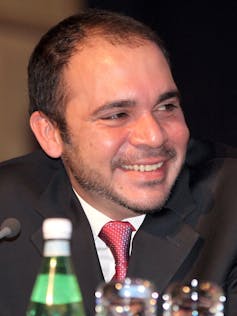 Prince Ali is the youngest of the contenders at 39-years-old, although he has almost 20 years of experience in football, having started out as head of the Jordanian FA. He has experience too of a FIFA election: he stood against and lost to Blatter last May. Yet this hasn't dampened Ali's enthusiasm for the top job, indeed he remains the young pretender to what has historically been an older man's position.
His age is at once a help and a hindrance: Ali's agenda has always been a reformist one; but he is relatively inexperienced compared to some rivals. Moreover, while he has appeared determined to maintain certain standards of governance, he has often seemed frustrated and annoyed by some of his rivals. While Prince Ali will put up a strong electoral showing he is unlikely to be victorious.
The Frontrunners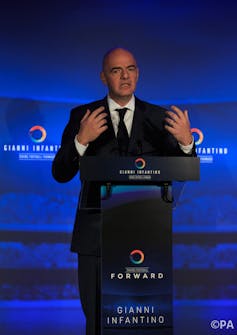 Second favourite Infantino is one of the front-runners for the presidency almost by default. The Swiss lawyer was former UEFA president Michel Platini's point-man for several years and is the brains behind initiatives such as Financial Fair Play. With Platini barred from standing in the election, Infantino has garnered much of the Frenchman's support and miraculously finds himself on the verge of becoming FIFA's new leader.
While there are few doubts that Infantino is a progressive, it is likely that his main appeal will be among Europeans. In theory, his egalitarian principles should resonate with the likes of FIFA's African members. But he has overseen a period in European football where UEFA, some of its associations, and its competitions have become commercial giants, leaving other countries and federations in their wake. This is likely to rankle with some and may leave Infantino just short of enough votes.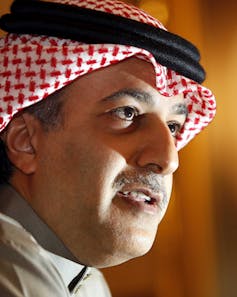 So the long-time bookies' favourite remains Sheikh Salman, a candidate with experience at the very top of the global game. He has talked during his campaign of the need to bring professional people into football to run it. Given the FIFA cronyism of recent decades, everyone knows this is one of the routes forward for the organisation. However, the idea is hardly revolutionary and has to an extent already been implemented. Maybe this is why he is favourite? After all, he represents continuity, evolution not revolution – just the thing some staid football bureaucrats want.
Yet he remains a hugely divisive figure not least because, like Champagne, he is a FIFA insider. Echoes of this have already been witnessed in Salman's courting and securing of the African and Asian votes, in moves which some have criticised. Furthermore, he has been accused of perpetrating human rights abuses against a group of Bahrain footballers, which he has denied. Maybe it is the way in which he deals with such turbulence that reassures the football confederations of the world and marks him out as a potential victor?
The campaign
Throughout the electoral campaign there has been tension and farce, including a proposed debate between the candidates in the European Parliament that, in the end, didn't take place. Even so, there has not been the dirty war that some expected.
It is likely that candidates were warned not to pull FIFA any further into the mire than it already has been, hence the general absence of aggressive public spats between them. In some ways, this has been unhelpful. At a time when people have been calling for FIFA transparency, the candidates' lobbying and manoeuvring have largely taken place under the radar.
Whoever wins, secrecy must not be the way forward for FIFA. Whether Sheikh Salman, Infantino or somebody else is victorious, the pressure will be on them from day one to ensure that future FIFA mornings in Switzerland are never again punctuated by visits from law enforcement agencies.