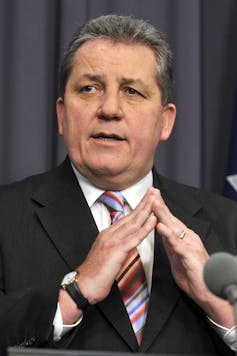 Massive Open Online Courses, or MOOCs, represent an opportunity for students and universities, tertiary education minister Chris Evans said today.
Speaking at a symposium on the future of higher education hosted in Canberra today by The Conversation, Mr Evans said resisting technological change was futile.
"If people are learning differently and we have very informed consumers as students, then how we teach and work with them and meet their needs has to respond. They have more choice, there's more competition both inside and outside the country and obviously MOOCs are potentially taking that even further," he said.
"As a minister and as part of a government that believes in the empowerment that comes from knowledge and learning, I can only see this as an opportunity. It has enormous potential for allowing people from all walks of life, from all parts of the globe to be able to access knowledge and information and develop new skills," he said.
"The idea we can stay still is clearly not an option," he said.
However, while Mr Evans described MOOCs as a very important development, he also said, "I am not sure I see it as such a game changer."
Professor Jane Den Hollander, Vice-Chancellor at Deakin University said that in her experience of trying three MOOCs, quality varied.
"One of them was outstanding. One of them was probably the worst bit of education I have seen in a long time. Anyone at Deakin would have been sacked for that," she said.
University of Sydney student Donherra Walmsley said students still sought out personal engagement and interaction with mentors and online education should reflect that.
"Students don't necessarily have the tools and the experience to navigate online learning themselves without a guide," she said.
"Without someone to guide us all through it, really, we aren't going to take much from the experience."
A crucial issue was the casualisation of the workforce in the tertiary education sector, she said.
"Our tutors and lecturers need to be supported to become masters of the technology they are using," said Ms Walmsley.