Some 224 years ago on January 26, the First Fleet arrived at Sydney Cove. Just 1500 people disembarked with nearly 800 of them convicts. The date saw the beginning of the British penal colony, then known as New South Wales.
But while there's been something to commemorate for 224 years, the celebration of "Australia Day" itself is far, far more recent; more recent than most Australians would suspect.
The new world
For the first 20 years of the colony's existence, Australia Day was not even commemorated. The colonists celebrated the King's birthday, Easter and Christmas, but January 26 passed without notice.
By the 1820s in Sydney, it became the occasion for dinners at Government House, where officials proclaimed the arrival of "a new Britannia in another world". Outside, the people indulged in leisure activities such as sprinting races, horse races and sailing regattas.
For most of the 19th century, no other colony paid any notice to January 26; after all, it was a Sydney event. Victoria, Queensland, Western Australia, and South Australia all commemorated the date of their own colony's founding.
When Australia celebrated its centenary of settlement in 1888, the day was a reminder of an uncomfortable truth. Australia was founded by convicts, and there was then much embarrassment over the convict stain.
Only in the lead-up to federation in 1901, and in its immediate aftermath, did "Foundation Day" (as it was then known) become more significant. But even then, it was only commemorated by a few fervent nationalists in Victoria.
A new day
The first Anzac Day in 1916 immediately became a more significant day than January 26, largely because the Anzac legend offered a story of Australians fighting courageously for the British Empire.
In 1938, with the sesquicentenary of British settlement, January 26 became known as Australia Day. For the first time, the government hired actors to re-enact Governor Arthur Phillip's landing at Sydney Cove.
A group of Aborigines were bused in from western NSW. Dressed in gum leaves and football shorts and holding spears, they retreated into the bush as Phillip came ashore. It was a piece of historical fiction if ever there was one.
In that year, the Aborigines Progressive Association declared Australia Day a day of mourning because it represented the beginning of cultural loss and dispossession. They demanded their rights as citizens. This was the first step in marking out a division that even today, still haunts Australia day.
Apathy and marching bands
It was not until after World War II that the first Australia Day Council was set up by the Victorian government. And by the 1960s, when it was clear Britain would soon join the European Economic Community, governments of all persuasions began to promote Australia Day. It was a means of promoting Australian identity and social cohesion in a society in which non-British immigration was increasing quickly.
The first Australian of the Year was awarded in 1960, but the day was still plagued by apathy. In 1964, on Australia Day in Sydney, the government organised a parade, conscripting marching bands and the armed services to march to Hyde Park where the band played God Save the Queen, Land of Hope and Glory, and Advance Australia Fair. But marchers and musicians outnumbered the spectators.
There was still little popular enthusiasm or passion for commemorating the day. In 1960, The Australia Day Council even sent a message to churches asking ministers and priests to devote special prayers for the day, in order to imbue it with "religious significance".
Some celebrated but overall, even into the 1970s and 1980s, Australia Day could not claim the mantle of Australia's national day.
Invasion day
In 1988, the bicentenary of British settlement, many indigenous Australians boycotted the event because they argued that Australia Day was not for them.
It was instead "Invasion Day", the day that ushered in the destruction of their societies, hardly a cause for celebration. The debate raged throughout the bicentenary year.
While this dilemma has not been solved, Australia Day has taken on a much greater importance since the early 1990s. There has been less division and criticism, and a more popular, enthusiastic embrace of the day.
Immigration, patriotism and convict pride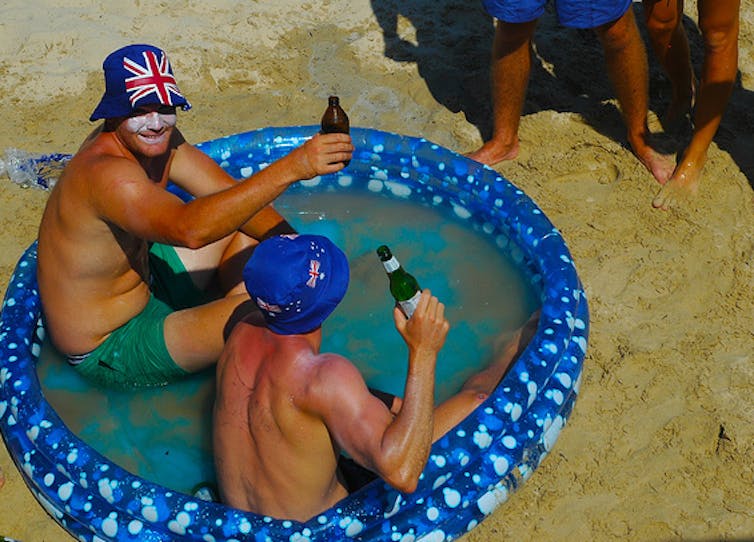 So how has Australia Day suddenly become such a prominent day in the Australian calendar?
First, in 1994, the Australian government ended the practice of holding a public holiday on the closest Monday and made the holiday on January 26. This ended criticism that Australia Day was just an excuse for a barbecue and a long weekend.
But also, our convict past is no longer an embarrassment. There has been a slow, swelling surge of patriotism since the onset of the republic debate in the early 1990s, the election of the Howard conservative government in 1996, and the threat of terrorism after the September 11 attacks.
We've seen the introduction of an Australia Day honours system. We've seen citizenship and citizenship ceremonies take on greater meaning. Australia day is now successfully put forward as a day of unity for the country's migrants.
By 1999, it was possible for an editorial in the Sydney Morning Herald newspaper to proclaim that Australia Day had become our national day.
Blind to history?
When I watched Australia's Prime Minister Julia Gillard deliver her Australia day speech last year, I began to see some of the things that have changed.
Australia Day, she said, is a day when we remember that we belong to "the Australian family", that we are "bound together in a love of country".
Julia Gillard's sentiments are noble ones but they also point to the way in which Australia Day has been cut free from its history. There is no mention of historical founders or historical moments, no mention of our convict beginnings, no Phillip, no Sydney Cove.
No mention of what was done and said on that day. Nor is there any mention that there are still many Australians who are divided over Australia Day.
More reflection needed
Historian Manning Clark spoke publicly on every Australia Day from the early 1970s until his death in 1991, and almost always ended his talk by reminding his audience that Australia was still to come to terms with its past.
So this Australia Day, I would ask that we use the occasion for reflection on Australia's history. Not to celebrate Australia Day as if it were floating free from the historical moment that gave it birth or just as a vehicle for celebrating the country itself. But rather to think more deeply about our history and what this day represents – for all our citizens, indigenous and non-indigenous.