What would it take for the titans of corporate America to rise up against President Donald Trump?
That's a question that's been on our minds lately, as we ponder a growing list of reasons for U.S. CEOs to oppose the president or his policies. His willingness to risk a costly trade war with China is only the latest. Some Trump ideas, like talk of abandoning NAFTA or creating a border tax, would be bad for business. Others are more about social controversies, such as the president's response to the Charlottesville violence, which led to a limited CEO uprising against Trump.
In case of a constitutional standoff or other crisis, we believe corporate CEOs are uniquely positioned to stand up to the president, in part because they have historically stayed above the political fray or even leaned Republican. Therefore, a concerted act by CEOs would be somewhat like the 1974 "Goldwater moment," when those in President Richard Nixon's camp helped persuade him to resign.
To get a better sense of where American business leaders stand, we recently examined the positions of about 200 prominent U.S. CEOs.
Stuck in neutral?
Political neutrality has been an American corporate norm for decades. Until recently, it was relatively rare for corporations or CEOs to take public stances on divisive social issues.
While this has changed somewhat, with more CEO social activism, CEOs generally still tend to shy away from overt partisan politics. In 2016, for example, only a handful supported either major party candidate, with most favoring Hillary Clinton.
Nevertheless, we decided to examine whether there are indications that CEOs will stand up to Trump and perhaps act together as a group to oppose him or even call for his ouster if events warrant it. Trump's divisiveness has deeply politicized many Americans, and we wanted to see how much it has infected CEOs as well.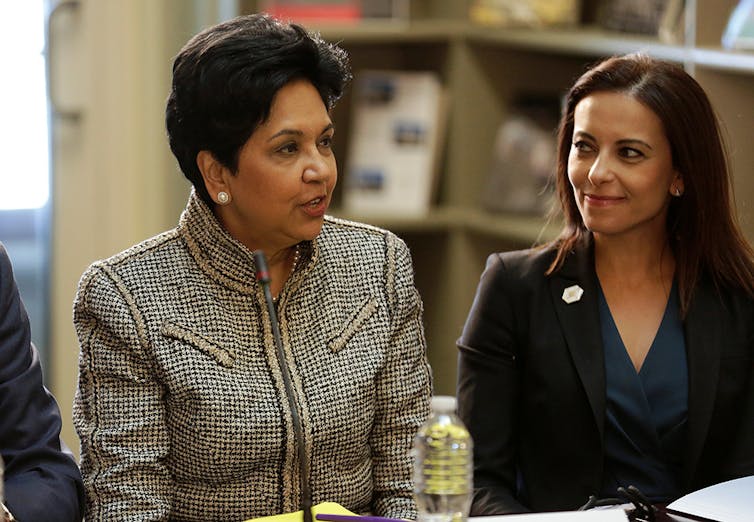 In the fray, a little
In order to do that, we looked at the 197 CEOs in the Business Roundtable, who manage many of the most important companies in the U.S., including Apple, Pepsi and General Electric. Together these businesses employ 16 million people and boast US$7 trillion in revenues.
Using public news, texts, tweets, and occasionally private utterances, we placed each of the CEOs into one of five camps: anti-Trump, soft anti-Trump, neutral, soft supporter of Trump and pro-Trump.
What we found from our unpublished review surprised us: Fewer than a third of the CEOs we looked at have staked out consistently critical or supportive public positions on the president or his policies, while the vast majority have stayed in the middle – walking a tricky tightrope. In other words, most have been careful not to be unduly political in this polarized time.
Our analysis showed that 34 of them have been at least a little critical of the president. Of those, 29 were on the softer side, meaning they came out forcefully on one or more of Trump's hallmark policies or actions but have been otherwise careful.
A typical case of this soft anti-Trump CEO is NRG Energy's Mauricio Gutierrez, who opposes Trump on issues such as climate change, tax policy and immigration. For example, referring to the Deferred Action for Childhood Arrivals program that the president has tried to shut down, he tweeted: "Proud to join business leaders in support of a #DACA solution."
Another CEO in this camp is General Electric's new CEO John Flannery, who offered rather mild criticism of Trump's steel tariff proposal with this tweet: "GE believes in open markets. … We are strong believers in free trade and know that protectionist policies create barriers to trade, innovation and investment."
The five we deemed outwardly anti-Trump were marked by more consistent criticism. Examples include Pepsi's Indra Nooyi, a strong supporter of Clinton who is also an immigrant and a woman, two constituencies that have frequently found themselves at odds with the president. Another is Aetna's CEO Mark Bertolini, who at one point said he was "ashamed" of the president's behavior.
At the other end of the spectrum, 23 CEOs have voiced support for Trump and his policies.
Some softer supporters of Trump, 16 in all, include David Seaton, CEO of Fluor, an engineering firm that would benefit from the kind of increased infrastructure spending the president has proposed. Seaton shares at least some elements of Trump's agenda, for example by complaining about needing to get rid of "regulatory morass."
Another is Boeing CEO Dennis Muilenburg, who at one point received a presidential scolding for the costs of building a new Air Force One. Eventually, Muilenburg managed to turn things around, gaining significant influence and meeting the president on several occasions.
Among the seven CEOs who have strongly backed Trump are one of his old friends and trusted advisers, Blackstone's Stephen Schwarzman, and Oracle CEO's Safra Catz, who earlier joined his transition team as a part-time adviser and was recently discussed for the role of national security adviser.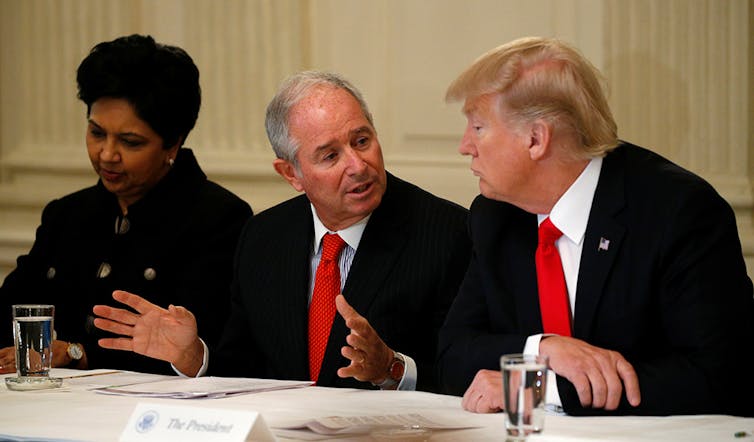 The 'silent' majority
The remaining CEOs – 140 or more than two-thirds of the Roundtable membership – have been either silent about Trump or tend to make trite, careful, balanced statements. They cautiously mix supportive statements on things they like such as tax reform, with occasional light policy criticism in areas like climate change and trade.
Typical is a CEO like Steelcase's Jim Keane, who supports Trump's recent tax cut on his business but has been critical of the president on tariffs.
Qualcomm CEO Steve Mollenkopf's convoluted words exemplify this group's tightrope balancing. Answering a reporter's question about immigration policy, he said: "I think we've been pretty clear. The avenue through which we make these arguments is sort of directly to the policymakers, as opposed to through other methods. And it kind of makes sense."
Finally, we placed in this neutral camp Jamie Dimon, CEO of JPMorgan Chase and the influential head of the Business Roundtable. Once a Democrat, Dimon is what we might call a swashbuckling pragmatist: He interacts with the president but is also critical of his policies.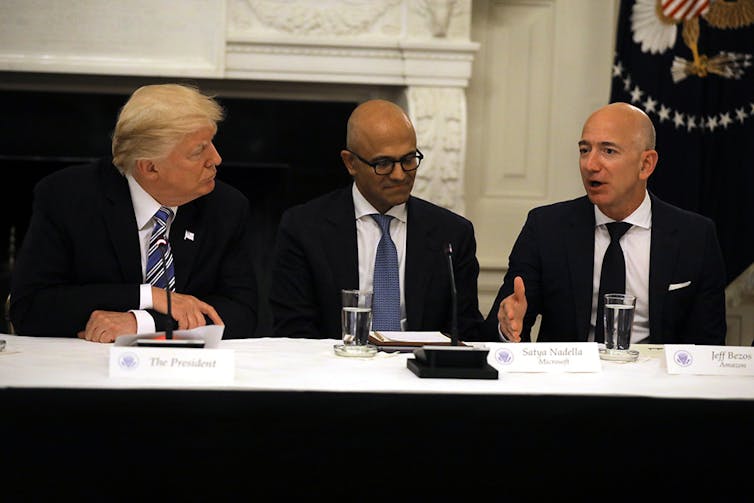 The bully pulpit
Another reason so many CEOs are staying neutral is that they fear standing on the wrong side of this president, who regularly uses the Oval Office as a bully pulpit.
Amazon CEO Jeff Bezos rediscovered this in April, when Trump repeatedly attacked him, his company and his newspaper, The Washington Post. Trump even deliberately tried to hurt Amazon by asking the U.S. Postal Service to raise the company's rates.
Others haven't been so lucky. Mark Fields, who ran Ford until 2017, lost his job reportedly in part because he was seen as having put the car company on Trump's radar by announcing plans to outsource U.S. jobs to Mexico.
A line he may cross?
So to answer our original question, we believe our analysis shows two things.
One is that the vast majority are hewing to the neutral line that chief executives have historically taken. And there's only tepid evidence that CEOs as a group are being more vocal than usual in criticism of the president.
There are two factors that could turn this prediction on its head: the long-term trend of growing CEO activism and a presidency that generates crises.
Is there a line that would trigger strong concerted CEO action? We believe there is. We just don't know where it is.
Quentin Levin, a student at American University's School of Public Affairs, contributed to the research underlying this article.