Ontario's 12,000 college faculty, represented by the Ontario Public Service Employees Union (OPSEU), have been legislated back to work — bringing an end to the longest job action in the 50-year history of the province's college system.
I am currently a part-time assistant professor in sociology and post-doctoral fellow at Queen's University, so I was not directly engaged in the strike. However, last year I experienced the realities of being a part-time contract instructor at an Ontario college.
While I was studying for my PhD in 2016, I was looking for opportunities to develop my teaching skills. I had already designed and taught one course at a university, an experience that whet my appetite for teaching. I was eager to try another course. I applied for and was offered a college course. I was told that I would be teaching two sections of 25 students, each for two hours a week.
This sounded perfect for me. Four hours a week in the classroom left lots of time for the work required outside class and my own studies. The university course I taught previously had paid for my time in the classroom. It had also paid an allotment to cover time spent preparing for my classes, creating and marking student assignments and meeting with students.
I assumed that the college course would be the same.
Unpaid for 75 per cent of my hours
Over the next month I prepared for my new teaching position. It wasn't until the first month had passed that it occurred to me to ask how I would be compensated for time spent outside of class — preparing lectures, marking assignments and interacting with students and other staff.
An administrator emailed me back, saying: "All part-time teaching within the college system in Ontario has the same remuneration and it is based on teaching contact hours only. There isn't additional pay for marking and prep work. I apologize if that was not clear."
Given that I was still early in my career as an instructor and I needed to get more teaching experience, I decided that it was worth working the unpaid hours.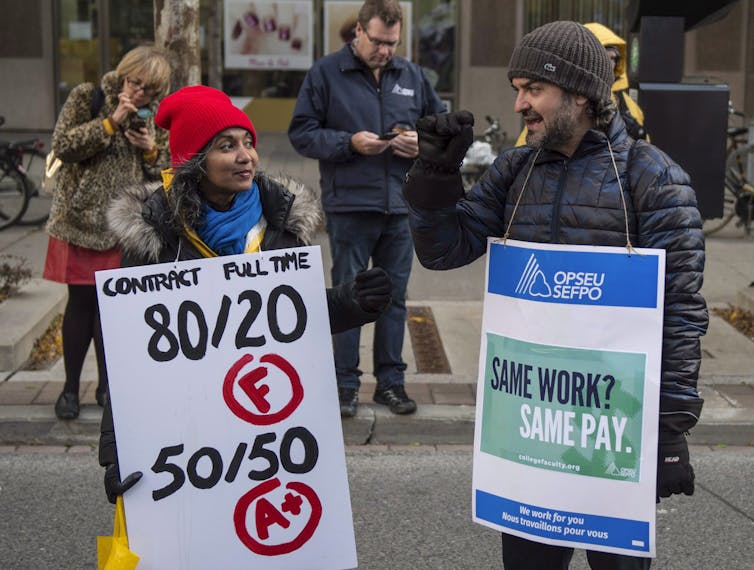 What I did not realize was that this course was very heavy in marking time. The students were learning how to write a thesis, so there were several written assignments. I tracked my time and found that it took 20 hours to prepare the course, including updating the syllabus, creating the course's online presence, designing assignments, attending meetings (by phone and email) and responding to emails from administration and students. It also took 50 hours to mark the student assignments, eight hours to prepare the lectures and 24 hours of teaching time.
In total I worked on this course for 102 hours and was paid for just 24 hours. So I worked 78 hours of unpaid overtime. Although most of my work was as a "volunteer," it was good experience. As a graduate student, I felt it was time well spent.
Because of this, I accepted a second course, in the last year of my PhD. As this course neared completion, I asked for a meeting to discuss permanent employment. It was then I learned that the time I spent teaching at the college would not provide any advantages to me if I did apply to a full-time position there.
Always a bridesmaid, never a bride
Scholars have pointed out that this undervaluing of part-time faculty by paying only for time spent in the classroom is actually a type of professional disrespect.
Teaching at Ontario colleges pays so much less than teaching at a university that — unless you're a new graduate looking for a training opportunity — there is very little incentive to put up with the exploitation if there are other options.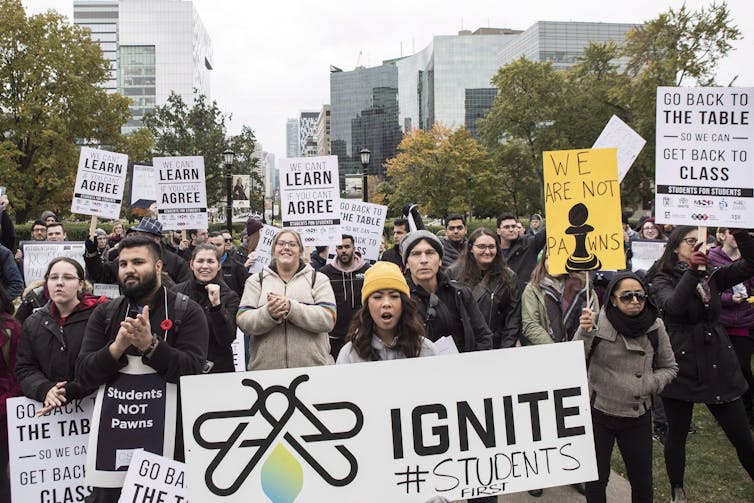 Part-time professors are "almost always a bridesmaid, almost never a bride." Stuck in a part-time role, they are unable to transition to full-time positions because they don't have the spare time to do the research and publish the articles that result in success on the job interview shortlist.
A win-win solution?
Colleges must rectify this with two simple and free policy changes: Classify part-time professors as internal candidates when the full-time job competitions open up, and enable part-time college teachers to build seniority while employed part-time.
In addition to what was on offer in the latest contract proposal, colleges could:
Designate current and previous part-time instructors who have taught within the past year (12 months) prior to the posting as internal applicants, and;

Enable part-time instructors to build seniority while employed part-time and carry that seniority over periods during which they are not employed.
These ideas extend the most recent OPSEU proposals, protecting part-time instructors from unemployment periods designed to eliminate seniority and internal candidate status.
In May 2017, I was contacted a third time by the college. I had finished my PhD program, and now had several years of teaching experience in both university and college courses. Although I was grateful for the offer, I turned down the third course.
I would have seriously considered accepting that job if I had known I would be gaining seniority and would be considered an internal candidate when the "real jobs" came up.