The album is an artistic statement, a swag of songs greater than the sum of its parts. In a new series, our authors nominate their favourites.
---
Kate Bush's Hounds of Love (1985) was the first album I heard on CD. With its use of the Fairlight CMI (a digital synthesizer/sampler workstation), digital reverb, and drum machines, it was perhaps eminently suitable for the CD format. But under its shiny digital sound, Hounds of Love was very much an LP, as seen in its two-part structure.
Side one, Hounds of Love, covers themes characteristic of Bush: intimacy and its limits (Running Up That Hill (A Deal With God) and The Big Sky); familial love (albeit darkly articulated in Mother Stands for Comfort); and the intensity and ambivalence of sexual desire (Hounds of Love).
Meanwhile, side two comprises of The Ninth Wave, a song cycle about a woman who has fallen into the sea at night, with only the "little light" of her life jacket to guide her. From this premise, the protagonist experiences several intense psychological effects, ranging from the hypnogogic to the nightmarish. Most dramatic is the celestial out-of-body experience of Hello Earth, just prior to the final song in which the protagonist is reborn into "the sweet morning fog", newly experiencing the force of her love for her family and loved ones.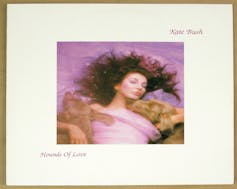 The cycle begins with two notes (a rising perfect fifth), an interval that is conspicuously inverted (into a falling perfect fifth) at the cycle's end. In between is an extraordinary mélange of styles, melodic invention, and timbres. But the musical symmetry of the cycle's opening and closing notes complements the lyrics' repeated use of oppositional imagery, such as under/over; in/out; up/down; microcosmic/macrocosmic; and so on.
Complete with an epigraph from Tennyson, this second side smuggles in a musical style — prog rock — whose stocks were at their lowest ebb during the post-punk years. As Ron Moy argues in his 2007 book on the album, Hounds of Love is
classically prog in broad conceptual and often musical terms. However, it reined in many of the excesses of the genre, thus rendering its ambition and experimentation more accessible and palatable to a mainstream audience.
While "restrained" might not be a word often associated with Bush (so theatrical, so intense, such a perfectionist), Hounds of Love benefits from an exceptional musical restraint. (Indeed, its one major misstep is when The Big Sky lapses into bombastic repetition). Such restraint can be heard on the eponymous song, which brilliantly uses cello parts where one would expect electric guitar and bass.
Meanwhile, Mother Stands for Comfort benefits from its skeletal arrangement, with a dry, metronomic drum part providing the framework for the interaction between Bush's piano and Eberhard Weber's fretless electric bass.
As suggested by Moy, Bush's sense of restraint is matched by musical ambition and expressiveness. Most expressive of all is Bush's voice. Bush had always employed an extraordinary range of dramatic vocal effects, especially in The Dreaming (1982), but in Hounds of Love she also employs her lower register to great effect, giving her voice a new range and maturity.
As the cover art of her 1980 album Never For Ever attests, Bush had also always brought together a peculiarly English blend of the pastoral and the gothic. In Hounds of Love, the pastoralism of And Dream of Sheep is matched with the gothicism of Waking the Witch.
But the mixture of light and dark, idealism and nightmare, can be found in individual songs, most especially in what is (for me) the album's highlight, Hello Earth.
This song's lullaby-like verses are ghosted by the extraordinary choral sections (brilliantly performed by the Richard Hickox Singers) that stand in for its missing chorus. These choral sections are taken from a Georgian folk song that appears in Werner Herzog's 1979 film Nosferatu the Vampyre.
Like David Bowie before her (though more so), Bush is essentially theatrical, as her two short stints of live performance (in 1979 and 2014) illustrated. But her songs are also theatrical in the sense that they so often represent characters who are obviously not Bush. These include a bank robber, Houdini's wife, a young soldier, and, more recently, a person in love with a snowman.
Inhabiting another's subjectivity is both an erotic and gothic trope, things brought together in the title song of Hounds of Love, which samples dialogue from the 1957 British horror film, Night of the Demon (also known as Curse of the Demon). Spoken by a medium channeling a dead character ("It's in the trees; it's coming!"), the moment is a perfect metaphor for Bush-as-songwriter herself.
Channeling other characters is what Bush has done since the beginning of her career with Wuthering Heights (1978), a song that precociously fuses eroticism with a voice from beyond the grave. In Hounds of Love, Bush's extraordinary vocal performances are the musical equivalent of speaking in tongues. It might not be a perfect album, but there are few more thrilling, literate, and ambitious works of popular music. It is hard not to be spellbound by it.
---
What's your favourite album? We'd like to hear from readers and will be publishing your best choices at the end of the week. Please email 100 words on your choice to James Whitmore at myfavouritealbum@theconversation.edu.au
Are you an academic who would like contribute to this series? Please contact James Whitmore or Suzy Freeman-Greene