David Jones and Myer are making headway in complementing their traditional businesses with digital offerings, according to what respective CEOs told their shareholders late last week.
Caught behind rapid changes in the industry, Australia's two department stores have spent the last year getting products online and support infrastructure in place, and they reported on their progress during their annual general meetings.
"We want to build a world class omnichannel retailer," said David Jones' chairman Peter Mason. With omnichanneling, Australian incumbent retailers hope to fend off the threat from online specialist retailers, especially those based overseas.
David Jones CEO Paul Zahra made special mention of the companies attempts at price harmonisation to reduce price discrepancies between world prices and the company's offering.
Bernie Brookes, Myer's CEO, told shareholders his company's online offering was "2/10 last year, 7/10 at the moment, and hopefully next year it will be 9/10."
The idea of omnichanneling is to capitalise on a retailer's physical store presence in gaining an advantage over online-only retailers by providing customers with choice in how they interact and transact with the company.
But omnichanneling in Australia is still in its infancy. At present, the discussion centres mostly around building a successful online channel in addition to the bricks-and-mortar presence. Other channels such as mobile apps play an ancillary role.
Having come late to the online party, the two retailers have devoted their attention over the past year to growing their online product range, Myer from a mere 4,000 items in 2011 to now 90,000 items.
David Jones now lists 100,000 items online – "the same line as a standard main-line department store" – up from 90,000 earlier this year. This has translated into strong growth in online sales year over year, albeit from a rather negligible base.
From omnichanneling to channel blending
In order to appreciate the full potential of omnichanneling it is helpful to distinguish three models of increasing complexity. These models can equally be seen as maturity stages in implementing omnichannel retail.
The most basic model we term channel choice. Under this model the retailer provides new online and mobile channels as largely separate offerings in addition to traditional store (or catalogue-based) retail.
While customers might use the channels interchangeably for information, under this model pricing and transactional aspects are managed independently. Some retailers also opt to set up separate entities that use their own branding.
A more complex and customer-oriented approach is the channel coordination model. Here, the retailer allows customers to carry out different steps in the transaction process in different channels.
This allows "channel hopping", whereby customers can buy online and pickup in the store, or use the store to try and buy, while the merchandise is delivered home.
Implementing such a strategy requires treating the online channel as an integral component of the retail strategy and data integration between the channels, which can be time-consuming and expensive depending on the nature of legacy systems.
The last model we term channel blending; it aims to truly integrate channels. In fact, this model moves away from traditional "channel thinking". It promotes rethinking the retail experience rigorously from the customer perspective. What might be treated as channels today will become components in an integrated customer retail experience design.
The potential for this kind of innovation can be seen in Apple's retail offering. Its online shop and iTunes-based fulfilment process are integral parts of the customer's in-store experience.
The Apple Store App allows scanning of in-store items, which not only allows customers to see detailed information on a product, but also to pay and leave the store by presenting the receipt on the phone screen at the store exit.
Rethinking the role of mobile and online offerings opens up a creative space for retail innovation. In the future, traditional retail spaces might morph into showrooms for organising product experiences, rather than being oriented – process and layout-wise – around the transaction process.
As a first step, mobile apps could be used to create in-store wish lists, share experiences with friends, organise lay-by and pay, while gradually allowing blended experiences – for instance, through avatar-based consultations or augmented reality solutions – technologies that are already nearing market-ready status.
Status quo
Both Myer and David Jones have made significant investments in their online offerings recently. Zahra said the David Jones store would turn a profit in its first year, and said online orders were on average worth three times as much as in-store purchases.
Myer CEO Bernie Brookes said their online store was "approaching profitability". But further investment would need to be made to reduce distribution costs.
The company aimed at reducing the cost of delivery by one sixth to a third. So far A$35 million had been spent on order management systems and other backend infrastructure. Brookes estimated a further A$15 million would need to be spent over the next year.
Both David Jones and Myer are also making progress in addressing what we termed the "relational gap" in a recent study.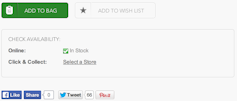 Both have launched features that encourage customers to invest into a relationship with the company, such as customer ratings and reviews, gift lists and wish lists.
The two retailers are also making progress in moving from a channel choice to a channel coordination model. Both companies now offer their online customers in-store pick up and return.
Customising the transactional process is an important step in moving forward their omnichannel strategies. But this is still a long way away from a true blending of channels that would fully capitalise on integrating online and offline offerings.
As long as our retailers devote special attention at their AGMs to progress made in the online and mobile channels, we know that these channels are not yet a normal and taken-for-granted part of the business model.
While the last year has seen significant steps forward, our retail giants are still a long way away from understanding these new channels as an integral part of organising the customer retail experience.