PANACEA OR PLACEBO – A weekly series assessing the evidence behind complementary and alternative medicines.
Myotherapy was developed by American Bonnie Prudden in the 1970s as a system of treating painful and dysfunctional muscles and soft tissue. The term is also used more generally to describe a suite of soft tissue and massage techniques.
Myotherapists are concerned with treating myofascial pain. This term was coined by Janet Travell and David Simons to refer to pain that arises from areas within muscles and ligaments that are both spontaneously painful and also capable of causing referred pain in predictable patterns.
They were a fascinating and formidable pair: Travell was best known as JFK's personal physician; Simons was a pioneer of stratospheric flight and the first man to observe the curvature of the earth from the edge of space. Their Trigger Point Manual has become a standard reference for clinicians interested in myofascial pain.
Bonnie Prudden was an early leader in promoting physical fitness for the masses, and became interested in the work of Travell and Simons in the early 1970s. She published her book Pain Erasure in 1980 and devoted the rest of her life to teaching and expanding myotherapy from her base in Tucson, Arizona.
Techniques and evidence
Trigger points and myofascial pain remain a controversial area of medicine. Few clinicians who see large number of patients with musculoskeletal pain would argue against the idea that painful areas exist in the locations described in the Trigger Point Manual.
As a pain specialist, I have certainly been able to help sort out dozens of patients referred by colleagues with otherwise inexplicable pain by applying the general principles of Travell and Simons.
But nearly half a century after the terms trigger points and myofascial pain were coined, the scientific understanding of them, and the best means of treating the latter remain sketchy. This is largely due to the slow progress of basic science research into muscle and soft tissue pain.
Manual techniques including massage, focused pressure from hands, fingers, knuckles or elbows and the use of modalities such as heat, cold, electrical stimulation and sticking acupuncture needles into the trigger points form the bulk of what myotherapists are trained to do. They also give advice about posture and prescribe exercise programs to remediate the biomechanical imbalances that caused the trigger points to form in the first place.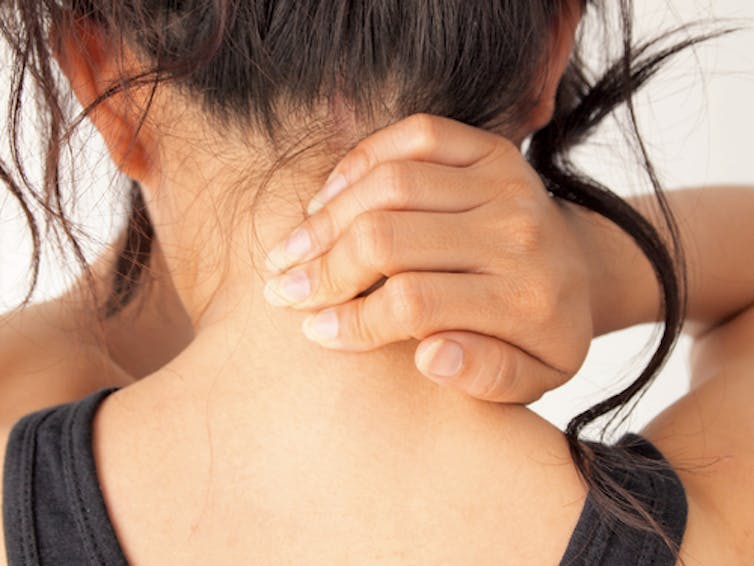 Some of the techniques that form the armamentarium of myotherapy are supported by some positive evidence. Trigger-point injections with local anaesthetic, dry needling and even botulinum toxin have good supporting evidence of short- to medium-term benefit. This article from the American Family Physician journal gives a comprehensive summary of what is understood about treatment approaches for myofascial pain.
But published studies in the peer-reviewed literature of specific Bonnie Prudden-approved manual techniques are completely lacking. If you search myotherapy in Pubmed you find very little: the papers published in the medical literature are merely case reports of a German technique for treating painful jaw muscles.
Training and practice
In Australia, Victoria has all the tertiary courses in Myotherapy apart from one. Qualifications from an Advanced Diploma of Remedial Massage (Myotherapy) to a Bachelor-level degree in Myotherapy are available through RMIT University, Australian College of Sports Therapy, Northern Melbourne Institute of TAFE, Southern School of Natural Therapies, Chisholm Institute, Holmesglen Institute and Endeavour College.
Completion of one of these courses is required for membership of the Institute of Registered Myotherapists of Australia (IRMA), but the term "myotherapist" is not a protected professional title.
Most myotherapists work in small individual practices or as part of a multidisciplinary team of allied health clinicians. Many massage therapists also incorporate myotherapy into their practice.
My verdict
There is a lingering impression of a cult of personality about myotherapy in general, considering the charismatic individuals involved in pioneering it, and the lack of follow-up development of an evidence base.
Myotherapy is, however, founded on rational principles and does not tend to make claims of benefit beyond the myofascial realm of treatment.
Attending a myotherapist for muscular pain may well have a positive result if your pain is due to trigger points and remains amenable to manual treatments.
It seems a reasonable precaution to prefer a therapist who is a member of the IRMA, which represents around 500 therapists, or the Australian Association of Massage Therapists, since these organisation require their members to carry indemnity insurance and participate in ongoing professional development activities.
You can find a consumer guide to attending a myotherapist at the Victorian government's Better Health Channel website.
Read the second instalment of panacea of placebo: