The US president, Joe Biden, struck a bullish note during a recent meeting at the White House with Nato secretary general, Jens Stoltenberg, declaring: "The allies have never been more united."
---
You can listen to more articles from The Conversation, narrated by Noa, here.
---
Russia's invasion of Ukraine has certainly given Nato a fresh sense of purpose and momentum. Its credibility severely dented by the disastrous retreat from Afghanistan in 2021, Nato has returned to what it is good at: the collective defence of Europe.
The 2022 Madrid summit agreed to a new Strategic Concept that gave priority to deterrence and defence and the beefing up of forces on the alliance's eastern flank. In April this year, the accession of Finland enhanced Nato's presence in the Arctic and Baltic regions. At the Vilnius summit, which begins on July 11, alliance leaders are expected to approve a set of regional plans, NATO's most detailed defence documents since the end of the cold war.
In parallel, defence ministries have been working on new capability targets to fit a "New Force Model" agreed at Madrid. Progress toward boosting European armies' combat readiness has been mixed – and a majority of the allies remain below Nato's defence spending target of 2% of GDP.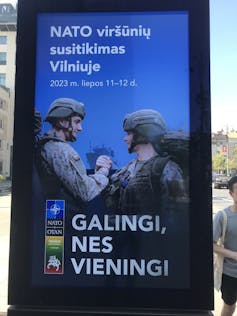 But Russian belligerence has shifted the dial. All the allies, with the exceptions of the US and Turkey, have increased defence spending relative to their countries' GDP since Nato agreed the Defence Investment Pledge in 2014.
In 2022, defence spending in central and western Europe was at its highest level in real terms since 1989. Diplomats already have a favoured phrase for the summit outcome – 2% will be the "floor" for defence spending not the "ceiling" of ambition.
Work to be done
But there is much still to be resolved. The most important issue, obviously, is Ukraine. Nato's role has not been to arm Ukraine in its fight with Russia. That is a matter for individual allies with coordination overseen by the International Donor Coordination Centre and the Ukraine Defence Contact Group. Neither of these is a Nato body (deliberately so, otherwise their workings would be subject to Nato's cumbersome consensus rule).
Nato support has instead been through training and the provision of "non-lethal assistance" such as rations, fuel and medical supplies. In April, Nato foreign ministers approved "a strategic multi-year assistance programme" to extend that commitment. The Vilnius summit will sign it off.
The bigger prize for Ukraine, however, is Nato membership. That would bring the country within the collective defence provisions of Article 5 of the North Atlantic Treaty and, in effect, extend US (and UK) nuclear guarantees to Ukrainian territory. In September 2022, Ukrainian president Volodymyr Zelensky requested "expedited" membership of the alliance.
This will be difficult to accommodate. No one in Nato is arguing in favour of granting membership while Ukraine remains at war. Beyond that, the allies are divided.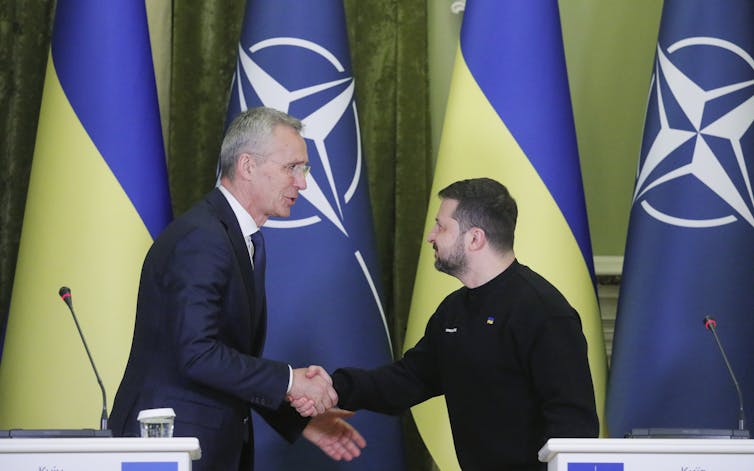 On the one hand, are those such as Poland, the Baltic States, the UK and tentatively France who want Vilnius to lay out a "clear path" to membership once the war is concluded. On the other is the US, backed by Germany, who seem to favour diplomatic ambiguity so as to keep all options open (including delay) on the assumption that the war with Russia drags on indefinitely.
Strong language (but little detail)
Given all this, writing the summit declaration has proved to be challenging. At Vilnius, expect some strong language on Ukraine's membership aspirations, but little detail on how that is to be achieved.
There is also no consensus on who will replace Stoltenberg as secretary general. Stoltenberg has been in the job since 2014 and has already had his term extended twice. He has openly voiced a desire to retire when his term ends in October. Ben Wallace, the UK defence secretary, has indicated a desire to replace him, but is supported in neither Washington nor Paris. Stoltenberg is highly regarded and it won't be a surprise if his term is extended yet again at Vilnius.
Another spat has centred on Nato candidate Sweden. Expectations that Sweden (which applied for membership in parallel with Finland) would attend the Vilnius summit as a member have been dashed in the face of opposition from two existing members: Turkey and Hungary.
A Koran-burning episode in Stockholm at the end of June angered the recently reelected Turkish president, Recep Tayyip Erdoğan, who had already complained of perceived Swedish support for Kurdish separatists. Talks between Turkish and Swedish officials scheduled for just before the summit might make progress. But Erdogan is reportedly also holding out for concessions from the US – including the approval of a blocked deal to purchase F-16 fighter jets.
Hungary's objections seem more quixotic and may simply be designed to curry favour with Turkey. This, at least, is encouraging. Should Erdoğan make a gesture at Vilnius to facilitate the ratification of Swedish membership, Hungary might then fall in line.
And finally, China. Nato's 2022 Strategic Concept raised concerns at Beijing's efforts "to increase its global footprint and project power". In practical terms, Nato's main effort in response has been to strengthen political ties with the Asia-Pacific Four (Australia, Japan, South Korea, and New Zealand).
Vilnius is expected to endorse individual partnership agreements with these countries. But broader issues of how Nato should position itself in a new era of Sino-US rivalry have largely disappeared from view as the political and strategic bandwidth of the alliance has been taken up by the Russia-Ukraine war.
So the Vilnius summit will make for interesting viewing, having, in the words of former US Nato ambassador Douglas Lute: "got everything from war to leadership succession". For Lute, it's likely to be "the most challenging" summit in Nato's recent history. Until, that is, July 2024 when the alliance holds its 75th anniversary summit in Washington DC – just weeks before the commencement of the US presidential election campaign.