British-born scientist M. Stanley Whittingham, of Binghamton University, was one of three scientists who won the 2019 Nobel Prize in Chemistry for their work developing lithium-ion batteries.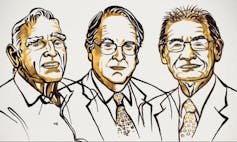 Maybe you know exactly what a lithium-ion battery is but even if you don't, chances are you're carrying one right now. They're the batteries used to power mobile phones, laptops and even electric cars.
When it comes to energy storage, they're vastly more powerful than conventional batteries and you can recharge them many more times.
Their widespread use is driving global demand for the metal lithium – demand that Opposition Leader Anthony Albanese this week said Australia should do more to meet.
The University of Queensland's Mark Blaskovich, who trained in chemistry and penned this article about Whittingham's selection for the chemistry Nobel Prize, sat down with the award-winner this week.
They discussed what the future of battery science may hold and how we might address some of the environmental and fire risks around lithium-ion batteries.
He began by asking M. Stanley Whittingham how lithium batteries differ from conventional, lead-acid batteries, like the kind you might find in your car.
---
Read more: 'Highly charged story': chemistry Nobel goes to inventors of lithium-ion batteries
---
New to podcasts?
Podcasts are often best enjoyed using a podcast app. All iPhones come with the Apple Podcasts app already installed, or you may want to listen and subscribe on another app such as Pocket Casts (click here to listen to Trust Me, I'm An Expert on Pocket Casts).
You can also hear us on Stitcher, Spotify or any of the apps below. Just pick a service from one of those listed below and click on the icon to find Trust Me, I'm An Expert.
---
Read more: Trust Me, I'm An Expert: what science says about how to lose weight and whether you really need to
---
Additional credits
Recording and production assistance by Thea Blaskovich
Kindergarten by Unkle Ho, from Elefant Traks.
Announcement of the Nobel Prize in Chemistry 2019
Images
Shutterstock