The government has high hopes that the New Colombo Plan will lead to a more Asia-literate society and people-to-people links will improve our relations with Asian nations in the program. But for this to be successful, there's a few things it still needs to think about, such as the calibre of the students as diplomats, and whether they're in Asia long enough to really immerse themselves.
In announcing Australia's "new aid paradigm" at the National Press Club recently, Foreign Minister Julie Bishop topped and tailed her speech with the Colombo Plan.
Bishop began by recalling the thousands of Asian students who were sponsored to study in Australia under the Colombo Plan for aid to south and southeast Asia, commencing in 1951. She concluded with reference to a new "signature policy in foreign affairs" that is the government's New Colombo Plan, which provides support for Australian students to study and undertake internships in a partner Asian country.
The 'long view' of Australian engagement
The bigger story according to Bishop is the "long view" of Australia's engagement in its region: flows of people to and from Asia creating people-to-people linkages over time.
However, this raises important questions. The first thing to note is the awkwardness of linking scholarships with a policy speech about greater aid effectiveness.
It will always be problematic to measure the original Colombo Plan's success in terms of aid. We can point to political, business, research and community leaders through Asia who were once Colombo Plan scholars such as Indonesian vice-president Boediono, and we trust that some of them have made a difference in the development of their respective countries. But keeping track of all of the returned alumni and measuring their effectiveness in terms of poverty alleviation or development is devilishly hard.
The story is different in terms of "soft power". The Colombo Plans, old and new, generate wonderful human-interest material as students experience new lands and learning. And they are ready-made vehicles for the "humanising" of foreign policy objectives, such as cultivating friends and two-way understanding of Australia and our region – public diplomacy in modern parlance.
The original Colombo Plan, 63 years old next month, signalled the potential and also the limits of using sponsored student movements as public diplomacy. In training more than 20,000 students (some of whom rose to prominence upon returning home), Australian governments cultivated ties that would endure. They added "ballast" to relationships with key neighbours such as Indonesia and Malaysia.
Even more importantly, perhaps, the Colombo Plan educated Australians who knew too little about post-independence Asia, and broke down barriers to greater communication and understanding.
But there were limits to what could be achieved in the name of the Colombo Plan. Some of the publicity around Australian efforts stalled when it was not translated into local languages, and it was hard to maintain a profile in countries such as India, where the numbers spending time in Australia represented a miniscule fraction of the population.
As mentioned, it was also very hard to keep track of where Colombo Plan alumni ended up. Those who had positive experiences in Australia were invariably those who proved easiest to track down later, but their number didn't account for anything like the full complement.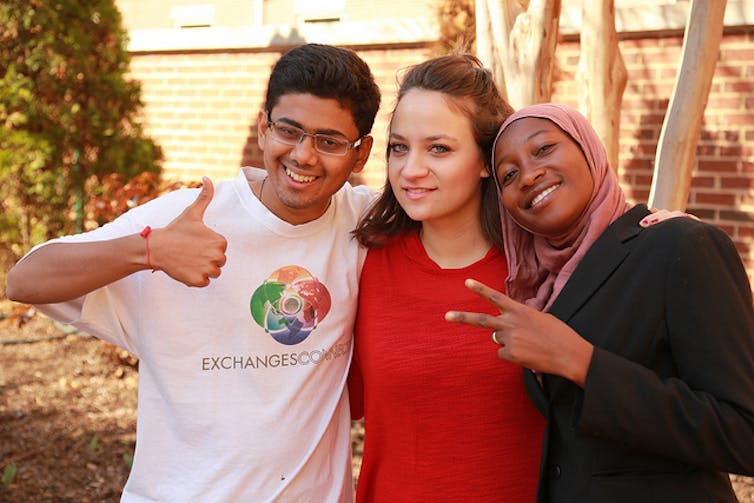 What do these lessons suggest for the New Colombo Plan?
The aim of fostering interest in the region and replacing the largely one-way flow of Asian students to Australia with a two-way flow is widely welcomed. The first tranche of funding under the New Colombo Plan started in February, and 24 Australian universities sent more than 300 students to Asia for study, language training and internships.
This year's pilot program involves Indonesia, Japan, Singapore and Hong Kong. Next year, the New Colombo Plan will involve a broader range of partner countries in the Indo-Pacific, and we already know one of these is China.
In policy language, there is a sense of Australian students being generational pioneers for "our destiny" in Asia. This is almost an inversion of the older development paradigm through which Asians were encouraged to see education in Australia.
If it is to be successful and be seen – as Bishop intends – as "a rite of passage" for young Australians, then two crucial criteria must be met. First, we will need the Australian public as well as universities to embrace the plan. We look for stimulating stories about the institutions visited and educational or internship experiences enjoyed.
The New Colombo Plan has the potential to help shift us from seeing Asia primarily through the eyes of tourists and exporters. It might enable us to draw more on the experiences of the roughly half a million Australians who already live and work in the region.
We also need our new New Colombo Plan scholars to be great listeners and learners – qualities not necessarily instilled if, as has sometimes been the case this year, their overseas ventures are very short-term. Good listening is an essential quality of public diplomacy initiatives.