June 1 marks the beginning of the 2018 Atlantic hurricane season – an ominous date for the Caribbean region, where many countries have not yet recovered from last year's catastrophes.
In 2017, six storms of Category 3 or higher – with winds exceeding 111 mph – produced devastating human, environmental and financial damage across the southern United States and the Caribbean. Puerto Rico, Dominica, Barbuda and some U.S. Virgin Islands were all but destroyed.
The hurricanes are estimated to have cost the region up to US$95.5 billion – $90 billion in Puerto Rico and $5.4 billion in other Caribbean nations.
We've compiled the expert analysis you need to follow this important story.
1. Tragedy in Puerto Rico
Puerto Rico remains crippled by last year's hurricane season. Hurricane Maria knocked out the island's power grid in September, leaving 3.3 million people scrambling to find food, clean water and medical care.
"The federal recovery effort in this American territory has been under fire nearly every day since then," write Birthe Anders and Vincenzo Bollettino, who study the role of the armed forces in disaster relief at the Harvard Humanitarian Initiative. "Critics note that hurricane relief in Texas and Florida last year was quicker, more robust and more effective."
The U.S. military's deployment to the Caribbean last fall – which included 17,000 troops, 82 aircraft and three combat support hospitals – was "better than critics say but suffered flaws," they say.
A slow start left some Puerto Ricans stranded without aid for weeks, and the military's coordination with FEMA was imperfect.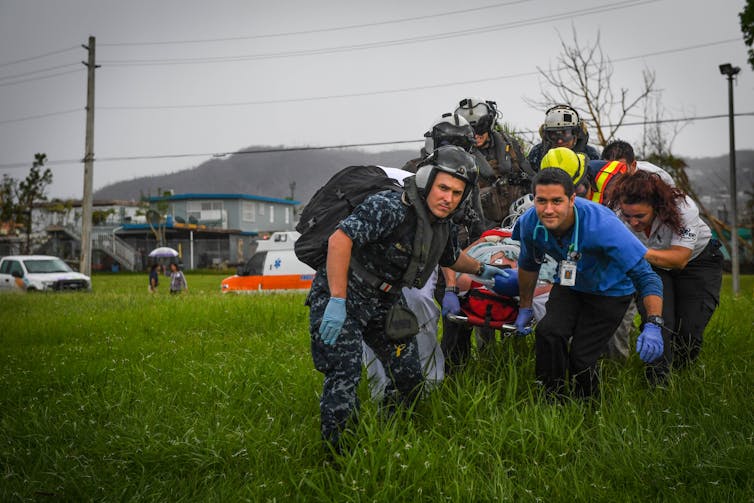 But interviews with Department of Defense responders suggest that the military's biggest challenge was the "sheer scale of the damage."
"Puerto Rico's government was completely overwhelmed," the researchers found, "making it very difficult for FEMA and the U.S. military to get a clear picture of what was most urgently required – and where."
And since international humanitarian aid organizations do not work in the U.S., Anders and Bollettino say, "there simply was not enough manpower to get the job done."
2. Thousands left dead
As a result, Puerto Ricans have continued to die from storm-related causes since Hurricane Maria.
As of Dec. 29, Puerto Rico's Department of Public Safety had certified 64 deaths due to Hurricane Maria. But Penn State demographer Alexis R. Santos-Lozada was part of a research team that contradicted the government's official tally in November, saying it was a dramatic undercount.
"We compared the number of deaths in September and October last year with data from the same period of time in 2010 to 2016 and concluded that deaths exceeded historical ranges by at least 1,000," he explains.
A new study has now placed Hurricane Maria's total death toll at 4,645. Thousands of "indirect" storm deaths occurred from the interruption of medical care for chronic conditions such as kidney disease and diabetes.
3. Disaster as opportunity
While governments struggle to pay recovery's price tag, some foreign corporations see helping as a business opportunity.
After Hurricane Maria, the electric-car company Tesla sent hundreds of its Powerwall battery systems to Puerto Rico. These "could be paired with solar panels to get the electric grid up and running again," says energy researcher Masao Ashtine of the University of the West Indies.
By October, Tesla technology was powering the San Juan Children's Hospital.
The company hopes its work in Puerto Rico will open doors for new investment in the region, Ashtine says.
"Puerto Rico isn't the only Caribbean country with an inadequate energy grid," he says. "Across the region, outmoded system designs that rely on a few plants for power production make complete blackouts much higher than grid systems that have an even distribution of power generation."
That makes them prone to crippling power outages in severe weather.
4. Rebuilding better
Puerto Rico lost all electricity again on April 18, seven months after Hurricane Maria first knocked out its power grid. Officials say even a minor storm with 74 mph wind speeds could disable the grid again this year.
Caribbean policymakers are looking for "fast ways to strengthen their power grids" with more durable energy sources, says Ashtine. But, in a Caribbean of increasing weather extremes, green energy systems are themselves vulnerable.
"Modern wind turbines, for example, were first engineered in Europe – a region that rarely experiences Category 5 hurricanes," he writes. "Wind speeds above 165 mph would tear the turbines apart."
Changing precipitation and temperature patterns in the Caribbean also affect hydro and solar power. More rain in the region's north means fewer sunny days than anticipated. Higher temperatures in other countries suggests increased likelihood of drought, Ashtine says, leading rivers to run dry.
Climate change is also "profoundly unpredictable," making it very hard for weather models to correctly identify which renewable energy infrastructure should be built where.
5. Widespread concern
This year's hurricane season may well be severe. Scientists say storm intensity has been intensifying in recent years due to rising global temperatures.
Though people in the U.S. and the Caribbean share this increasing vulnerability to hurricanes, they hold different opinions about the severity of climate change, Vanderbilt University researchers Elizabeth Zechmeister and Claire Evans have found.
According to Vanderbilt's latest AmericasBarometer survey, a biennial survey conducted in 29 Latin American and Caribbean countries, a strong majority of Caribbean residents perceive climate change as a "very serious" problem. In contrast, just 44 percent of U.S. residents do.
Blame politics, say Zechmeister and Evans. In the United States, climate change is a partisan issue. In the Caribbean, it is not similarly politicized.
"The AmericasBarometer survey asked respondents in the Dominican Republic, Haiti and Jamaica to place themselves on a scale that runs from the political left to the right," they write. "We found no significant differences in opinions about climate change from people with different political views."
People in the Caribbean are much more likely than those in the U.S. to perceive climate change-related disasters as a threat. Right now, that threat surely feels imminent.
Editor's note: This story is a roundup of articles from The Conversation's archives.