Today we're delighted to announce the appointment of The Conversation's first New Zealand Editor, who will join a team of editors working in 25 cities to share academic research and analysis with millions of readers worldwide.
Veronika Meduna is an award-winning journalist and author, with two decades of experience in radio, print and digital storytelling.
Veronika has previously produced and hosted a weekly science programme for New Zealand's public broadcaster RNZ, written seven books, and contributed to local and international media including NZ Geographic, New Scientist and Deutsche Welle.
The new NZ Editor position has been created thanks to funding from four local universities: Lincoln University, Massey University, Victoria University of Wellington and University of Waikato. The Conversation's pilot in New Zealand has also been supported by two new media partners, the Royal Society Te Apārangi and the New Zealand Science Media Centre.
Veronika will work mainly with The Conversation's founding team of editors, based in Australia. But NZ stories will also be shared across the Conversation's growing international network of editions: the United Kingdom, the United States, Africa, France and a Global pilot. There are other editions in development, including Canada and Indonesia.
The Conversation is a not-for-profit educational website, whose editors work with academics and researchers to publish evidence-based articles that are free to read and republish. Each month, The Conversation reaches a global audience of 5.2 million users on our site, and 35 million unique page views through creative commons republication in other media.
Since joining The Conversation, Veronika has published articles by a number of leading New Zealand academics, helping them reach an international audience of almost half a million readers.
Victoria University Professor Rupert Sutherland, whose article on drilling into NZ's most dangerous earthquake fault line was republished by outlets including Newsweek and I F###ing Love Science, said:
We had public interest in our work in the past, but the global reach and size of the audience for my article in The Conversation far exceeded my expectations. The really nice thing about publishing in The Conversation was that the article was written in my own words and was an accurate account of our results.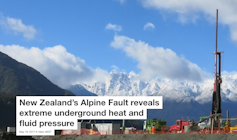 Be among the first to read the latest New Zealand research by joining 130,000 others in receiving the Australasian region's daily email newsletter. Or follow Veronika and The Conversation on social media: @VeronikaMeduna on Twitter, and @ConversationEDU on Twitter and Facebook.
And if you're a New Zealand-based academic or researcher doing work that's relevant to a broad, global audience, you can register and "pitch" a new article for the New Zealand Editor to assess.
Massey University's Vice-Chancellor, Professor Jan Thomas, has already seen the benefits of joining The Conversation.
I was happy to support The Conversation's expansion into New Zealand, having seen at my previous university how it helped academics share their research with the world and often led to new opportunities. For instance, a University of Southern Queensland technology analyst was offered support by Microsoft and Amazon after writing about his research, while one USQ astronomer alone has had his articles read more than 1.6 million times. I'm looking forward to seeing Massey's world-class research being read in the same way.
Lincoln University's Vice-Chancellor Professor Robin Pollard said his university has joined The Conversation to further the societal role of academics and experts from the perspective of a specialist land university.
Lincoln staff and students are well placed to participate in debate about the trade-offs that have become grand challenges for New Zealand society and regulators.
Victoria University of Wellington Vice-Chancellor Professor Grant Guilford described The Conversation as a highly respected and effective channel to communicate the important work being done by Victoria's scholars and researchers.
Joining The Conversation will increase the reach and impact of the high quality research being carried out at Victoria. It will also support our staff in their role as critic and conscience of society and Victoria's commitment to leading debate on the major issues facing New Zealand, the Asia-Pacific region and the world.
Professor Neil Quigley, Vice-Chancellor at the University of Waikato, said:
We're passionate about ensuring that the University of Waikato's research is accessible to everyone, shaping and informing national and global conversations on key issues. University of Waikato academics are globally recognised for the quality and impact of their research in areas such as the environment, cyber-security, Māori and indigenous studies, health and human performance and agriculture and The Conversation allows us to engage all New Zealanders on topics that matter to them, reflecting our motto 'Ko Te Tangata' - 'For the people'.
If you're new to The Conversation, you can read more about who we are, including 10 ways we're different, our funding as a not-for-profit, and how anyone can read and republish our articles for free.