As the centenary of the Gallipoli landings approaches Australians need to consider the other half of the ANZAC acronym. The rise of Anzac Day as Australia's national day has been paralleled by the increasing importance of Anzac Day in New Zealand.
For both Australians and New Zealanders, a visit to Anzac Cove is today seen as a rite of passage. The Anzacs, many Australians and New Zealanders believe, went to war to defend their countries' values and lifestyle. Politicians compete to pay homage to their fallen heroes.
Where New Zealand's embrace of Anzac differs from Australia is the place of the legend in national mythology. Former New Zealand prime minister Helen Clark described the experience at Gallipoli as "a defining stage in the evolution of New Zealand" but only one important piece:
… in the mosaic that makes up … New Zealand.
Clark's qualified embrace of Anzac contrasted sharply with Australia under former prime minister John Howard. By the late 1990s, Anzac had become Australia's key national myth. It comes as little surprise, then, that it was Clark who warned the Australian government about the inappropriateness of John Farnham's planned performance at Anzac Cove in 2005.
The slickly produced programs at Anzac Cove are perhaps another reminder that New Zealand commemorates Anzac Day, while Australia tends to celebrate it.
One reason that New Zealand can more easily see the Anzac legend as merely one part of the "mosaic" of its national identity is that Waitangi Day (February 6), the anniversary of the signing of New Zealand's founding document (the Waitangi Treaty), provides an alternative founding moment.
While Australia has Australia Day to mark the arrival of the First Fleet (January 26), it arguably has no comparable example of such a "founding document" or historical event to Waitangi Day. There is also no any immediate likelihood that an alternate narrative such as the declaration of a republic is about to emerge to rival Anzac Day.
However, many New Zealanders continue to see Anzac Day as a less problematic national day. In January 2005, New Zealand's then-deputy prime minister, Michael Cullen, argued that Anzac Day was perceived as "less contentious" than Waitangi Day, which has previously been associated with protests by New Zealand's indigenous peoples.
In New Zealand, Anzac Day allows both Maori and Pakeha (Maori word for a New Zealander of European descent) to unite for a common cause, rather than fighting one another as they did in the Maori Wars. The Anzac unity avoids the stains of colonialism and frontier violence in its celebration of foundational history. Both Australia and New Zealand are conveniently imagined as being "made" as nations elsewhere.
Anzac Day does not raise issues of sovereignty and dispossession – unless you are Turkish. Unlike the haunted history of colonisation, it hails the spirit of thousands of men who died "honourable" deaths in the hills of the Gallipoli Peninsula and the mudfields of the Western Front.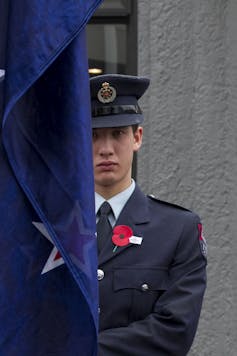 As recently as Anzac Day 2009, New Zealand prime minister John Key went so far as to suggest that the Anzacs had fought to maintain the country's economic advantage, miraculously securing New Zealand's wealth for a century to come. Key said the Anzacs:
… were everyday people who rose to heights of sacrifice and, in doing so, preserved the living standards of all of us, for generations to come.
Some differences exist between Australia and New Zealand. The burying of "the unknown soldier" at the national war memorial took place in Australia in 1993, and in New Zealand in 2004.
One of the most notable parallels is the role of government funding in driving enthusiasm for Anzac heritage. Both countries have seen a steep increase in media coverage of Anzac Day and much greater numbers attending services at home and abroad.
School-based competitions for the best Anzac essay promote Anzac rituals across the education system, forming the basis of civic cohesion. Substantial government funding fuels domestic and international "military heritage" projects such as the overseas war memorials. Military anniversaries and site-specific building projects on the Gallipoli Peninsula are increasingly popular.
The New Zealand government funded a Gallipoli walking track dedicated for the 90th anniversary of Anzac in 2005. Both countries have provided greater support for military heritage research projects, and increased the funding and prominence of national war memorials.
As the 2015 Anzac centenary approaches it appears that it has managed to provide a nearly immutable history, sacred and free of political division.
---
Read the other articles in The Conversation's Commemorating WWI series here.