High-profile NHS failures over the last few years point to a real problem in getting healthcare staff to speak up at work. All NHS employees have a personal "duty of care", articulated in the newly amended NHS Constitution. A responsibility to provide good clinical care also includes a "duty of candour" to raise concerns about poor practice. But the new regulatory system brought in to encourage staff to fulfil their duty of candour doesn't address the real reasons why people don't raise their concerns.
The new regulations, although well meant, focus on establishing the crime and the punishment, rather than the pressing problem of how to tackle the culture in which NHS staff are afraid to raise issues. If our response is simply to regulate and punish, we are just setting up a system where silence is institutionalised.
Candour in the context of austerity
The NHS's current circumstances, including the junior doctors' current ballot to take strike action, make this problem particularly acute. Budget cuts imposed by the government via management mean that staff can find it difficult to know whether they should raise concerns over a lack of resources.
Professional codes, including regulations for doctors, advise that if you know that there is a serious problem with a lack of resources and prioritising them then you are obliged to raise this. In this situation, clinicians are personally accountable for following their professional code and are obliged to refuse instructions. This puts staff in, at best, a political position and at worst an impossible one.
The result is that staff don't speak up because they are worried about being victimised by their colleagues and employers. This problem is often seen as the need for a more just culture in the NHS that distinguishes between risky or reckless behaviour and human error when working out what has gone wrong. We need to look systemically at care rather than blaming collective problems on individuals.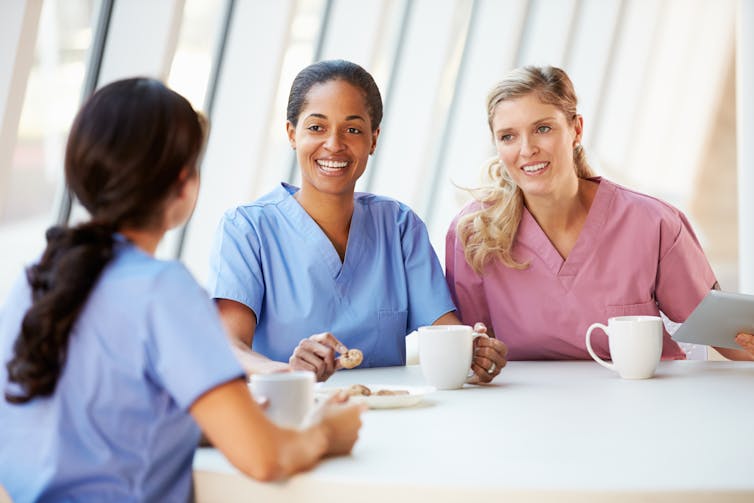 Instead, we have a "pervasive culture of fear" where people are unwilling to raise their concerns about patient safety. This indicates a failure in the duty of care staff have towards each other.
As the Freedom to Speak Up initiative carried out by the government in response to the findings of the Mid-Staffs inquiries shows, our relationships with each other are not sufficiently strong to risk speaking up at work. Many cope with working in the NHS by shutting up and actually not caring very much about the people they work with.
Similarly, the NHS also has a duty of care to the people that work for it and yet 30% of staff are paid less than the cost of living. Junior doctors are threatening to strike because the government wants to make shifts on weekday evenings and Saturdays count as regular hours not as (better paid) overtime.
Meanwhile, the announcement of a £5m occupational health fund for NHS staff in response to burnout and long-term sickness shows that many of us are failing in a duty of care each other. All this means NHS staff, and their relationships, are not receiving the care they need to do their jobs.
A relational model of care
The service the NHS can offer is always limited by financial controls and targets and so the duty of care is compromised every day. This means staff relationships have to be strong enough to be able to raise concerns about patient care and safe enough to do so without risking jobs.
Capacity to deliver care rests entirely on having relationships at work that allow mistakes to be made, thought about and addressed without anyone being burned at the stake. If we are to respect a duty of care to patients we also have to respect our duty of care to colleagues.
The task of achieving this is a concrete political one. We need to defend a principle of care that is fair both to patients and staff. And staff need to build sufficiently intimate relationships that allow them to work responsively to patient needs rather than defensively against victimisation and job loss.
Ultimately, surviving work in the NHS depends on how staff treat each other. It matters if you ask people how they are and listen to the answer, support someone with a concern about patient safety at the next supervision or join a union. It's time to dig deep.
This column looks at the reality of our health and care systems from the perspective of those working to deliver services. Please send us your anonymous stories from the frontline.