A few weeks ago I did something I have been avoiding for about 20 years: I talked about racism at work. As part of a frontline managers programme developed with the Tavistock Clinic, I and a group of health and social care practitioners have been meeting and having conversations about the juicy topics of whistleblowing, bullying, fear and loathing in the NHS.
Despite the blinding evidence, very few of us talk openly about the reality that the NHS is institutionally racist. In particular, recent research by my colleague Roger Kline into the racial makeup of the health service and the experience of black and minority ethnic (BME) staff has let the cat out of the bag. He described NHS leadership as "the snowy white peaks" among a workforce that that has seen its proportion of BME staff grow considerably in the last decade.
The research found the problem particularly bad in London, where 41% of NHS workers are from a BME background, compared to around 45% for the whole city. Despite much work to improve equality within the capital's health service, just 8% of London NHS trust board members are from a BME background. Similarly, white staff in London are three times more likely to become senior managers than BME staff and 25% of BME staff in the city consistently report they are discriminated against at work.
The NHS's workforce surveys also show that BME staff across England are more likely to be bullied at work and subject to disciplinary processes. The moment has come when we have to ask whether black working lives matter in the NHS.
Data is vital
If you're a patient, the answer is very much so. Research shows that the unfair treatment of BME staff is reflected in poor patient care. This is linked to our experience that a lack of diversity in teams reduces innovation and learning, and that when staff don't represent their local communities they struggle to provide genuinely patient-centred care.
The NHS has until now relied heavily on not collecting data on its BME staff, not publishing it and therefore not having to acknowledge the problem in the first place. But earlier this year the Workforce Race Equality Standard was created to provide a way to measure staff equality in the NHS and encourage employers to ensure equal access to career opportunities.
Standards and measurements are extraordinarily important given the reality that nobody wants to talk about racism. Data also drives inquiry. In every other aspect of NHS life –- disease, patient safety, improving care – we use data to identify problems and make changes. If workforce race discrimination adversely impacts patient care, surely data on racism should be treated the same way. This is what the standard is starting to do.
But even with the data we still have the enormous difficulty of tackling staff racism in the NHS. The data doesn't express the deep and difficult emotions that are part of the experience of discrimination.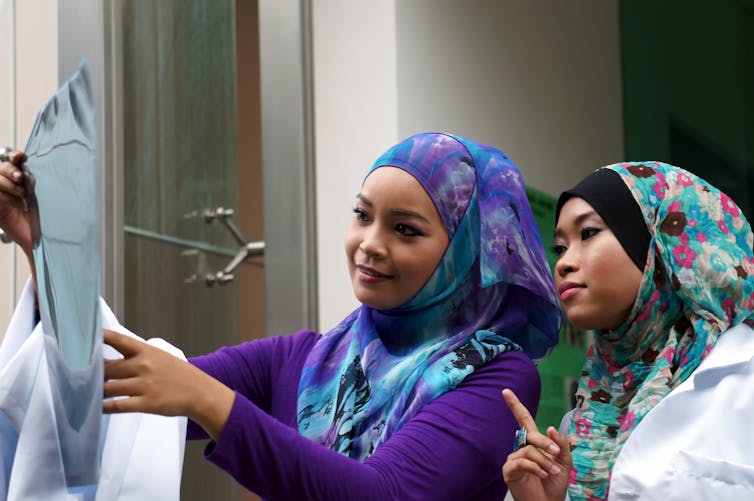 Institutional racism can occur when an organisation fails to tackle both the conscious and unconscious bias people can exhibit against others of another ethnicity. So understanding the psychology and emotions around individuals' racism are really important in tackling it at a wider level.
Psychoanalytic ideas give us a way of understanding racism as a powerful psychology where we project unacceptable or "bad" qualities into a group on the basis of their ethnic background. One much discussed idea is that of the "internal racist" – that we all have an internal drive to hate difference in others, a feeling that is provoked under stress and situations of scarce resources.
When we encounter differences in others, particularly if we don't like them or are working in a workplace in conflict, the psychological process can go as follows:
One of our beliefs, values or practices are challeged;
We become offended;
We get angry;
We become hateful towards the people around us;
We then experience a paranoid guilt that the other person is going to retaliate;
We get defensive and possibly slightly hostile.
In most cases, our egos can't handle this decline into primitive feelings and we deal with feelings of hatred by withdrawing from other people. This dilutes the strength of our ugly feelings but it also allows us to keep our views unchallenged and our superiority intact.
The world's not black and white
Psychoanalysis offers a model of development which encourages us to view the world as not black and white. Growth involves moving away from a perspective where people like me are good and people who aren't like me are bad, towards a more depressive position that we are all a mixture of good and bad aspects.
This more balanced perspective about the world allows us to reduce the very human default position to project our angry and negative emotions into other people. The argument is that, by accepting we are all able to experience hate and love for the people around us, we can better deal with the emotions we all face in adult life.
If you work in health and social care, dealing with a diverse group people is the nature of the job. Whether they're patients or colleagues, you don't get to walk away from them just because you don't like them.
Working with people who are not exactly like us and who are in pain and distress means that being offended by others is an occupational hazard. The issue is not whether we will be offended, rather what we do with the offence. If we nurture it and leave it unchallenged, it can turn to a hatred and a righteousness, producing a workplace where some people are seen as inherently better than others.
Equality data and standards are crucially important in maintaining the battle lines between offence and hatred. But we can only really do this if we are prepared to understand our own internal battle with difference, and keep the internal racist in its primitive place.
This column looks at the reality of our health and care systems from the perspective of those working to deliver services. Please send us your anonymous stories from the frontline.