Amid Australia's housing affordability problem, could prefabricated homes offer a helping hand?
Prefabricated homes – in which either the entire house or significant parts of it are manufactured in advance and then installed or assembled on site – are generally cheaper to build and have less environmental impact than conventional buildings.
The industry might even help to safeguard manufacturing jobs, as the workforce from Australia's ailing car industry could potentially shift to manufacturing buildings instead.
This rosy outlook aligns well with Australia's Construction Vision 2020, a government-commissioned plan for the property and construction industry which strongly supports the role of prefabrication. Yet this vision is not yet becoming reality – less than 5% of new Australian houses are prefabricated.
What are the key issues that are holding prefabrication back? It is being let down by a combination of the industry's small size, Australia's culture and weather, financing, weak policy support, and traditionalism.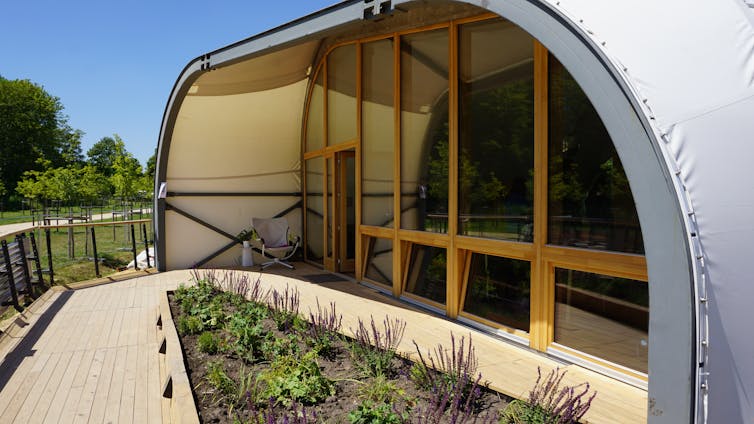 How we build and where we live
The size and culture of the Australian housing market limits the reform of traditional building processes, as does the warm climate of its urban areas. Australia is a relatively small, low-density market that does not favour high-output factories.
With an abundance of sun and no routine snowfall in our coastal capitals, there has not yet been a compelling reason to move the workforce inside (although there has been no study on the impacts of inclement or extreme weather events on construction time and cost).
Australians are also engaged in a growing love affair with renovating existing housing, rather than building from scratch.
The financing of prefabricated houses is complicated by the fact that the industry necessarily straddles the manufacturing and housing sectors. Financing for traditional house builds relies on the gradual release of funds as milestones are reached such as the pouring of a concrete slab, erection of the frame, and full completion.
In contrast, prefabrication reduces the on-site work to a simple installation process, with no gradual progression, so the builder/manufacturer needs funding up-front. Such cashflow issues have struck Melbourne-based modular housing designers Unitised Building and Modscape, both of whom have been forced to seek overseas financial backing or draw on private equity.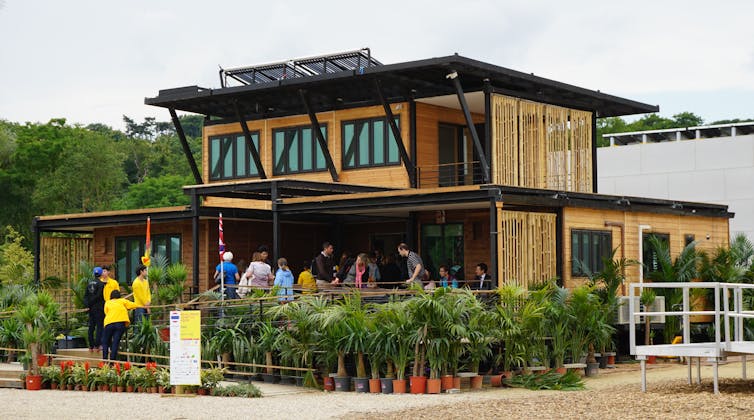 Shifting sands of policy
Australian prefabrication designers also face significant policy and regulatory uncertainty. The National Construction Code was specifically "developed to incorporate all on-site construction requirements", and features little acknowledgement of offsite, prefabricated methods.
Another example is the Queensland Building and Construction Commission's Home Warranty Insurance scheme, which does not cover prefabricated work and advises clients to withhold payments until the house is completed. However, there are encouraging signs that the scheme may be expanded next year to cover prefabricated builds.
There are also positive signs from within the industry. Australia's two largest housing industry groups each have a sustainable building program that aligns with the benefits of prefabrication: the Housing Industry Association's GreenSmart scheme, and Master Builders Australia's GreenLiving Builders project. With the housing market more focused on ecological sustainability than ever before, environmentalism could be one way of encouraging even more uptake of prefabricated buildings.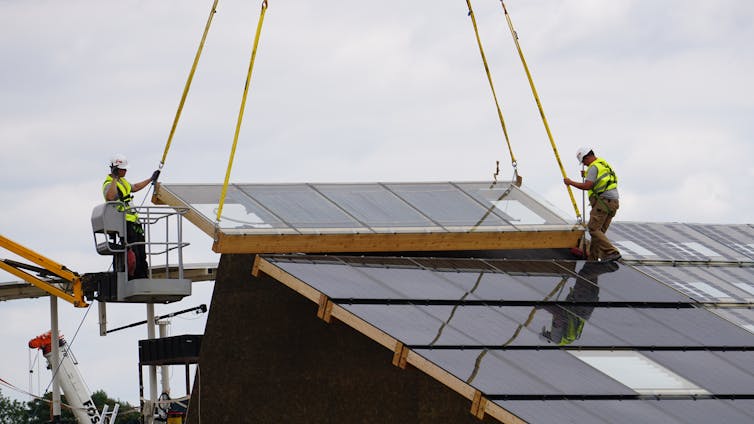 Stuck in our ways?
There is still a long way to go, however. The Construction and Property Services Industry Skills Council has pointed to specific skill deficiencies, general reluctance within the industry, and a lack of consumer demand as holding back prefabrication. Convincing existing trades to abandon traditional methods in favour of a more structured factory setting may not be easy. The recently announced ARC Training Centre for Advanced Manufacturing of Prefabricated Housing is a prime example of early work linking research and industry to develop new technologies and people skills.
Little hard evidence is available regarding consumers' views. A history of poor-quality school demountables and mining "dongas" has probably been damaging. Building stylish prefabricated hotels or apartment towers can help, and will also play to prefabrication's strengths in developing economies of scale.
But these unique builds will not necessarily thrill the average suburban mum and dad, who might be more focused on carving their own slice of the Australian dream. Proving to Australians that prefabrication does not have to be bland or standardised remains a challenge, and one that is actively acknowledged and targeted by a new breed of architect-designed Australian prefabricated housing. Making the jump from one-off, designer homes to mainstream acceptance is the next challenge.
There are signs that prefabricated housing is gaining a foothold in Australia, but there are still key sticking points in convincing industry, financial lenders, policy developers, and consumers of its potential. Lobby groups such as prefabAUS are aiming to improve attitudes – but perhaps what we also need is a primetime television show about prefabrications, to counter the endless fascination with renovations.