The UN Security Council's adoption of Resolution 2250 on "youth, peace and security" marks a historic and significant change in how the UN recognises and engages with youth.
Security Council resolutions and debates, and statements from the UN and other international organisations, often refer to young people. They are usually discussed, however, as vulnerable victims, or as uncontrollable, violent or potentially violent delinquents. These stereotypical characterisations deeply influence the way young people are understood and the ways policies and practices will affect them.
When youth are seen as victims, the common understanding is that adults are obliged to protect them. If they are delinquent, they are seen as a threat to security; they must be contained and have their childhoods "returned" to them. Resolution 2250 changes this dynamic by recognising youth as active agents in conflict and post-conflict settings.
Half the world's people are young
Young people make up a greater proportion of the global population than ever before. Almost half (48%) of the world's people are under 24 years old.
In a changing global security environment, young people face a range of critical challenges. These include: accessing quality education and health care; finding secure employment; risks of involvement in conflict or negotiating the consequences of living with conflict; and being most affected by climate change.
It is astonishing that youth have not been formally recognised until now as active agents who can contribute to our responses to these challenges and risks. Enduring and reductive victim/perpetrator binaries have dominated how we see their experience. How we talk about youth matters, and it has to move beyond these binaries.
Resolution 2250 is the result of a long campaign to raise awareness and foster debate about the role of youth in peace and security.
In January 2013, the secretary-general appointed the first UN Envoy on Youth. In April 2015, Jordan, as Security Council president, held an open debate on youth and peacebuilding. This was followed by a Global Forum on Youth, Peace and Security in August.
Resolution 2250 is a significant step toward recognising and supporting the diverse roles young people take on in conflict settings and in peacebuilding. It incorporates five pillars: participation, protection, prevention, partnerships, and disengagement and reintegration.
These echo some established framings for engagement with youth. For example, the rights outlined in the 1989 UN Convention on the Rights of the Child (UNCRC) are generally categorised as the "three Ps": provision, protection and participation.
The UNCRC's focus is on people under 18, which reflects a dominant framing of engagement with those not considered full adults or citizens. Resolution 2250 uses much more active language about engaging with and considering youth views and actions.
Long struggle for recognition continues
With or without a UN resolution, young people work tirelessly in conflict and post-conflict environments around the world to effect meaningful change and build peace. The United Network of Young Peacebuilders has established itself as a global network for youth peacebuilding organisations.
The resolution calls for a "progress study" by the secretary-general into the contributions youth make to peace and conflict resolution. It also calls for these to be included in situation reports for the Security Council. Such formal mechanisms of recognition could strengthen the established work for peace by youth around the world.
A UN resolution gives legitimacy to young people, opens access to broader support and establishes them as important actors in the peace and security space. However, it doesn't automatically enable this. Just like past agendas – notably the Women, Peace and Security agenda – advocates for change will have to campaign loudly to encourage nations, organisations and the UN itself to adopt the tenets of the resolution.
Challenges remain. For one, youth are often not enfranchised in formal political structures. They struggle to find spaces to be taken seriously.
Definitional challenges also exist. After much debate, and to avoid overlap with resolutions aimed at children, Resolution 2250 defines "youth" as people between 18 and 29.
Contestations of the definition of youth are likely. Understandings differ significantly between societies. The African Union, for example, defines youth as those aged 15-34.
Another issue is the tendency to conflate issues of concern to women "and youth" or "and children". This erases the unique contributions and specificity of experiences of youth.
Learning from women's experience
The historic struggle to include women in peace and security efforts offers important lessons. Gender is a significant factor in youth participation when it comes to peace and security. As Marc Sommers argues, the common practice of:
… conjuring male youth as dangerous and overlooking female youth doesn't square with realities in which young people, among many other things, resist engagement in violence, develop remarkable talents, and experience inclusion within excluded worlds.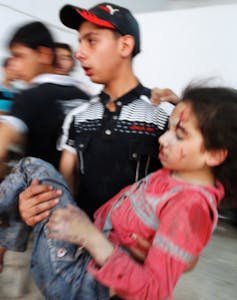 Recent calls to deny refugee status to "military-age males" fleeing conflict zones such as Syria highlight the need to consider the life-threatening consequences of applying such gendered stereotypes to youth.
Despite the many achievements of the UN's Women, Peace and Security Agenda, women still make up an embarrassingly small percentage of participants in formal peace processes. They face many other forms of discrimination and barriers to access. Youth peace advocates will likely face a similarly steep uphill struggle for recognition.
As Ashis Nandy highlighted back in 1983, both gender and age have been exaggerated and oversimplified in ways that authorise the gaining and maintaining of control over others.
Finally, Resolution 2250 deals with radicalisation and violent extremism as well as recognising youth as agents of peace. Its drafting included much debate about how much of the resolution should focus on youth and countering violent extremism.
Policymakers and implementers of peace and security initiatives must be vigilant in ensuring that the nascent "Youth, Peace and Security Agenda" is not diverted to a protection and prevention framework with a very narrow focus on extremism. Young people's proactive participation in peacebuilding deserves serious attention.