Foundation essay: Our foundation essays are longer than usual and take a wider look at key issues affecting society.
Earlier this month, South Africa's Supreme Court of Appeal upheld King Buyelekhaya Dalindyebo of the AbaThembu's conviction for arson, kidnapping, assault with intent to do grievous bodily harm and defeating the ends of justice. AbaThembu's most famous son was Nelson Mandela.
The king had shown no mercy to those he found guilty when they came before his traditional court, which functions in terms of customary laws and customs. He punished them harshly, including by flogging and burning their homes.
First sentenced to 15 years' imprisonment in December 2009, Dalindyebo recently enjoyed limited success in his appeal against the conviction of culpable homicide before the Supreme Court of Appeal. He is now to serve a reduced sentence of 12 years. He and his supporters insist that they will appeal to the Constitutional Court.
Surely, the courts can withstand the test and declare patently illegal conduct, even by a king, as such. The Supreme Court of Appeal was clear in this regard:
His behaviour was all the more deplorable because the victims of his reign of terror were the vulnerable rural poor, who were dependent upon him. Our Constitution does not countenance such behaviour. We are a constitutional democracy in which everyone is accountable and where the most vulnerable are entitled to protection.
Testing the limits of royal impunity
Of significance is that Dalindyebo is testing the degree of impunity with which traditional leaders can act. He is testing the extent to which they can be exempted from the democratic parameters established by the Constitution for all governing authorities.
Since the early days of negotiating the Constitution, traditional leaders have argued that customary law and the institution of traditional leadership should not be subject to rights under the Constitution.
At the time they lost. The Constitution therefore reads that:
The institution, status and role of traditional leadership, according to customary law, are recognised, subject to the Constitution.
Yet traditional leader organisations have constantly pushed back against subjection to the Constitution and the Bill of Rights, in particular. They advocated for legislation that shored up their position or simply did as they pleased in their "domains". This is part of why challenging legislation or traditional leader misconduct through the courts has become the ultimate tool of those ordinary people living under autocratic and abusive traditional leaders.
Bid for more unaccountable powers
The new Traditional and Khoisan Leadership Bill will attempt to give traditional leaders more unaccountable and unconstitutional powers. If passed, government departments will simply delegate such powers to traditional leaders without going through the legislative process through which ordinary people and civil society can challenge them.
Dalindyebo's attempt to push the argument for a traditional leader exemption is certainly the most flagrant. But it is by no means unique. This is obvious from the quick move by former president of the Congress of Traditional Leaders of South Africa, Nkosi Patekile Holomisa, to defend Dalinyebo's illegal actions as simply being in the exercise of his duty.
Equating traditional courts to state courts, as the Traditional Courts Bill of 2008/2012 would have done, Holomisa argues that criminal arrest is an inappropriate penalty for "judicial officers" who have "the power to impose sanctions on wrongdoers". He insists that Dalindyebo should not have been held personally liable for institutional conduct.
Holomisa therefore supports an appeal to the Constitutional Court to:
… clarify the powers of traditional authorities and courts.
Holomisa's reasoning is terribly flawed. The rule of law requires that "judicial officers" be held accountable when they act outside of or contrary to the law. Dalindyebo's conduct was not merely in excess of his legal powers, as in when a judge erroneously jails a person for ten years instead of only three.
His conduct was contrary to the very essence of being an officer of the court, responsible for protecting people's rights. It was also contrary to the nature and scope of punishments that the law empowers him to impose. Such behaviour cannot take shelter under the label of "judicial officer" and perpetrators are criminally liable.
As the Supreme Court of Appeal eloquently put it:
The lesson that cannot be emphasised enough is that persons in positions of authority such as the appellant [king] are obliged to act within the limits imposed by the law and that no one is above the law. The Constitution guarantees equal treatment under the law. The appellant [king] behaved shamefully and abused his position as king. The period of imprisonment he is to serve is no more than just deserts for what, given his position of authority, are after all particularly heinous crimes.
Pandering to the whims of kings
Most importantly, the ANC government has made Dalindyebo's and Holomisa's arguments possible. The government panders to traditional leaders with statements such as that traditional authority is moral authority, and moral authority is superior to political authority.
The problematic steps taken by the Department of Rural Development and Land Reform to make traditional leaders effective owners of customarily held land only strengthen claims like Dalindyebo's when he tried to declare secession with 60% of South Africa's territory.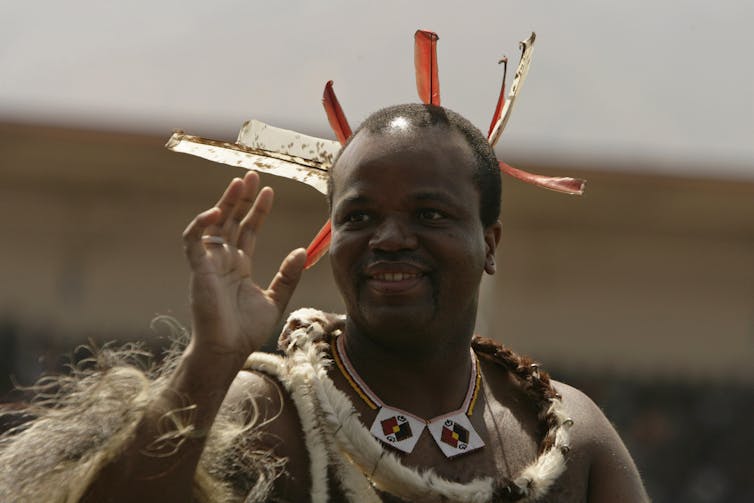 The governing ANC opens up space for traditional leaders' quest for power, exempt from the constraints of the rule of law, to become viable by passing laws that benefit them at the expense of the rights of ordinary people. This all makes it more difficult for the state to rein in traditional leaders who abuse their powers. The autocracy of King Mswati in Swaziland should be a warning to us all.
Battle for the soul of democracy
Dalindyebo has tried everything to evade and delay justice: secession, politics and appeals. His supporters want someone else to serve his sentence on his behalf.
These efforts to evade justice are yet another salvo in the battle for the soul of South Africa's democracy: the notion that every citizen is entitled to fearless protection of their citizenship and other democratic rights. And no person, whether king or ordinary citizen, is entitled to special treatment under the law.
South Africans must reject Holomisa's suggestion in his defence of Dalindyebo's egregious abuse of power that these core democratic values are contrary to the "African way of life".
As we await the revised Traditional Courts Bill, we should beware that underlying attempts by the government to convince us that all traditional leaders are benevolent – and, therefore, need minimal oversight and accountability – is a fiction.