Historically the fiercest rivalry in Scottish football is between its two biggest clubs, Rangers and Celtic. It has been off the agenda during Rangers' period in the lower-league wilderness, but it is due to reignite on Sunday February 1 as the two Glasgow-based teams meet for the first time in three years.
Much foreboding and nervous anticipation surrounds this Scottish Cup tie between the two halves of the Old Firm, to be played at the national stadium, Hampden Park. For many fans, although by no means all, the fixture's absence has been akin to withdrawal from habitual drug use. For others with no allegiance, there is anxiety about the match's potential to disrupt the narrative of a "new Scotland" emerging from a transformative referendum with a changed sense of itself and its future.
The great divide
Like most of those in Scottish cultural circles who intervened in the independence debate, novelist James Robertson was a firm Yes supporter. His magisterial And the Land Lay Still, which was first published five years ago, was a fictionalised account of Scottish politics since World War II. It was as purposefully geared to serving the independence cause as any political tract or policy document.
At one point Robertson has a key character attend two Old Firm matches as a neutral – one at Ibrox, home of Rangers, and one at Celtic Park – and recoil from raw passions he cannot comprehend. As someone from a rural small-town background, his exasperation with this popular cultural feature of industrial working-class Scotland is vividly conveyed.
The story reveals much about the cultural dissonance long produced by a rivalry that has drawn its bitterness from essentially Irish political divisions between Protestant Rangers and Catholic Celtic. It also gestures to enduring Irish influences in west-central Scotland that have been awkward for Scottish nationalists over the years and still pose challenges to today's opinion-formers.
Re-imagining Scotland
With all the recent talk of "re-imagining Scotland," many have re-imagined it without this particular football rivalry. Rangers' financial collapse and demotion to the lowest tier of Scottish league football in 2012 opened up the possibility of a fundamental re-ordering of the relationship between the country and its favourite sport. There could be less focus on the Big Two and the endless sectarian controversies that have always shadowed them.
And perhaps some significant change has taken place. There was an apparent surge in Yes support among Celtic fans, and of course Glasgow voted this way, if only marginally. The strength of Celtic Yes sentiment is all the more notable considering the same fans' vociferous opposition to the Scottish National Party government's 2012 legislation to curb behaviour at football matches deemed to be sectarian.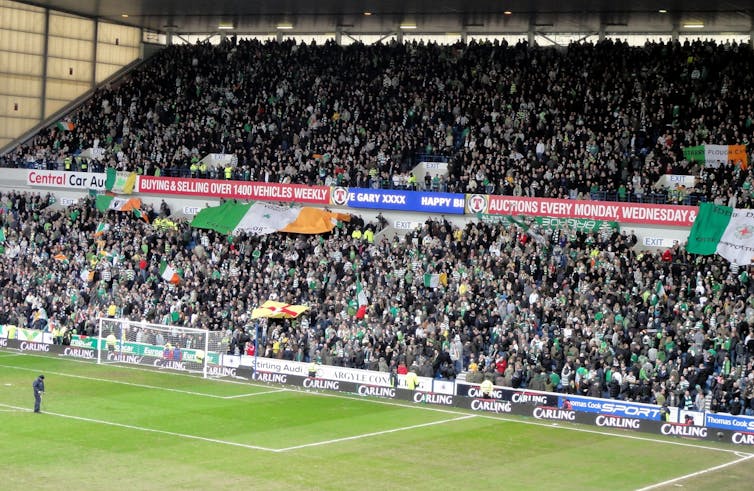 High-profile Celtic stalwarts such as Scottish Labour leader Jim Murphy, George Galloway and former club chairman and Blairite cabinet minister John Reid were also among the strongest No supporters – a reflection of the historical alliance between the Labour Party and the Catholic community in Scotland. Murphy, now Scottish Labour leader, seems to have prioritised winning back the political allegiance of Yes Celtic voters: witness his pledge to scrap the football legislation if he ever leads a Scottish government, and his strategic attempts to distinguish his stance from any form of unionism that sits uneasily with his Irish Catholic background.
The question now arises as to whether large numbers of Celtic fans will be seen to embrace a Scottish identity positively, as they never have before – or whether they start displaying both Scottish and Irish emblems and symbols. If the latter occurs, it will be interesting to see how this is regarded in the rest of Scotland. They may find that large swathes of the country have scarcely more sympathy for ambiguities of identity of this kind than they have for those who claim to be both Scottish and British.
Rangers and history
On the other side of the divide, Rangers fans have long been vocal about Britishness, draping themselves in Union Jacks and singing songs about being born under them. A section of them spent last season abusing the pro-independence side. These fans' displays of defiant Britishness, a Scottish echo of Ulster Loyalism that jars with the low-key variant of pro-union opinion in today's Scotland, might even have been the main cause of the way the club was shunned in mainstream Scotland in its hour of need. This was a far cry from the time, as recently as a generation ago, when the club's dual Scottish and British identity chimed with the country more widely.
There were pro-independence Rangers supporters, and the political profile of the club's support has long been more complex than the image presented by the most vocal elements. Yet the concurrent developments around Rangers' financial and boardroom troubles and the independence referendum have produced an impression of a once mighty institution on the wrong side of history. In a sense, Rangers has become a proxy for questions about the future of British identity in Scotland.
All the same, predictions like the one about Scotland being on an inevitable journey towards independence (despite the actual referendum outcome) are notoriously untrustworthy. There may still be unforeseen twists in the country's identity politics, not to mention its constitutional future. The forthcoming match may take on, for the moment, the appearance of an incongruous blast from the past. Yet it may also contain signs that change will come messily and unpredictably.