The buzz leading up to this year's Academy Awards was tempered with protests against an institution that has remained too white and too male for too long. How would host Chris Rock handle the issue of race? Would a theme emerge among the winners? Our panel of experts break down some of the night's biggest questions, surprises and moments.
---
In a social justice pageant, 'Spotlight' crowned
Kevin Hagopian, Media Studies, Pennsylvania State University
When Morgan Freeman announced "Spotlight" as Best Picture, it was a fitting end for a pageant of inclusiveness and social justice – some of it awkward, some of it comic, most of it earnest.
The film's producers, in accepting the award, called on the pope, no less, to acknowledge the international outrage of child sex abuse in the Church.
Earlier in the Oscar ceremony, we heard pleas for action against climate change, honor killings, LGBTA violence and corporate financial malfeasance. Most insistent were the calls for action to offer greater representation for people of color in Hollywood.
Indeed, in an age of media saturation and government paralysis, Hollywood finally acknowledged its pivotal social role.
When Vice President Joe Biden used the Oscars as a platform to denounce campus sexual assault, it became clear that the movies – together with sports and popular music – form a public sphere more influential than government can ever hope to be.
---
A few red carpet hits, and one sea green miss
Michael Mamp, Fashion Merchandising and Design, Central Michigan University
With all the discussion of diversity at the Oscars, one would have hoped for greater representation of African-American designers such as Tracy Reese. Instead, most played it very safe: traditional Armani, Calvin Klein, Givenchy and Chanel.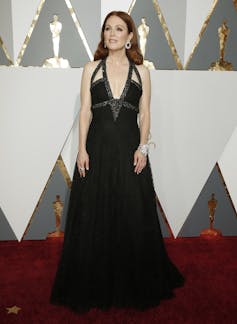 Nevertheless, the women were the stars of red carpet, with many exhibiting heavily encrusted, revealing looks.
Of particular note was the 1950s-inspired silhouette of Julianne Moore's Chanel black ball gown with encrusted bodice and shoulder straps. Moore, as usual, was timelessly elegant. Her earrings, unfortunately, distracted from her otherwise on-target look.
Rooney Mara was a vision in white. She complemented her Givenchy encrusted gown with equally impressive Fred Leighton jewelry (Ms. Moore's stylist, take note). The simple [chignon hairstyle](https://en.wikipedia.org/wiki/Chignon_(hairstyle) and rouge lipstick provided just enough contrast to the glowing ensemble.
But with all eyes on Cate Blanchett, her fussy sea foam green dress looked more like a bad bridesmaid gown than a choice befitting one of the world's most impressive actresses.
Male looks – with the exception of Jared Leto's red piped Armani blazer and red floral corsage tie – went the traditional (and, frankly, boring) route. Sylvester Stallone was another outlier: he had more style and sex appeal than men half his age walking the red carpet.
Mr. Stallone remains forever sly.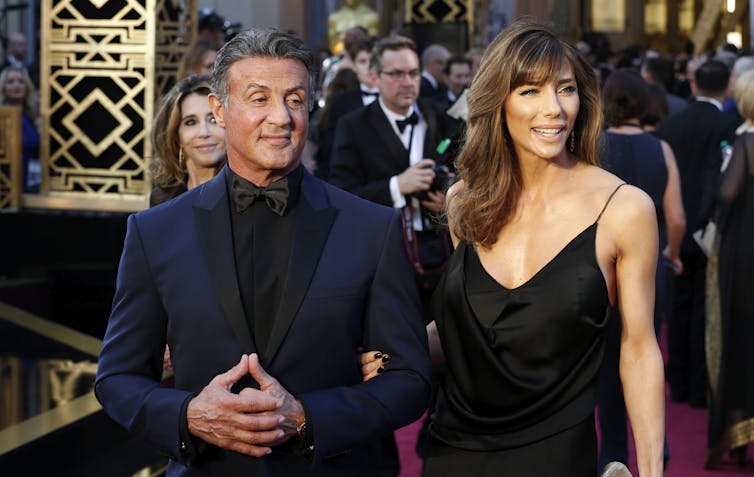 ---
A monologue full of contradictions
Amberia Sargent, Sociology, University of California, Los Angeles
During his opening monologue, host Chris Rock's first applause break came after he asked why black people chose this year to protest the lack of diversity in film, as opposed to the 1950s or 1960s.
He attributed this oversight to civil rights-era blacks having "real things to protest." But this year's awards are taking place in the wake of a dynamic Black Lives Matter movement, #JusticeForFlint campaigns and activism decrying mass incarceration. Rock's joke suggests that black people can't be simultaneously discontented about a range of issues.
Why shouldn't I be able to want access to clean water and also bemoan seeing Gerard Butler portraying an Egyptian in "Gods of Egypt"?
Rock commendably advocated dismantling gender-based Oscar categories. But he went on to reinforce racialized categorization by suggesting that the way to get black nominees every year is "to have black categories." Perhaps the better way to see black actors represented would be to rid the Academy of the critical mass of members who have been around so long that they could have probably voted to secede from the Union. Rock's gender commentary also fell short when he trivialized the "Ask Her More" campaign.
Yet, Rock's consistent message was clear: "We want [the] black actors to get the same opportunities as white actors."
Absolutely. But diversity means that the industry should represent everyone who has been systematically excluded: women and all people of color.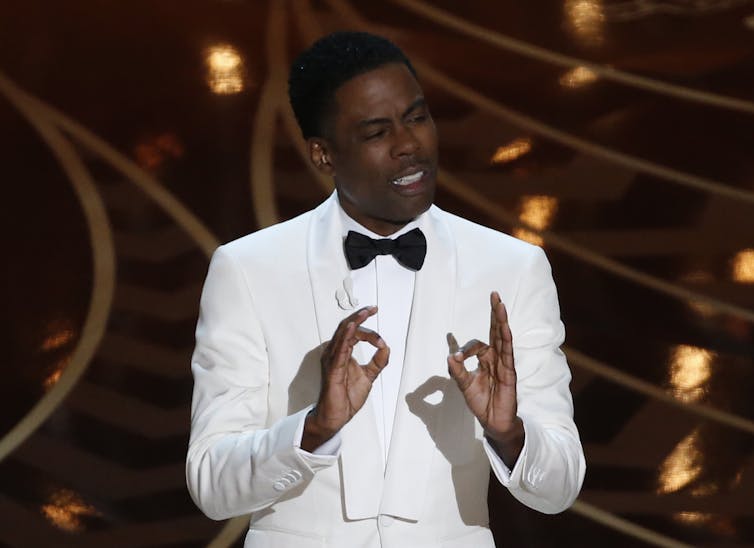 ---
New directions in visual effects
Patti McCarthy, English and Film Studies, University of the Pacific
While "Spotlight" and Leonardo DiCaprio's wins were expected, one of the night's biggest surprises was in the Visual Effects category, where "Ex Machina" bested favorites "Mad Max: Fury Road" and "Star Wars: A Force Awakened."
In the months leading up to the Academy Awards, many had praised "Mad Max" and "Star Wars" for rejecting excessive computer generated imagery (CGI) in favor of special effects that were grounded in the physical world.
In some way, that's what may be happening with "Ex Machina"'s victory. The film not only examines technology's role in society, but also explores human relationships – specifically, gender bias. While "Star Wars" and "Mad Max" were high-octane, action-packed rides, "Ex Machina" is a more subtle, interior journey. Ava, after escaping the confines of her robotic existence, emerges as a woman who finally feels comfortable in her own skin – without the help of a man.
Working on a paltry US$15 million dollar budget, Sara Benette, along with fellow nominees Andrew Whitehurst, Paul Norris and Mark Ardington, did a superb job using digital visual effects to depict the transformation of a robot controlled by men to a woman controlling her own destiny. In the process, they turned Hollywood's love triangle trope on its head.
It's fitting, too, that Benette is the first female nominee in the visual effects category in more than a decade, and only the third woman to be nominated for an Oscar in that category in 86 years (the last was Pamela Easley, for 1993's "Cliffhanger").
Throughout dramatic and literary history, Deux ex machina has functioned as "a person or thing that appears or is introduced suddenly and unexpectedly and provides a contrived solution to an apparently insoluble difficulty."
In an academy that is trying to diversify, "Ex Machina"'s surprising victory in the Visual Effects category fits the bill.
---
The guys behind the scenes get their due
Kathy DeMarco Van Cleve, Cinema Studies, University of Pennsylvania
Oh, screenwriters – we do know you are "the backbone of the movie industry and we love you for it!" Or so said Charlize Theron and Emily Blunt when they presented this year's award for Best Original Screenplay.
But do we really know that? Actually, one of the banal "truths" batted around the movie business is that writers are traditionally the least respected in the otherwise revered three-sided filmmaking triangle: director, actor and uh, that other, writer guy. (And yes, it is almost always a guy. Or two. This Oscars season was no different.)
Yet I would offer that this presumed lack of respect is (mostly) inconsequential. Screenwriting is a job, one for which the Oscar-nominated screenwriters are paid well. The winning screenplays tonight hold their own as a piece of art. The scripts can be read without seeing the resulting film, and the words themselves will grip the reader's mind and not let go – just like all great literature, no movie required.
Both the winners – "Spotlight" by Josh Singer and Tom McCarthy (Original Screenplay) and "The Big Short" by Charles Randolph and Adam McKay (Adapted Screenplay) – fulfill the mandate of superior storytelling, and also manage to dramatize social issues that are more often explored in documentaries.
This isn't always the case with Oscar-winning scripts. (Even "Birdman" – last year's winner – is more of a cinematic extravaganza than a story-driven experience about something that genuinely matters.) And that's what makes tonight's winners so special. It's impossible to celebrate "Spotlight" and "The Big Short" without acknowledging their stellar scripts as their backbone – indeed, their beating hearts.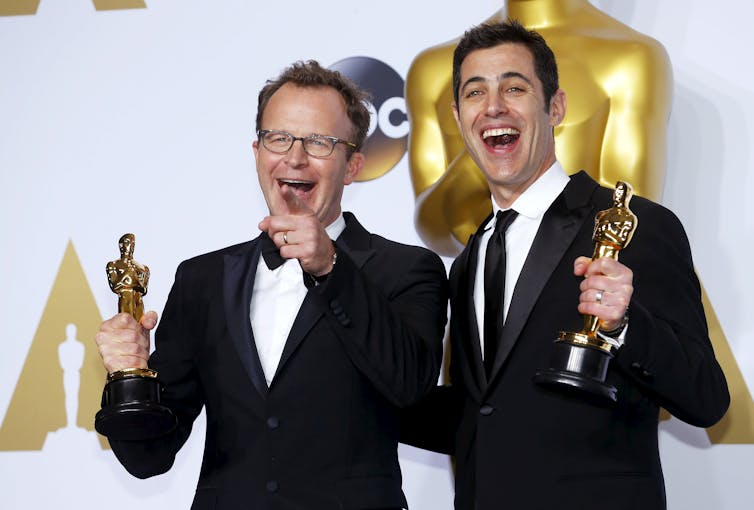 ---
And only three-and-a-half hours long!
Thomas Leitch, Film Studies, University of Delaware
If there's one thing every viewer of the Academy Awards ceremony agrees on, it's that the broadcast, which routinely runs longer than "Gone with the Wind," should be shorter, or at least seem shorter.
The festivities this year maintained the usual stately pace of six awards an hour, and there were stretches that seemed even longer. The animated clips of digitized heroes from "Minions" and "Toy Story" presented awards with even less efficiency than their live-action counterparts. Then there was Chris Rock's Ellen DeGeneres moment, when he urged all the millionaires in the studio audience to support his daughters by purchasing Girl Scout cookies.
But there were signs of life amid the posturing, bombast and DOA humor. The clips from the eight Best Picture nominees were squeezed into four economical pairs, and only three of the five songs nominated for Best Original Song were treated to production numbers. The most hopeful sign of all was a crawl that ran below the screen as the winners of each category approached the stage, identifying all the dozens of people they wanted to thank.
Imagine the possibilities if we applied the same technology to presidential debates, relegating all the forgettable pontificating to the bottom of the screen!
---
Tired of hearing about #OscarsSoWhite?
Kellie Carter Jackson, History, Hunter College
Last year I was writing about the Oscars and the stark white cast of nominees. And here we are again.
Let's be honest, the disappointing lack of nominees of color is compounded by the current political climate. It's becoming eerily uncomfortable to see how many Americans are comfortable with ideas based on exclusion, division, and hate all under a banner of "Making America Great Again."
Is Hollywood as racist as the Klan? No. But shouldn't we be disturbed that an industry as powerful and omnipresent as Hollywood is on the spectrum? When did we become okay with something or someone being "race-ish?"
Frustration over the homogeneity of the Oscars is not limited to black Americans. It's about reminding audiences that whiteness is not the standard; it's not even the norm. (Forty-eight percent of Americans in the last census do not identify as white.) Certainly, there are other things to protest. But the battle over film is also about the presentation our imaginations and lived experiences.
Awards aside, I want a diversity of stories where people of color aren't simply athletes, rappers, or warlords.
Did last night make you uncomfortable? Tired of being beaten over the head? Tired of hearing about the "great whiteout."
I'm tired of seeing it.