Hot on the heels of The Night Manager, comes Our Kind of Traitor, in cinemas now, another John le Carré adaptation. More organised crime, but this time about a Russian money launderer who is seeking refuge in the UK in return for offering all the account details of money laundering in top government accounts. As experts in financial crime, we were intrigued to see what Hollywood would make of such a topic.
But first, an account of the film (without spoilers). The story – which from the iPhone model seen on screen, appears to be set in the present day – centres on Dima (Stellan Skarsgård), a tattooed, charismatic and clever vor v zakone ("thief in law"). Dima, who has had a long career as a financier and a fixer for one of the Russian organised crime groups, is now at a crossroads.
Russian organised crime groups are seeking to legitimise part of their business by linking up with official authorities inside Russia as well as internationally. Prince (Grigory Dobrygin) is one such crime leader, on the surface a businessmen but in reality a criminal who has built an intricate network of cash flows involving corrupt officials in Moscow, London and wider Europe.
Dima is likely to be a casualty of this generational shift, and he knows it. Once the accounts he controls are signed over to new bosses, his services as a treasurer/money launderer will no longer be needed. Fearing for his life and the lives of his family, Dima asks Perry, a tourist he meets by chance (Ewan McGregor) to help him get asylum in the UK. Dima's ticket to the UK is his detailed knowledge of the financial links between the UK establishment figures and Russian organised crime. Leveraging his position, Dima promises to deliver the details of incriminating bank accounts to Hector, the British security agent who wants to expose corruption in British establishment (Damian Lewis).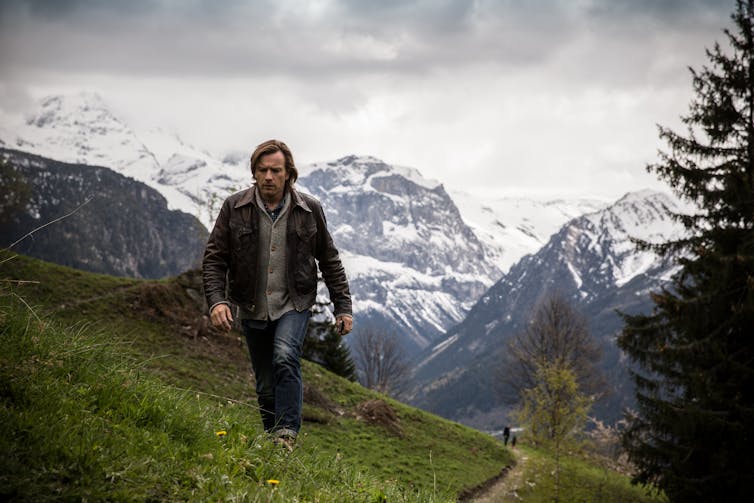 The view from here
So how does all this square with reality? The film does capture the core workings of Russia's use of global financial centres, and London specifically. While access to world capital markets and money laundering services existed in Soviet times, it was during the 1990s that Russian financial capital began to flow to overseas financial havens. Some estimates suggest that on average, $20-30 billion left Russia every year during the 1990s.
Cyprus has been the main destination for Russian capital and the primary jurisdiction offering incorporation services to Russian clients. Russian money in Cyprus usually then flows through an intricate chain of envelope companies registered in other tax havens (most of them former British colonies). London is a typical end point.
Depending on the original source of capital and the motives for hiding it, London can serve either as an asset haven (when money is invested in property), as an entry point to global capital markets (the assets of non-UK banks operating out of the UK are estimated to be over £2 trillion, or both. Our Kind of Traitor captures the detail of Cyprus-London connections through its focus on the key aim of Dima's successors. Prince controls "the First Arena International Bank of Cyprus" and is keen to set it up as a London-based bank. In light of the Panama revelations, this angle offers an interesting and topical insight into close links between UK politicians and Russian owners of capital.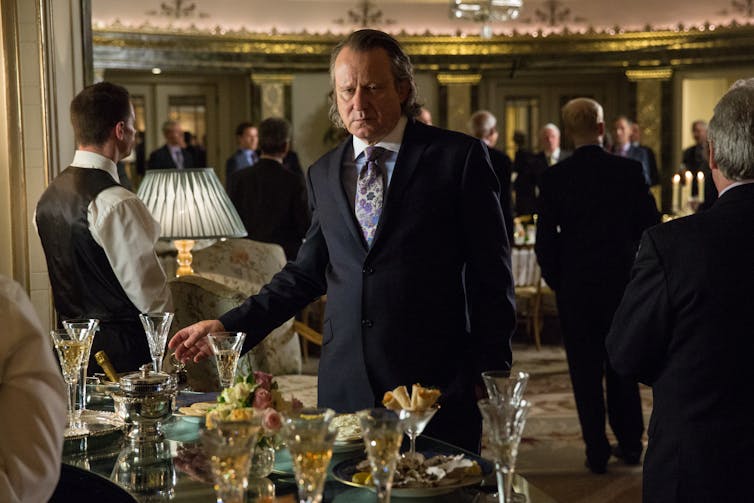 Out of date
The film is structurally accurate – key processes shaping the internationalisation of Russian crime are captured – and the attention to detail is impressive. But the overall story is chronologically misplaced. In real economic history, the big process of legitimisation of criminal cash in Russia took place over the late 1980s and 1990s. During that period, not only new channels of taking the money out of Russia opened up, but it was also easier to launder money given the much looser financial controls in the UK and internationally.
Today, in contrast, while money continues to be laundered around the world, and London continues to be an asset haven for overseas capital and its owners, it is inconceivable that a "First Arena International Bank of Cyprus" could be set up in London with the approval of the UK Parliament.
It is the Bank of England – an independent institution – that grants banking licenses to UK and overseas banking companies. Its Prudential Regulatory Authority (PRA) is in charge of overseeing the safety and business conduct of the banks, and is cooperating with international regulators when regulating the banking system.
Since 2001, international controls on money laundering have been tightening, and although loopholes do exist, compared to the laissez-faire 1980s or 1990s, it is much harder to hide cash trails today. The 2007 crash has triggered a new wave of banking and regulatory reforms that make the lives of Dimas and Princes more difficult. This is not to say that money is not being laundered; (it is), or that crime money does not get to London (it does), but the route is less direct and more subtle.
So when you go to see Our Kind of Traitor, you'll be learning a bit about how Russian organised crime uses the international financial system – but not in the contemporary sense.