Alan Moorehead was once one of the most famous Australians alive. A celebrated correspondent during World War Two, his bestselling popular histories ranged in subject matter from 19th century Africa to Captain Cook.
Beginning in 1956 with Gallipoli, his books such as The White Nile (1960), The Blue Nile (1962) and Cooper's Creek (1963) were gracefully written accounts of men (never women) encountering hostile and alien environments.
Fleet Street beginnings
In 1936, Moorehead was the model of an Australian expatriate bunking off to London. His ambition, self-discipline, talent and luck took him from just one of a large number of jobbing Australian journalists on Fleet Street to famed war correspondent.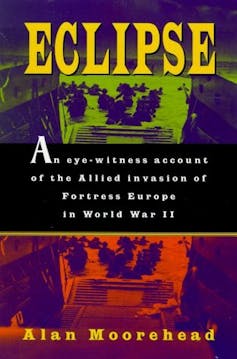 He covered the Desert War in North Africa from its outset in 1940 to the end of the conflict in Europe, the final stages of which he described in Eclipse (1946), my favourite of his works. By then he was one of the most important figures at Lord Beaverbrook's Daily Express.
After 1945, Moorehead, with his Australian accent eliminated, turned his back on lucrative offers from Beaverbrook to stay in his job. He decided to change shape again and become a proper writer like his idol Hemingway.
As a child in the 1960s, many of his books were on our family bookshelves. The derring-do of the imperial explorers fascinated me – though when I re-read them years later, the locals were often secondary to the colonial narrative.
The war books are better, yet they suffer a little from the inevitability of repetition when years of conflict are being described. Moorehead used language well but his stock of terms and expressions was often limited.
His novels were not a great success, but as a writer of popular history incorporating his own love of travel and with a feel for larger than life characters, Moorehead's non-fiction books won prizes, sold well, and ensured a steady flow of work offers. They were on shelves everywhere.
Our boy made good
Many books have been written about Moorehead. There was Tom Pocock's 1990 biography, Ann Moyal's more recent study (which concentrates on his post war historical work), and of course, Moorehead's own hybrid autobiography, published in 1970.
I say "hybrid" as this work was patched together from disparate drafts by Mooreheads's wife, Lucy, after the writer was incapacitated after emergency surgery for a blocked artery that went horribly wrong.
Restricted in speech, incapable of writing, Moorehead's career was over by the end of 1966. He was then just 56, but he lived on until 1983, surviving Lucy by four years.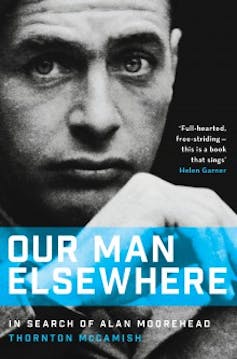 The latest biography is Thornton McCamish's Our Man Elsewhere: In Search of Alan Moorehead (2016). It's a handsome looking book with a striking cover photograph: Moorehead close up, enormous eyes, staring out of the past at the reader.
In this book, McCamish combines an elegantly written account of Moorehead's life in all its various phases with detailed analysis of the work – from potboiling travel articles to the histories. Within this framework, McCamish also examines his own changing attitudes to Moorehead: as an individual, as a writer, as an Australian living abroad.
What can McCamish offer in the way of new interpretation? There are few secrets in Moorehead's life. McCamish argues that earlier studies have each concentrated on different aspects of Moorehead's work but taken together the field has been pretty thoroughly covered.
That said, to say McCamish doesn't offer any major reassessment of Moorehead (though the analyses of his many books and articles are discerning) is to misunderstand what this book is about.
This is not a conventional biography, though all the materials are there and the research is impeccable. Instead, McCamish is part of the story.
The opening chapter, "Notes on a Disappearance", reviews Moorehead's current status: largely unread, obscure, revived by scholars but without the general public he once possessed.
McCamish takes us though his visit (with family) to Italy, where Moorehead once lived, his discussions of Moorehead with his friends and how he read all of Moorehead's works devotedly, tracking down even the most marginal magazine piece.
Later on we are told that, "at some murky, furtive daydreaming level", McCamish wants to be Moorehead. This is a biography where the author often stands in front of the scenery.
Personally, I would have liked McCamish to have stepped back and left the story to Moorehead. But that is to impose my own preferences, rather than take this book on its own terms.
Finding the personal
Often this personal approach works well, as when McCamish interviews Moorhead's surviving family members. Here, Moorehead's gift for personal friendships is treated delicately and his warmth and loyalty to those close to him come through.
At other times it's less successful. At the end of the book, when McCamish has returned to a cheap motel on the outskirts of Canberra – which, from my own bitter experience, are as vile as he says – the personal stuff reads like filler.
Yet, when McCamish discusses Moorehead's work he does it very well. One of the best parts of Our Man Elsewhere is the analysis of just how poor a novelist Moorehead turned out to be. The flowing prose of his war years, the eye for detail, the structure and material supplied by events swirling around him – all these go missing. They are replaced by stilted characterisation, cornball psychology, and paralytic plots.
McCamish shows how Moorehead was subject to the fickle opinions of Australians back at home. He could be our boy made good or he could be a self-appointed expert, resented for his success.
This, incidentally, was grossly unfair to an author who did not assume the role of the expat who knew more about this country than those who had stayed behind. Moorehead might have rejected Australia in 1936 but he spent some time rediscovering it.
And then the silence. His still active mind was trapped within a body that refused to work. Gradually his fame eroded. The support of his family and friends was crucial. Throughout, Lucy was Moorehead's most valued reader and critic, the centre of his domestic life.
Given Moorehead's commitment to "serial infidelities", as John Lack expressed it in the Australian Dictionary of Biography, McCamish is right in stressing Lucy's loyalty and the strength of the marital bond. Still, I'd go further than McCamish: I think Lucy deserved a bloody medal.
A balanced look at a fading past
McCamish is a fan though, not a fanatic. He is aware that Moorehead has faded, perhaps unfairly, but that is the lot of almost all writers. Times change, histories are superseded. Les Carlyon and Peter FitzSimons have replaced Moorehead as chroniclers of Gallipoli and other Australian military exploits.
Even the nature of war journalism has changed in many ways, with conflict going live to air, and the demand for instantaneous reporting often replacing close analysis. Al Jazeera is the go-to outlet for news on the Middle East today, not the correspondent from the Daily Express.
War correspondents might become nostalgia themselves.
If you're interested in Australia's rich tradition of war reporting, it's time to leave the world wars and their famous names alone, and resuscitate the journalists who shaped our history.
One of these might be Howard Willoughby, our first warco, way back in 1863, in the third New Zealand War – a great candidate for a full scale biography. So is William Lambie, the first Australian war correspondent to be killed in battle (during the Boer War in 1900).
Women war reporters certainly deserve more attention. A good beginning was made by Jeannine Baker in her recent book, Australian Women War Reporters: Boer War to Vietnam (2015).
Kate Webb, who covered wars from Vietnam to Afghanistan, and who has to be Australia's greatest woman war correspondent, is crying out for a biographer as sympathetic, as hard working and as skilled as Thornton McCamish.
---
Our Man Elswhere: Searching for Alan Moorehead (2016) by Thornton McCamish is published by Black Inc.