In racing terms, there are favourites, odds-on favourites and unbackable favourites. Then there is Peter Cosgrove.
About the only person not certain over the past three months that Cosgrove would be appointed our next Governor-General would be Kevin Rudd. He may still be waiting for the phone call.
Cosgrove is less qualified for the job than designed for it. He is a general; a war hero (he won the Military Cross in Vietnam); a civic hero (he oversaw the reconstruction of North Queensland after Cyclone Larry); and an international figure (for leading the peacekeeping force in East Timor).
He is the sort of person you would dislike on principle out of sheer jealousy, if he were not also one of the nicest and most down-to-earth blokes in Australia.
But, most important of all, the very qualities that underlie his accomplishments qualify him perfectly for the role of governor-general.
An eminent Australian
The first is eminence. There is no uppity Australian politician who will be able to say, "What the hell did Peter Cosgrove ever do?" Foreign leaders and heads of state, reading his CV, may well blush.
But combined with eminence comes a level of approachability not seen since that friendly labrador down the road moved away. Cosgrove loves people. All people. From soldiers to students, he greets everyone with the same genuine interest and lack of side.
A man with this record of achievement and this level of personal understanding will bring with him a sophisticated understanding of his office. Indeed, given the state of the odds, it would be surprising if he had not been reading up for some time.
Peter Cosgrove will comprehend his role perfectly. Publicly, he will not politicise, but he will be a serial empathiser. There will be no controversial speeches or gestures, but where there is a national celebration he will celebrate with gusto and where there is a tragedy his broad shoulders will be there to lean on.
A figure above politics
Politically, Cosgrove will understand that the prime minister – any prime minister – runs the country. It is his role, outside the most extreme circumstances, to advise, to counsel and to warn.
But let us be clear. Advice from an intellectually endowed and physically very impressive general with a record of personal heroism and public achievement, who has been Australian of the Year and has more foreign honours than a champion Hereford bull, is not something to be taken lightly. Cosgrove will be heard.
And woe betide any prime minister who strays into the twilight land of constitutional impropriety or subterfuge.
Those usually kindly eyes can swivel like the guns of a very big battleship towards anything that might threaten an institution Peter Cosgrove is protecting.
The reserve powers have been used only once in Australia's history. Cosgrove is a great conciliator and would be the last governor-general ever to press the trigger. But if he did, he would not miss, friend or foe alike.
These will be Cosgrove's great strengths as governor-general. He has the judgement and the experience to understand the absolute limits of his role, and the dignity and toughness to carry it out. In an office that carries a light touch, no one will take him lightly.
He has, of course, the great advantage of the classic governor-general. He has literally nothing to gain. He has been everywhere and done everything. After a life of duty, the only thing that remains is to serve and maintain his reputation.
Were the prime minister, Tony Abbott, to fall after only one term, Cosgrove would offer exactly the same wise, friendly counsel to any Labor leader. And the same absolutely principled discharge of his office.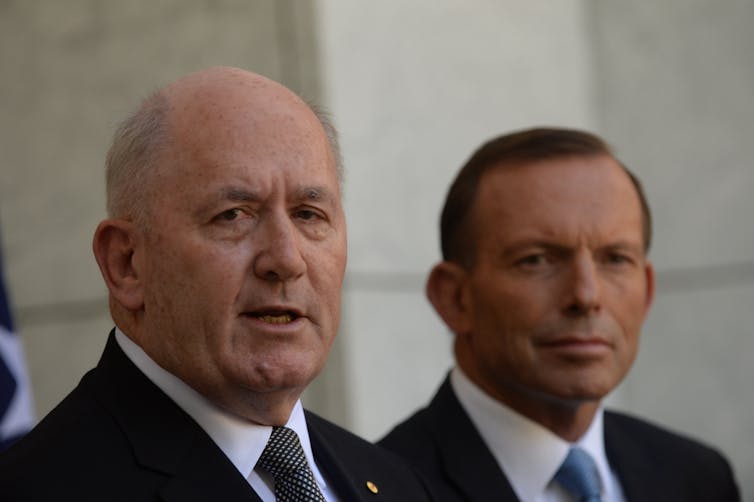 The same would apply in the incredibly unlikely event that Australia were to become a republic on Cosgrove's watch. He would serve as impeccably as an apolitical head of state as he would as a viceroy.
In a sense, this implacable ethic of non-political service is what makes former eminent military personnel so genuinely suitable as vice-regal appointees, despite the occasional brouhaha over braid and sabres. They have lived lives of initiative and achievement, but in service and without political ambition of their own.
Cosgrove also brings with him a rare bonus in his wife, Lynne. As clever and as funny as her husband, she is the veteran of innumerable parades, fund-raisers and graduations.
With three children of her own and a newly minted grandson, she is another people-lover who will make the Cosgroves a very Australian gubernatorial combination.
All in all, Australia has the very model of a modern governor-general.