There was a time when shoppers could easily differentiate between supermarket private labels and proprietary branded products, however new "phantom brands" appearing on supermarket shelves are clouding the waters. These are private supermarket label products without any reference to the supermarket's brand or logo.
Despite significant improvements in the quality of private label ranges, supermarkets still face the challenge convincing customers of value perceptions. While supermarket private label ranges generally offer low price; low price is frequently associated with lower quality, and therefore less value.
Phantom brands are a way for supermarkets to overcome this challenge. While this strategy provides significant benefits to supermarkets, it comes with the inherent risk that shoppers may feel duped into buying a brand, which is not really a brand.
How supermarkets communicate the introduction of these new brands will be vitally important to their success.
Woolworths the latest to try this
The introduction of phantom brands by Australia's largest food retailer, Woolworths, is a strategic move away from the deepening price wars and offers many commercial benefits. Firstly, such brands will attract a new shopper who is seeking value and willing to pay a little more for a better quality product, while existing Woolworths Essentials products will continue to satisfy the budget shopper.
Secondly, new brand names like Your Majesty Cat Food, Apollo Dog Food, Bell Farms and Baxter's will give the impression there is a greater choice within the store. Supermarkets expect shoppers will welcome more choice and these new brands.
Thirdly, as these new phantom brands are essentially supermarket-owned brands, higher profits should be achieved. It also allows Woolworths to capture a larger slice of category sales where private labels have traditionally had little penetration, like health and beauty, haircare, pet food and baby needs.
The risk Woolworths will face is in communicating the launch of such brands. While shoppers understand the Aldi offer, brands that aren't really brands, they may feel with Woolworths they've been dudded into buying a brand.
Why phantom brands work
As grocery shopping remains a mostly low involvement, routine shopping task, consumers will employ simple strategies to reduce time and cognitive effort. This involves often referring to only brand or price, to determine quality and value and aid in selection.
Supermarket shoppers presented with proprietary brands think higher priced means excellent quality and good value. At the other end of the spectrum, shoppers also encounter supermarket private label products and reason that lower price means acceptable quality and better value.
Phantom brands combine these two different sets of logic. Priced a little higher than supermarket private labels, but under national branded products, shoppers will perceive this new brand as moderately priced, quality comparable to the leading brand and therefore, excellent value.
Aldi provides an excellent example of this strategy at work. Aldi's private label ranges do not carry the Aldi moniker, instead a wide range of "exclusive" brand names like, Lacura Skincare, Choceur Finest European Chocolate, Belmont Biscuits and Mamia Baby.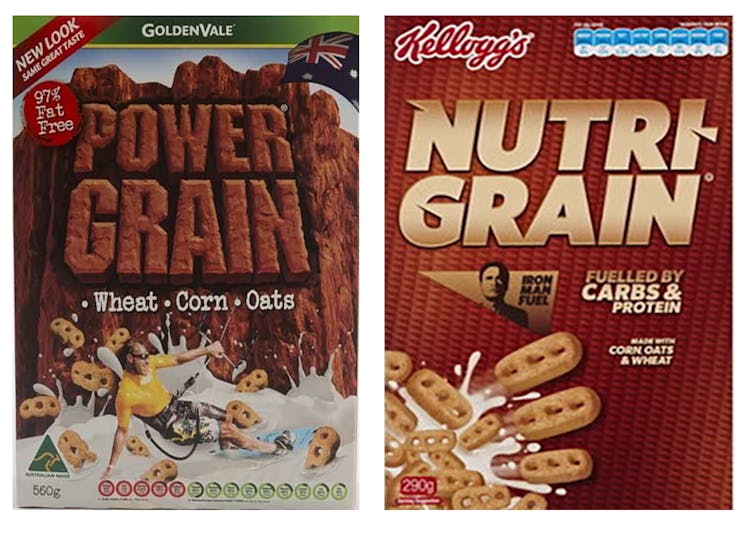 Aldi's private label ranges mimic the packaging of nationally branded products – take a look at Aldi's copy of Kellogg's Nutri-Grain called Power-Grain or its Sunny Crumpets, that look remarkably like Tip Tops' Golden Crumpets. Such phantom brands infer perceptions of quality as packaging is comparable to the proprietary brands. Aldi's low prices then create the perception of value.
Private label growth and its challenges
Australian shoppers have warmed to the supermarkets' private label products. Research by market research company Canstar Blue earlier this year found the number of Australians who purchased private label groceries rose from 44% to 65% in the space of just six months.
Market research firm Nielsen estimates supermarket revenue growth will come mostly from private label products. In comparable markets like the UK, the proportion of private label sales is almost at parity with national branded products and across Europe.
Despite shoppers' apparent appetite for private label products, there is still a stigma attached to buying private label. Much of this stigma stems from history, as supermarket private labels evolved from no name generic products.
Ultimately, there are supermarket categories where private label simply doesn't work, like confectionery, baby food, health and hygiene, haircare. Such categories are dominated by market leaders, Coke (with 53% market share) and Cadbury (with 30% market share). Phantom brands will fill this space between private and proprietary brands.
Aldi's entry into the Australian market in 2001 changed the way shoppers looked at private label products. While Woolworths Homebrand and Coles Smart Buys were generally seen as cheap, if not cheaper than similar Aldi products, consumers considered the quality of these no-name generics to be substandard.
As a result, supermarkets implemented a "good, better, best" strategy for private labels. This is all despite the recent efforts of the big two supermarkets to re-launch their private label ranges by essentially removing this bottom rung of no-name generics.
Even the supermarkets' very best offers, Select and Finest, are still adorned with the supermarket brand and logo. Where these current private label ranges fall short of convincing skeptical shoppers of quality and value, phantom brands will succeed.