Anna Goldsworthy's hilarious and beautifully honest book Welcome To Your New Life celebrates the joy and roller-coaster ride of first-time parenting.
Now a new play adapted for the stage by Goldsworthy, Welcome To Your New Life takes the audience through the experience of pregnancy, delivery and new parenthood from sleep-deprived birth to toddler years.
Goldsworthy's lively writing – monologues interspersed with vignettes, songs and small scenes – deftly captures the joy and wilful naivety of a first pregnancy, followed by the overwhelming love and sleep-deprivation-induced anxiety of the first months. As a mother of two I laughed, scoffed, giggled and cried in recognition and remembrance of the bliss and insanity of being a newly minted parent.
Erin James excels as the unnamed mum-to-be/new mum: her delight is infectious, her navigating of what other people expect when you're expecting is razor-sharp, and her post-natal anxiety spirals heartbreaking in their relentlessness.
---
Read more: Is it possible to describe the complexity and absurdity of motherhood?
---
A joy
All three actors are a sheer joy to watch.
Family and friends, medical professionals, passers-by, the family dog and assorted new mothers are deftly brought to life by Kathryn Adams and Matt Crook. Crook's breastfeeding patronising new mum is a highlight, as is Adams' lactation consultant. Crook and Adams also each take on key roles in the new mum's life.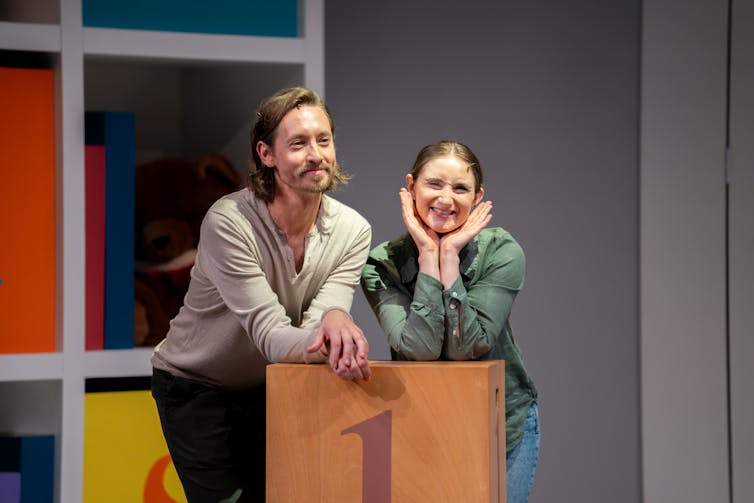 The mum's much-loved grandmother Moggie is given warmth, humour and depth by Adams in a masterful performance. The love and support between the mum and Moggie is one of the relationships we see in detail; her kind comforting of the frazzled mother is part of the human heart of this piece. Through her, we are invited to reflect on the cycle of life and death that is the human condition.
The other detailed relationship is the devoted, then exhausted, husband-and-father Nicholas, played by Crook with superb skill and uncanny accuracy. His scenes with James – welcome moments in the play where the story is told in duologue – are lively and nuanced. A scene where the accumulated lack of sleep while on a blackly funny holiday finally brings them to shouting point is given devastating honesty by Crook.
Adoring and cooing
Beautifully directed by Shannon Rush, the first act centres on the mum-to-be. Rush repeatedly seats James on a circular couch chair in the middle of a circular Mondrian-esque rug, evoking the baby in the womb.
As the audience, in the second act we are positioned as "you", the much-adored new baby. The performers focus their attention on different audience members as if they are the baby – adoring and cooing, marvelling at the developmental brilliance or bodily functions of this miracle child.
Simon Greer's set is a child's playroom on a giant scale, the actors tiny among the huge letter blocks, doors, box shelves and giant hanging mobile. Huge wooden toys serve as stethoscopes and seats, even the ever-present mobile phones are flat blocks of wood: it's Play School meets Ikea.
The second act is stripped back, all bleached white scandi surfaces, giant alphabet blocks now lined up neatly along the walls, centre stage starkly empty – perfectly reflecting the too-bright world of post-natal sleep deprivation and its resultant devastating anxiety.
Gavin Norris' lighting is simple and elegant: the massive contemporary light circle also eerily suggesting the too-bright light above the delivery-room bed.
A play with music
Billed as "a play with music", composer Alan John's music is beautifully wrapped around and through the story. Woven through the scenes are classical piano music and John's songs, evoking and quoting nursery rhymes, or giving voice to key moments. Heartbeats and baby screaming are part of an ebbing and flowing sound design by Andrew Howard.
A large toy piano is a reminder of Goldsworthy's life as a concert pianist. Key moments play out here: the mum plays music to negotiate the challenges she faces, and the ultimate new project: birthing a baby.
The three performers play toy pianos, glockenspiels, guitar and percussion, and also sing beautifully in harmony.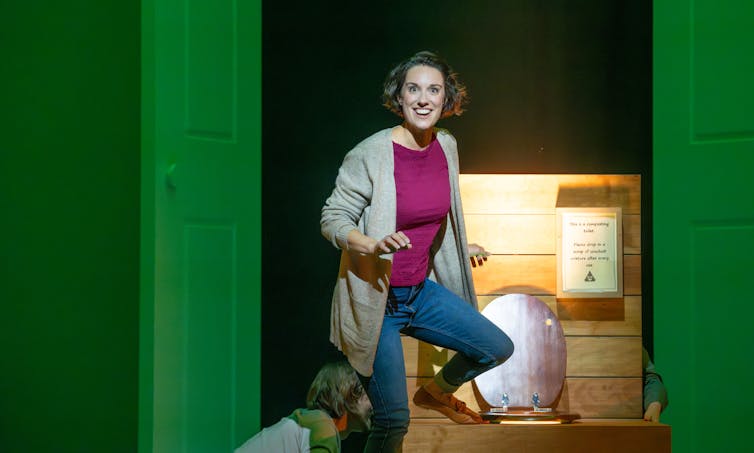 Inevitably there is some unevenness to this new show: some of the monologue songs in act one are less melodic and more difficult to access emotionally for the audience, but James' clear voice shines, especially in the lush and dramatic piece about the dangers to a baby of a composting toilet.
In her program notes, Goldsworthy reflects on childbirth and parenting, a time when "survival becomes a greater priority than making art".
Thank goodness for Goldsworthy's writer's reflex recording all her pregnancy-birth-post-partum experiences as they happened. Hilarious, insightful, heartfelt and zinging with the ping of recognition for parents and anyone who's watched others go through this, Welcome To Your New Life is an important and wonderful new arrival.
---
Welcome to your New Life is on at the State Theatre Company South Australia until November 25.