Labor has unveiled a $3 billion child care policy, proposing to lift the annual cap on the Child Care Rebate from $7,500 to $10,000 per child and increase the Child Care Benefit by 15% starting January 1, 2017.
Many economists see child care policy as an important part of boosting economic growth due to the effect it has on female workforce participation. Daily rates for child care can be up to $170 a day per child.
The Coalition is not expected to implement its own roughly $3 billion child care package until 2018 at the earliest.
What has Labor proposed?
In a media release issued on June 5, the ALP said that under its plan:
Low and middle income families will benefit from an increase to the Child Care Benefit of 15%.
Every one of the 813,000 families that rely on the Child Care Benefit will be better off – an increase up to $31 per child per week, or up to $1,627 per year, will provide much needed relief for the family budget.
The annual cap on the Child Care Rebate will be increased from $7,500 to $10,000 per child, leaving families up to $2,500 per child per year better off.
107,800 families who would otherwise reach the Child Care Rebate cap this financial year won't have to choose between paying double fees, or dropping out of the workforce.
Labor said that child care fees have increased by over 20% over the last three years, and out-of-pocket costs have gone up.
Labor said its plan would include:
New transparency and accountability standards, and extra powers to investigate price gouging.
An additional $50 million for the family day care system.
Better services for Indigenous children and children in remote areas; increasing support for children in Budget-Based Funded Program services by 15%.
$150 million for development of the early education workforce.
Cutting the Baby Bonus payment, $1.2 billion over the next ten years.
In its media release, the ALP referenced independent research I conducted (commissioned by Early Childhood Australia) showing that the Coalition's policy would leave one in three families worse off.
How is this different to what Coalition proposes?
The Labor policy is largely an increase in the subsidies provided in the existing child care policy. The Coalition's policy is a redesigned policy, with a single payment replacing the existing Child Care Rebate and Child Care Benefit payments.
The two policies are roughly the same in terms of funding over the forward estimates, but there are some important differences in their design.
The Coalition policy has a subsidy that is income-dependent (as is the existing Child Care Benefit payment). It starts at 85% for low-income families and eventually lowers to just 20% for very high-income families ($340,000). The government estimates its new policy to be around 15% more generous than the existing policy.
Labor's proposed 15% increase in Child Care Benefit and 33% increase in Child Care Rebate cap will, for most low- and middle-income families, roughly match the Coalition subsidy.
The new Coalition policy also has a cap on the prices that the subsidy rate can apply, with formal child care subsidy prices applying to only the first $11.55 per hour for long day care. The Coalition also proposes a cap per child of $10,000 for incomes above $185,000 and a tougher work test than the existing policy (or Labor's proposed policy).
The existing (and new Labor policy) is arguably more complicated than the Coalition policy, although both remain complicated enough that few parents will understand either.
Both policies are more generous for most families than existing policy. The Labor policy is likely to be at least as generous for most families as Coalition policy.
The Coalition policy will be less generous for very high-income families compared to the new Labor policy.
We estimate that the Coalition activity test (meaning the number of work or study hours required before child care subsidies are made available) could leave up to 149,000 families worse off compared to the government's own estimate of just 37,000.
The ANU modelling is based on ABS survey data, which the government claims overstates the activity test impacts. The government modelling is based on administration data. This has limited information on the hours worked of parents, which makes modelling the activity test difficult.
How will this affect child care prices and work patterns?
The risk is that child care providers will eventually increase prices to match the extra spending power of parents who are receiving more subsidy money from the government.
The price cap of the Coalition policy may assist in removing some inflation from inner-city areas and higher-income suburbs. The uncapped total subsidy of the Coalition policy for most families may work against that aim.
The end game for policy here is female workforce participation. Both policies will, in the short run, improve affordability. With the existing rebate capped at $7,500 per year per child, child care is financially possible for most families up to three days but is marginal beyond that. Both proposed policies from the Coalition and Labor are likely to change that equation, at least in the short term, to closer to four days.
A history of rising child care costs
The major problem with child care in Australia over the past 15 years has been the exceptional growth in fees. Since 2000, fee increases averaged around 10% per year, or about 7.5% in real terms.
Thanks to large increases in subsidies last decade, the cost to parents has increased at a similar rate to the general price level and at less than income growth.
There have been no real increase in subsidies since 2008 and actual prices have continued to increase in real terms at around 6% per year. So there is again great pressure on government to increase subsidies. With demand for child care services growing strongly and very strong price increases across the sector, child care subsidy spending is one of the fastest-growing expenditure items in the federal budget.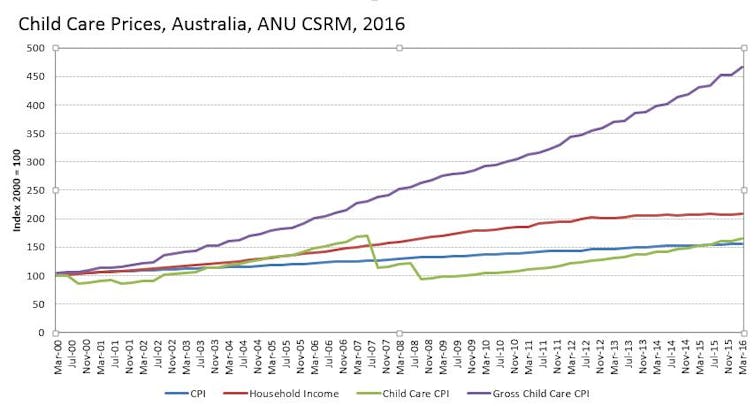 What are the potential pitfalls?
For most parents using formal child care, both policies of the major parties are not substantially different in terms of the out-of-pocket costs.
A problem for both policies is the issue of increasing subsidies leading to ever-higher prices. The Coalition policy is less generous to the very highest income earners, which could be an issue for the ALP pushing a "fairness" agenda. However, this negative may be offset by the Coalition policy's tough activity test, which may result in some children no longer attending formal child care (and potentially missing out on some of the benefits of formal early childhood education).
Either way, most families with children in child care will receive generous fee relief, at least in the short term. No family is worse off under the Labor policy, whereas some families are worse off under the Coalition policy.
Both policies would be expected to encourage some women to lift their hours worked, but both policies in the longer term continue to put upward pressure on child care fees.