I believe that in a couple of years, their largest owner Etihad will sell Air Berlin to Lufthansa.
So said Ryanair CEO Michael O'Leary in May 2016.
As it turned out, 15 months later, Germany's second-largest airline, Air Berlin, filed for insolvency on August 15 after Etihad withdrew its financial backing. Lufthansa, Germany's main carrier, is now first in line to take parts of the business.
It is the second major European airline to fail in just over three months, following Italian airline Alitalia seeking "special administration" on May 2 (for the second time in a decade). Yet the global airline industry is set to record profits of US$31.4 billion this year (US$7.4 billion for European carriers), the third straight year of profitability.
There are both market forces and national politics at play here. These airlines are in trouble due to economic failure, but their future is very much in the hands of political power.
Humble beginnings
Air Berlin's roots can be traced back to what was then West Berlin in 1978, when it had two B707 aircraft that operated charter flights. Then, following German reunification in 1990, it adopted the low-cost carrier model and embarked upon a largely growth-by-acquisition strategy. This included significant stakes or mergers with Austrian airline Niki, German carriers dba, LTU and TUIfly and Swiss airline Belair.
With this expansion came financial struggles and debt. Despite attempts to restructure, Air Berlin signed a much-needed deal with Etihad Airways in 2011, with the Abu Dhabi-based airline taking a 29.2% stake in the German group.
But the going's been tough. The arrival of Ryanair and EasyJet into the German market, combined with the ongoing integration challenges of its various components, plagued the Air Berlin Group's financial performance. Record losses of €782m were reported in 2016 and is has a net debt of some €1.2 billion.
This is despite the fact that it operates in the world's third largest market for outbound tourists.
Middle Eastern promise
The double-digit growth over the past decade of the Middle East's so-called super-connectors (Emirates, Qatar and Etihad Airways) requires short-haul airlines to feed passengers into these long-haul services. To guarantee such delivery, Etihad adopted an acquisition strategy. It invested in seven struggling airlines, including Air Berlin, Alitalia, India's Jet Airways and Air Serbia.
But these super-connectors are beginning to face their own turbulence: rising regulatory pressures, policies like President Trump's "America First" initiative and the arrival of long-haul, low-fare carriers such as Norwegian Air and AirAsia X.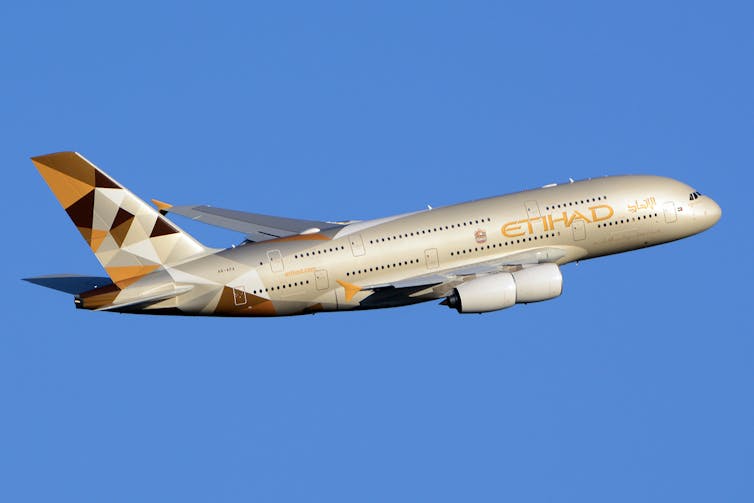 In the wake of a 75% fall in profits for 2016-17, Emirates deferred orders for 12 Airbus A380s. Similarly, Etihad reported a net loss of US$1.87 billion for 2016 and announced a "company-wide strategic review [to] improve cost efficiency, productivity and revenue".
Boom or bust
From record losses of US$26.1 billion in 2008, the last three years have been good ones for the airline sector – particularly in an industry where mere company survival is considered success. 2017 is expected to see the world's airlines report their third consecutive year of record financial returns.
The head of the International Air Transport Association (IATA) has gone so far to describe this as "defining a new epoch in industry profitability". Net profit per passenger figures are estimated to be US$7.69 in 2017. They were US$9.13 in 2016, and US$10.08 in 2015.
Regionally, however, there are significant differences. European airlines, for example, average net profit per passenger figures that are four times that of their Middle Eastern counterparts. Substantial gaps also appear on an individual airline basis. Despite having reasonably similar revenues in 2016 (€6.65 billion vs €7.1 billion), Ryanair returned record profits of €1.32 billion, while Etihad lost almost the same amount.
In welcoming the record financial performance of the industry, the aforementioned IATA director general struck a somewhat ominous note when he warned that: "Governments, however, do not make aviation's work easy."
Aero-politics
We can identify two common denominators in the failure of Air Berlin and Alitalia. The first are the decisions by Etihad (whose sole shareholder is the government of Abu Dhabi) to withdraw funding, having invested another €250m in Air Berlin as recently as April and injected some €1.7 billion in Alitalia over several years to purchase and protect its 49% stake. These decisions stemmed from the interrelated economic woes faced by Etihad and the long-term, systemic failings of the two carriers.
The second is the respective responses of the two national governments involved. Germany provided €150m of short-term guarantees to Air Berlin; Italy provided €600m. These funds – the governments argued – were necessary to keep the airlines operating while alternative arrangements could be put in place.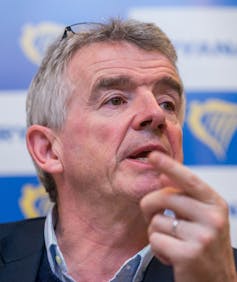 Not everyone agrees, however. Some – including Ryanair boss O'Leary – claim that these state guarantees breach EU competition law and in the case of Air Berlin amount to a "conspiracy" so that Lufthansa can cherry-pick the airline's assets.
Still others speculate that such actions may be more attributable to national pride and the need to have strong flag carriers. Let's not forget, too, the huge number of jobs that both airlines provide domestically and the fact that it is an election year in Germany. Given the sustained nature of their dismal financial performances, the continued existence of Air Berlin and Alitalia seems to point to politics winning out, at least for now.