Announcements by international retailers rushing to enter Australia belie the claims of some large Australian retailers that market conditions are tough and shoppers are leaving bricks and mortar stores for online retail.
It is poor strategic planning by traditional Australian retailers that has created these opportunities for new overseas entrants. They have failed to see that changing conditions require a focused approach to appealing to certain segments of the market. Instead they continue to try to please everyone.
While new retailers like Topshop, H&M, Zara and Uniqlo are entering the Australian market for the first time, established retailers like David Jones, Harvey Norman and Myer are struggling to remain viable.
And pockets of retail space are experiencing long vacancies, unable to find new tenants who are willing to take the risk of operating in a fast changing and unpredictable future.
A recent survey by the accounting firm BDO revealed that Australian retailers are growing revenue slower than their international peers.
The study of 19 Australian sharemarket-listed retailers found that sales growth was 4.24% for the year ending 2013. This compared to 5.57% for the international comparison group.
However, Australian retailers enjoyed higher gross margins of 43.8% compared to only 35.8% for the international group. Could it be that the international retailers are spending more on how they market to their key market segments?
The BDO survey also found that Australian retailers were far behind their retail peers in grasping the emerging online opportunities. Hence local retailers were also facing increased competition from overseas retailers which had more attractive online offers.
Not your 20th century consumers
Shopping habits are also changing. Consumers may be increasingly buying online and looking at value for money, but they are still willing to pay high prices for products and services that fill certain experiences.
People mix where they shop to satisfy these various experience needs, including possession expediency, social and psychological needs.
Can we make sense of the many changes that are taking place in the Australian retail space? While there's been an increase in online shopping, which has led to a reduction in the demand for certain traditional retailers, there is still a high and growing interest in specialist retail spaces like the Apple store "experience".
There's a broader global shopping mindset, which has led to more competition between retailers. Shoppers can search and access products at whatever time to suit their lifestyles. But this internationalisation has also led to networks that give retailers access to more favourable, cost-effective and reliable products and product components.
Finally, product life cycles are shorter, stimulated by more rapidly changing consumer needs.
Good for shoppers, not so good for shareholders
These changes are disrupting traditional retailers – like Myers and David Jones – that have the responsibility to provide consistent returns to shareholders.
Imagine for a moment the traditional retail approach. It involves a large physical space near a big population, filled with a large range of products (or services). The shop is open regular business hours and is staffed with people who are equipped to provide minimal service sufficient to expedite the sale of available floor stock.
Then there are the problems: it is costly and highly inefficient, holding stock just waiting for those who may wander in to purchase products during opening hours. It does not offer the high levels of service and product information that modern shoppers demand. And it cannot offer the depth of product range and information that discerning consumers require.
To be successful in today's market, traditional retailers need to do far more strategic planning, including properly positioning themselves to suit the market segment they will target.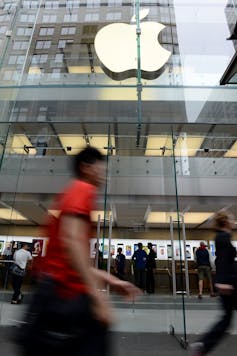 Myer, David Jones and many other traditional Australian retailers are still operating under the old expectation that they can be all things to all people, waiting and hoping for more customers to patronise their inadequate offerings.
But consider the more successful retailers – Zara, H&M, Carla Zampatti, and Apple, for instance – that are far more advanced in their strategic positioning.
A comparison: Myer and Zara
Myer makes no apparent attempt to divide the market along the lines of demographics, psychographics or product use, while Zara segments the market along demographic and lifestyle lines.
Zara then brands itself to focus on being a "leading edge" young fashion retailer offering value for money. Myer's "My Store" branding is not as clear. Neither is its advertising targeted toward any specific market, just a general one. Zara specifically targets 20 – 35 year olds in the value end of the fashion market.
And Myer positions itself as a department store with a wide product range, but with low levels of customer service, it uses discounting and sales events as a way to entice customers. Instead, Zara is focused on a seasonal fashion product range combined with appealing merchandising displays and moderate service levels.
Success is possible
It is increasingly becoming more difficult to be all things to all people as consumers are becoming more demanding about what and how they purchase. Competition has become global and highly effective in building loyal customer bases.
This is what branding and positioning needs to focus on. Successful international retailers coming to Australia know this – knowing exactly what their customers wants and when, and then targeting them, and then targeting them with attractive offers they find hard to resist.
---
This is the third piece in our series on Tony Abbott's open for business promise across major sectors including foreign investment, infrastructure, manufacturing and retail.
Read the other pieces below:
Open for foreign investment … conditions apply
Poor strategy has left Australian retailers open to overseas entrants