"Bien joué" – or "well played" – was sprawled across a picture of Emmanuel Macron on the cover of the newspaper Libération the day after he won the French presidential election.
And more congratulations are in order after the first round of the legislative elections. Today's Libération cover shows Macron resting his chin on what looks like his fist – with the letters OPA, the French acronym for "corporate takeover" sprawled across the picture.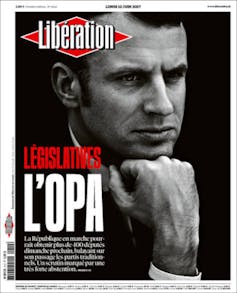 Since Macron founded his party, En Marche!, in April 2016, he has wiped out the French political establishment and captured the imagination of a large segment of the voting public despite a historic abstention rate of 51 percent in the legislative elections.
So what is the basis of Macron's political allure?
A presidency of the future
At the end of round one of the legislative elections, Macron and his party are on pace to win more than 400 seats out of 577 in the French Parliament. This number of seats is likely to hold, or even increase, in the June 18 second round that French election law mandates in electoral districts where no candidate received more than 50 percent of the vote.
The populist National Front came in third place – and they will get three to five seats, which is well below what party leader Marine Le Pen had hoped for, but more than the two seats that the National Front currently occupies. Le Pen herself seems on track to win a seat in the northern city of Henin-Beaumont during the second round. The National Front's momentum has slowed, but it is far from gone, and Marine Le Pen is not abdicating her role as a political figure any time soon.
The far left party La France Insoumise, or "France Unbowed," led by Jean-Luc Mélenchon, came in fourth place, and the French Socialists dropped to fifth. The Socialists, the party of the last president, Francois Hollande, imploded during this election cycle and may end up with as few as 15 seats. The center right Republicains are the only former establishment party that is still a plausible political force. They came in second and trailed Macron's party by 15 percentage points.
Macron the magician
Macron has star power in spades. His good looks, his natural theatricality and his speaking style project a kind of magical charisma that attracted a large following.
Yet, Macron was an improbable presidential candidate given his youth – only 39 years old – and his rejection of the Socialist Party, where he had served as a minister in Hollande's government. In addition he is a pro-EU former Rothschild banker in a country where the much of the population across the political spectrum has an overt disdain for both capitalism and globalization. Extreme candidates on the left and right assailed Macron. The political establishment was cool toward him. He seemed destined for a dramatic loss. Yet, Macron came in first in the first round of the presidential election, followed by the extreme right Marine Le Pen and then the establishment candidates. And he went on to trounce Marine Le Pen in the second round with 66 percent of the vote.
After his presidential victory, the public question became: Could Macron actually govern, given that he did not have an established political party behind him? After all, this is a man whose campaign book was entitled "Revolution: Our Fight for France," which begs the question of who and what is he fighting. This is the man who walked across the Place du Louvre to Beethoven's "Ode to Joy" on election night and promised, among other things, to "serve France with love." But this is a man who also demonstrates a kind of focused toughness. His widely praised decision to form an inclusionary Cabinet, with half of the seats filled by women, was just as likely political as ideological. He deploys what commentator Arthur Goldhammer has labeled a "divide and conquer" approach to governing which allows him to invite center right hardliners into the government.
Macron wasted no time in getting to work on reforming the notoriously rigid French labor laws. Commentators should make note that his party name and slogan "En Marche" – widely translated as "marching" or "on the move" – also, when an accent is added, means "market." The 3,000-page French labor code has contributed to the formation of a labor market that often compromises France's capacity to compete in global markets. For example, existing laws make it impossible for employees to hire and fire as the economic situation demands – laws that can be popular among workers. A legislative majority will help Macron advance this reform effort.
In the international arena, Macron was more than ready to assert his will to U.S. President Donald Trump at the recent G-7 meetings. Macron grabbed Trump's arm and gave him an excessively firm handshake. As he recounted after the fact, "My handshake with him – it wasn't innocent." Macron also said: "It's not the be-all and the end-all of a policy, but it was a moment of truth."
That moment of truth – or strength – may be a metaphor for how Macron will govern.
In his campaign book, in the chapter entitled "What I am," Macron recounts an awakening he had in his undergraduate years: "During these years, I forged the conviction that animated me, that it was not simply to study, to read, to understand. But it was a question to try to concretely change things."
So how will Macron govern? With a non-innocent handshake, no doubt. And with a parliamentary majority behind him, Macron has the necessary tools to meticulously and forcefully push his agenda forward. French citizens should be overjoyed and cautious, and no one should underestimate Emmanuel Macron.