The NSW government has confirmed it will sell 51% of WestConnex — the nation's biggest road infrastructure project — to a consortium led by Transurban, the nation's biggest toll road corporation.
NSW treasurer Dominic Perrottet described the A$9.3 billion sale to one of his party's more generous donors as a "very strong result".
I would describe it differently: the biggest misuse of public funds for corporate gain in Australia's history.
Let's examine how much public funding has been or will be sunk into WestConnex, a 33km toll road linking western Sydney with southwestern Sydney via the inner west.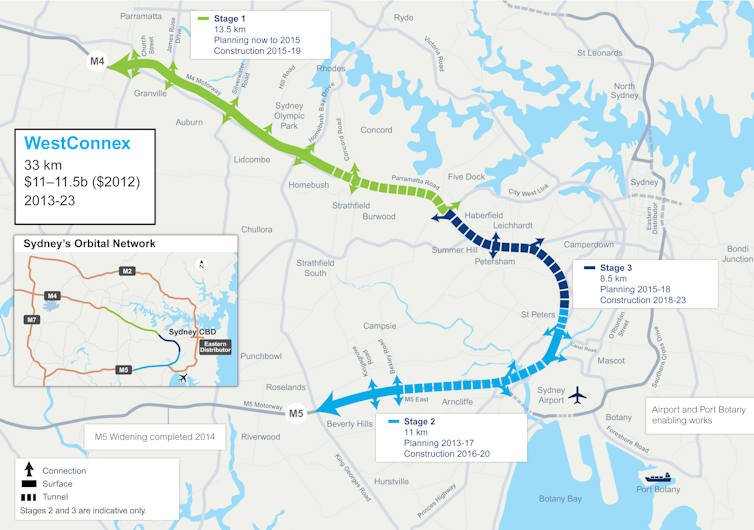 To date, the NSW and federal governments have provided grants of about $6 billion. Much of this was raised through selling revenue-generating public assets, including NSW's electricity network.
Hiding privatisation by stealth
As well, the NSW government is bundling three publicly owned motorways into the sale: the M4 (between Parramatta and Homebush), the M5 East and the M5 Southwest (from 2026). Together, Credit Suisse values these public assets at A$9.2 billion. The government is privatising them by stealth. Leaked NSW cabinet documents suggest the Sydney Harbour Bridge will be next.
Then there is the A$1.5 billion bill for property acquisitions and the millions spent on planning, advertising, consultants, lawyers and bankers.
The government is funding extra road works to help prop up WestConnex toll revenue. It will increase the capacity of road corridors feeding into the interchanges. But it will reduce the number of traffic lanes on roads competing with WestConnex, such as Parramatta Road.
---
Read more: Modelling for major road projects is at odds with driver behaviour
---
It will also pick up the bill for building a A$2.6 billion airport connection and the complex underground interchange at Rozelle. It will even pay compensation if the latter is not completed on schedule.
To further bolster toll revenue, NSW premier Gladys Berejiklian introduced a vehicle registration cashback scheme for toll-road users.
Her government has also committed to continuing the M5 Southwest toll cashback scheme. The cost of these incentives to the public purse is likely to exceed A$2 billion every ten years.
In total, I estimate the NSW government is pumping more than A$23 billion worth of cash, public assets, enabling works and incentives into WestConnex — though efforts to shield the scheme from public scrutiny mean the figure could be much higher.
Finally, as part of the deal with Transurban, the government has agreed to plough A$5.3 billion of the sale proceeds back into WestConnex. It's recouping just A$4 billion by selling majority ownership.
This translates to a financial return of 34 cents for every dollar spent.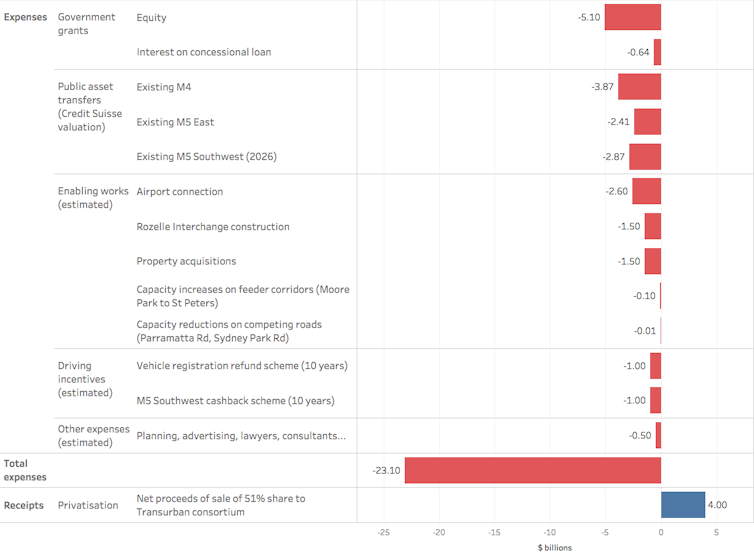 Of course, governments don't always spend our money with the intention of making a profit. Usually there are broader social benefits that justify the expenditure. However, past experience shows inner-city motorways do more harm than good — which is why many cities around the world are demolishing them.
Given its proximity to residential areas, WestConnex will have serious impacts on Sydney's population. Construction is already destroying communities, harming people's health and disrupting sleep and travel — with years more to come.
Motorists who cannot afford the new tolls on the M4 ($2,300 a year) and M5 East ($3,100 a year) will have to switch to congested suburban roads. This will mean longer journey times — especially with the removal of traffic lanes on Parramatta Road.

Those who do opt to pay the new tolls may enjoy faster journeys for a few years — until the motorways fill up again.
Costs outweigh the benefits
But this benefit will be largely cancelled out by the tolls they have to pay — with low-income households in western Sydney bearing much of the pain. As such, the ultimate beneficiary will be a corporation that pays no company tax and employs very few people.
Traffic and congestion on roads around the interchanges will increase significantly. Moreover, with tolls for trucks three times those for cars, we can expect to see them switching to suburban and residential streets — especially between peak hours and at night.
The extra traffic created by WestConnex will lead to more road trauma, traffic noise and air pollution across the Sydney metropolitan area. With unfiltered smokestacks being built next to homes and schools, more people may be at risk of heart disease, lung disease and cancer in years to come.
---
Read more: Big road projects don't really save time or boost productivity
---
On any measure, the WestConnex sale is not in the public interest. The billions of dollars ploughed into the scheme would have been better spent on worthwhile infrastructure or services that improve people's lives.
Is the WestConnex acquisition a good deal for Transurban? A$9.3 billion may sound like a high price, given the past financial collapses of other Australian toll roads.
However, with the Berejiklian government agreeing to fund most of the remaining construction, giving away the M4 and M5, guaranteeing annual toll increases of at least 4%, and bending over backwards to force motorists under the toll gantries, it can only be described as a "very strong result" for the consortium, though not for taxpayers.