South Africa celebrates Women's Day on August 9th to mark the day in 1956 when 20 000 women marched to the Union Buildings in Pretoria to insist on their rights.
Women's Day provides an opportune moment to reflect on what it would mean for South Africa to be governed by a woman president after the 2019 elections. Three women from the governing African National Congress are running as candidates - Nkosazana Dlamini-Zuma, Baleka Mbete and Lindiwe Sisulu. Because voters vote for a party, the President is elected by the members of parliament. The ANC holds the majority vote, which means that the president will most likely be an ANC candidate.
All three women are ANC stalwarts who can be considered as part of the exile generation. They were all active in the liberation struggle, and all have contributed to the country since the first democratic elections in 1994.
The question is: will having a woman as president lead to more of the same in terms of the trajectory the ANC has been on since 2007 when Jacob Zuma was elected as President?
And, will a woman at the helm bring a set of feminist values to the table? Women leaders who believe in substantive representation, more than merely numbers in government, will bring a commitment to changing conditions of gender inequality to the position. They are normally influenced by feminist values. Former British Prime Minister Maggie Thatcher, for example, did not care about women's equality at all, while Michelle Bachelet implemented far reaching gender policies in Chile.
A woman at the helm
If South Africans get a woman who will govern in the same way as a man they would have gained nothing but a switch in gender. But because the three candidates also participated in the liberation struggle, they know how difficult it is for women to advance in political parties and how gender equality needs to be taken off the back burner.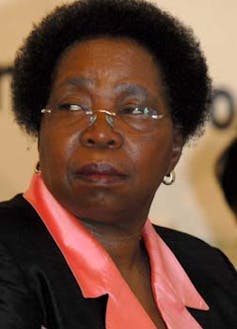 Dlamini-Zuma, Sisulu and Mbete are more or less the same age and have long track records as political leaders. In many respects they have similar or better track records than some of the ANC's male leaders. All three are well educated.
Dlamini-Zuma holds a medical degree from the University of Bristol. She has held three ministerial positions – health, foreign affairs and home affairs. She was also chair of the African Union from 2012 to 2017.
It's both unfair and sexist to talk about Dlamini-Zuma solely in terms of the fact that she is President Jacob Zuma's ex-wife as though she has no other credentials.
As Minister of Health she spearheaded policies that made health care free for poor women and children under the age of six.
During her period at the AU she championed gender equality and a gender vision for 2063.
Baleka Mbete, holds a diploma in teaching and is the national chairperson of the ANC and the speaker of the National Assembly. She was the Secretary-General of the ANC Women's League from 1991-1993 and a member of the presidential panel of the country's Truth and Reconciliation Commission. She has not held a ministerial post.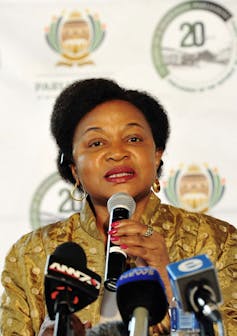 Staining her record was her connection with a scandal involving the misuse of parliamentary air tickets, as well as fraudulently obtaining her driver's licence.
Lindiwe Sisulu is the daughter of ANC icons Walter and Albertina Sisulu which is why she's often referred to as "ANC royalty". She has a BA Honours degree in history and political studies and is studying for a PhD.
Of the three candidates she has the most experience in the executive. She has held six ministerial portfolios, including defence and intelligence.
What makes her an excellent candidate is the fact that she is not involved in any faction and has a good record of good governance. She will also be able to deal with the rot in the intelligence sector since she worked as an intelligence officer under Zuma when he was head of ANC intelligence when the organisation was banned.
But what is their relationship with the organised women's sector?
The candidates and women
Mbete was the Secretary-General of the ANC Women's League at a time before it became a tea club for male leaders. She was also the chair of the women's caucus in parliament. She understands feminism and was considered a militant member of the women's league when it returned from exile. At the time she insisted that women should be mobilised to fight for their rights.
But her years as the speaker of parliament have marred her track record. When members of the opposition Economic Freedom Fighters (EFF) – which included women – were forcibly removed by security guards during Zuma's State of the Nation Address she stood by as they were manhandled and assaulted.
For its part, the women's caucus never really took off.
Dlamini-Zuma was a member of the Gender Action Group during the Convention for a Democratic South Africa. But in the first parliament she didn't stand out as a vocal supporter of feminism in the same way as many other women MPs. These included Pregs Govender and Frene Ginwala.
The case for a woman president
I believe that South Africans should support a woman for president. The fact that they're being scrutinised more closely than male candidates points to the patriarchal assumption that woman cannot possibly be well qualified as political leaders.
South Africa has lost many opportunities to appoint a woman president. Take Phumzile Mlambo-Ncguka, who served as deputy president under Thabo Mbeki. She went on to become the executive director of UN Women where she is doing a sterling job.
What the ANC needs is a candidate who will unite its factions and start to root out corruption. It should be a candidate with a good track record of clean and committed governance and one who is committed to promote a women's equality agenda.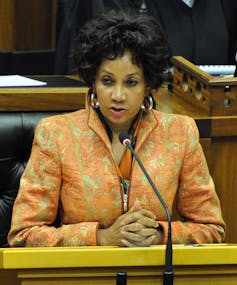 The fact that Dlamini-Zuma has hedged her bets with the Zuma camp has made her a member of a faction. She's supported by the ANC Women's League and the ANC Youth League. But the credibility of both organisations is severely damaged. This may not, however, be the perception of many hardcore ANC supporters and may win her large numbers of votes at the ANC conference due to be held in December.
Support for Dlamini-Zuma could have far reaching consequences. If she's viewed as representing an extension of Zuma's patronage networks, her election as his successor could lead to a split in the party, weakening it severely in next year's general election.
The right woman therefore needs to be supported.
During her term as speaker Mbete used strong arm tactics against opposition parties. Her decisions may have left many voters with a bad taste in their mouth. She is also viewed as a Zuma ally.
That leaves Sisulu, who may be a dark horse. But is she a darker horse than Cyril Ramaphosa, another contender for the presidency?
What is unfortunate is that so far none of the three women have made gender equality the focus of their campaigns.