"I'm no criminal. I had no choice," Bruce said. "I felt the only way I could get the government to see the injustice that is taking place was by taking action. All I wanted was to protect my home."
Bruce is one of three protesters brought before a Mudgee court on May 17 for a preliminary hearing. On April 12, he was arrested after peacefully objecting the proposed expansion of the Wilpinjong mine by blocking the entry to the mine and stopping shift workers from entering and leaving the area.
The Wollar Three, as they have become known, are the first to be charged under New South Wales' anti-protest laws, which were introduced in March 2016. They pleaded not guilty.
If convicted, the Wollar Three face significant penalties including heavy fines and up to seven years' imprisonment. The laws they were charged under have been described as draconian and an attack on democracy and civil society.
An existential threat to a community
Bruce is one of the very few remaining residents of Wollar, a small rural community in the Mid Western Region, NSW. Wollar is located in the western coal fields and surrounded by three multinational open-cut coal mines - Peabody's Wilpinjong Mine, Yancoal's Moolarben and Glencore's Ulan Coal Mines.
While coal extraction has a long history in the region, the recent intensification of mining has challenged the previous co-existence of mining and local communities in the region. Wollar is the latest rural village to fall victim to coal mining.
Most central to Wollar's demise is Peabody's Wilpinjong mine, which is the mine closest to the village. Peabody today owns the vast majority of land in and around Wollar, and more than 90% of the pre-Wilpinjong population has been resettled.
Last month, the Planning Assessment Commission approved a further expansion of the mine. This will bring the boundary of the mine to within 1.5 kilometres of the village.
As the mine has encroached on Wollar, the community has dispersed – and fewer than 30 residents today remain in the area. This forced migration has been accompanied by the withdrawal of services and social support that had made village life viable. Remaining Wollar residents are increasingly vulnerable and unable to sell their properties for a fair price on the open market.
During the recent commission hearing, the remaining residents requested that all the properties within the area be afforded acquisition rights. Such rights would have provided the opportunity to negotiate with the proponent, with a view to selling their properties to the mine and gaining autonomy over their future.
The commission's determination report found the expansion:
… has the potential to further exacerbate the existing decline of Wollar.
However, the commission concluded that no other properties but those within the zone of affliction, limited to the village, are exposed to impacts that would justify granting acquisition rights.
This assessment is based on a reading of impacts that emphasises spatial proximity and technical measures of environmental (noise and dust) modelling. It fails to acknowledge the role played by the proponent and the government in reducing the wellbeing and livelihood of those left without compensation.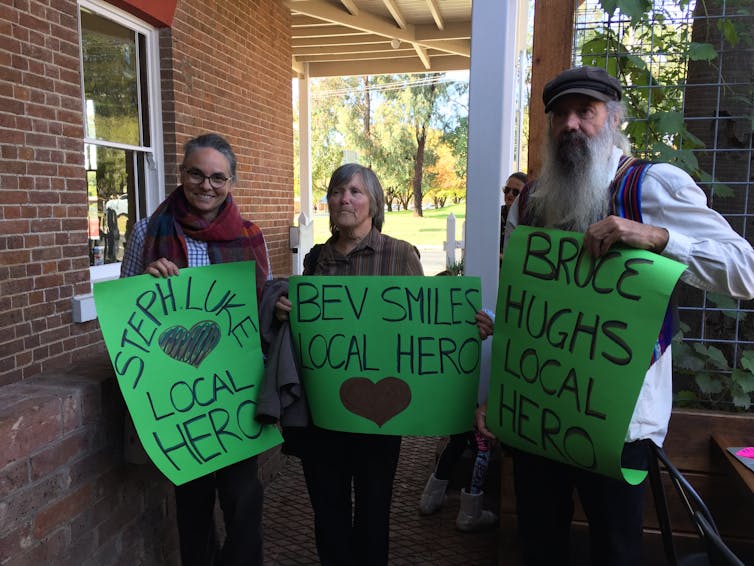 Invisible displacement violates international standards
The existing project and the coming mine expansion represent a slow onset disaster that has significantly reduced local residents' wellbeing. The remaining residents have become displaced in place, with their future opportunities for mobility and life significantly reduced.
The resettlement of the former residents of Wollar has happened slowly and without any proper planning. This breaks with the primary underlying assumption of international safeguard standards, which state that risks associated with displacement and resettlement should be predicted and mitigated.
The World Bank's Performance Standard 5 relates to project-related land acquisition and involuntary resettlement. It refers to resettlement as both physical displacement (relocation or loss of shelter) and economic displacement (loss of assets or access to assets, which result in reduction in income sources and other livelihood means).
The standard aims to "minimise adverse social and economic impacts from land acquisition or restrictions on land use by":
(i) providing compensation for loss of assets at replacement costs; and

(ii) ensuring that resettlement activities are implemented with appropriate disclosure of information, consultation, and the informed participation of those affected.
However, this standard is not applicable to the case at hand. Nor can the Wollar Three or others facing this type of invisible displacement call on international human rights law for a just outcome.
Article 17 of the Universal Declaration of Human Rights offered some protection for property rights:
(1) Everyone has the right to own property alone as well as in association with others.

(2) No-one shall be arbitrarily deprived of his property.
However, property rights were not included in the binding human right treaties established on the foundation of the Universal Declaration of Human Rights. In any case, the Wollar Three have not lost their right to own property under the letter of human rights law.
The law does not capture a sense of loss while a person remains in place. Nor does international law create a cause of action that can be called on in Australian domestic courts.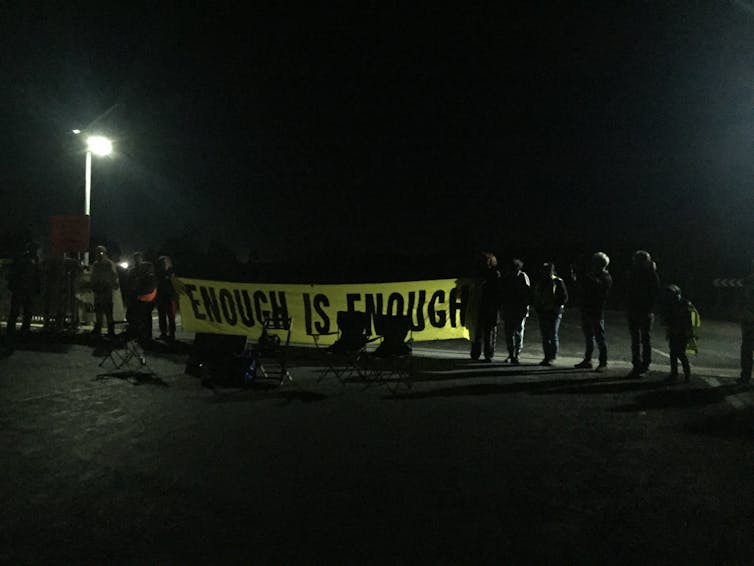 A sense of loss and injustice
Standing outside the Mudgee courthouse last week, Bruce explained:
My home is threatened and I've lived in that area for 30-odd years and I just had to stand up and say no, this should not be allowed to go ahead!
Bruce's actions come as a reaction to the sense of injustice that is marking the planning system in NSW.
A sense of lost place and displacement saturates the stories of those who live in the area, who speak of themselves as "victims of a silent war" and "casualties of extraction". They have become stranded, left with properties that no longer have any value, decreased income and increased costs.
In this context, they feel increasingly hopeless. It was this sense of powerlessness that led Bruce and the two other accused to take civil disobedience action in April. Feeling they no longer have any hope or future, they were willing to risk a prison sentence.