The footballing world awaits Brazilian footballer Neymar's move to France's Paris Saint Germain (PSG) for a world record fee of more than £198m – his FC Barcelona release clause demands as much. Such is the anticipated deal's magnitude, that it will more than double the size of the previous £89m record, paid by England's Manchester United for French player Paul Pogba in 2016.
Rumours have circulated for months that Neymar has been unhappy at Barcelona playing in the shadow of Lionel Messi. Some have speculated that Neymar has fallen out with several of his teammates. And with a new manager recently installed at the Spanish club and Neymar's close friend, fellow Brazilian Dani Alves, also now at PSG, the scene seems set for the move.
Whatever the on-field motives for Neymar's switch to Paris, the transfer is perhaps a more highly charged affair off it. PSG was purchased by Qatar Sports Investments (QSI) in 2011, with a view to establishing the club as a leading global sports brand. While domestic success has been secured, the absence of international achievement has hindered the club's commercial development.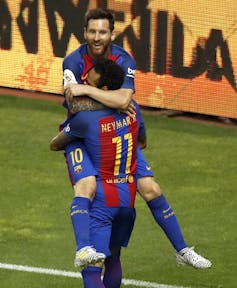 At one level, Neymar's acquisition could therefore be interpreted as a high-stakes gamble to deliver on QSI's vision. Yet over the last two seasons, PSG's record of player purchases has appeared at odds with this. The club has only signed two players of real note (Julian Draxler from Schalke and Angel Di Maria from Manchester United), neither of whom are of the same calibre as the likes of Neymar, Messi or Real Madrid's Cristiano Ronaldo.
The failure to make significant marquee signings is likely a reflection of the Qatari government's recent imposition of fiscal stringency measures, a result of low oil prices. This has even hit the country's 2022 World Cup budget which has seen heavy spending cuts and large job losses across the country. And it has led to discussions about Qatar creating a tax system (its citizens and businesses currently do not pay tax). In this context, the lavish purchase of Neymar is something of a surprise.
Political motives
As such, there is another more important, geopolitical, issue to consider. An alternative interpretation of PSG's Neymar signing is that he could unwittingly be about to become a Qatari poster-boy amid the country's serious conflict with its near neighbours. Over the last two months, Qatar has been embroiled in an unprecedented regional dispute with Saudi Arabia, the United Arab Emirates, Egypt and Bahrain, following various claims including that it is harbouring international terrorists and is interfering in the domestic affairs of its neighbours.
This has resulted in several countries cutting diplomatic ties with Doha, as well as trade routes into and out of the country being blocked. Indeed, the country's only land border, with Saudi Arabia, has been closed for some weeks.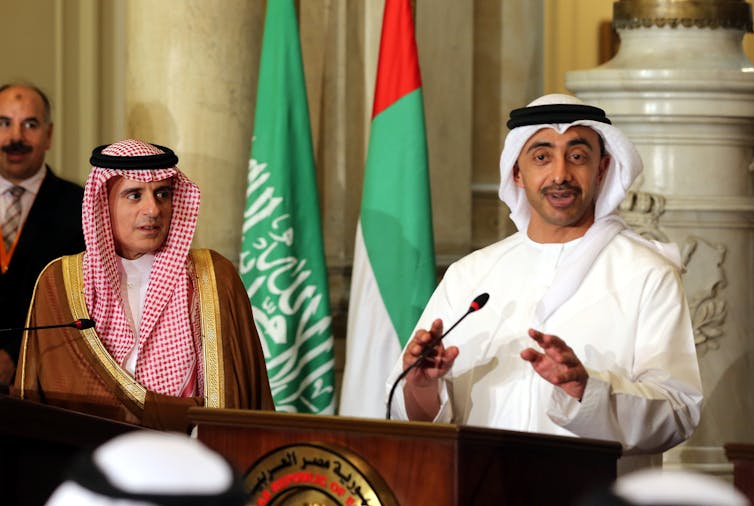 Qatar's response to these moves has been to adopt an assertive, even bullish, position that has seen it move closer to Iran and Turkey, while continuing to emphasise its economic strength. The country retains significant currency reserves, is seeking to boost its gas production to reduce its dependence on oil (which will see it become the world's biggest producer of liquefied natural gas), and has talked up its credentials as the richest country in the world per capita.
Making a statement
Neymar's PSG move, while beneficial to the French club, may therefore be motivated by the political statement it makes and the soft power influence it is likely to have. At a time when the likes of Saudi Arabia want the world to be talking about Qatar in negative terms, Doha has become a focus for the biggest story of the year in the world's favourite sport.
It may appear that Neymar has thus become a pawn in a regional political spat. Keep in mind though that his original move from Brazil to Barcelona was mired in controversy as he was aggressively courted by one club after another. This is a young man whose representatives understand how to capitalise on the vagaries of the environment in which football clubs operate.
Nonetheless, it is Qatar's desire to stand tall in front of its regional rivals that has shouted loudest in what is likely to become world football's biggest ever transfer. Indeed, though many bemoan that sport and politics should not mix, Neymar's transfer demonstrates that in the 21st century, sport is politics.
The Brazilian star will presumably be largely unconcerned about Saudi claims that Qatar supports the Muslim Brotherhood, al-Qaeda and Islamic State, and happily bank his big salary at the end of each month. Similarly, PSG and its fans will be pleased that the club's chances of winning the Champions League are just about to improve dramatically. Yet it is Qatar, as it sits at the centre of world football's glare, that is likely to be most satisfied by this impending, record-breaking piece of business.