As Queensland approaches its election day on Saturday, the social media campaign for votes continues alongside. But over the final two weeks, the focus of that campaign has gradually shifted.
Labor Premier Annastacia Palaszczuk's plan to veto a potential A$1 billion loan to the Adani mine project resulted in a considerable drop in Adani-related tweets directed at Queensland candidates, and that pattern has held through subsequent weeks. Labor has not entirely neutralised the Adani controversy, but the mine project is no longer the major talking point of the Twitter campaign.
By contrast, the most significant emerging theme of these past two weeks has been the role that Pauline Hanson's One Nation Party might play in the new parliament. We saw some of this in our previous analysis, in response to the LNP's decision to direct preferences to One Nation over Labor in a majority of Queensland seats. That particular discussion has now shifted to a much broader debate about the very real prospect that One Nation may hold the balance of power after the election.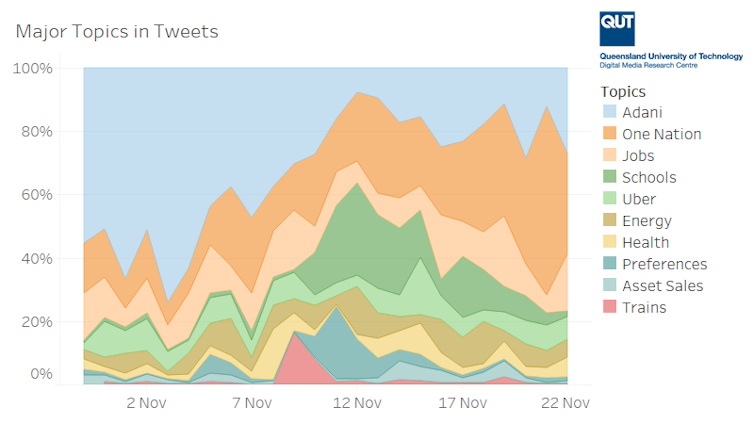 Our dataset captures the tweets posted by and directed at Queensland election candidates. Of those tweets, some 51% addressed the Adani mine or One Nation, but the emphasis has now swung considerably towards the latter. This was sparked in part by the Liberal National Party's (LNP) preference announcement, with preferences briefly becoming a distinct major topic in their own right.
Labor has been quick to exploit this arrangement, in well-shared posts from the central party account. However, recent controversial footage of its own MP Jo-Ann Miller hugging Pauline Hanson on the campaign trail might have blunted this message somewhat.
One Nation also featured heavily in another major topic of the second half of the campaign: schools. While Labor's pledge to establish several new schools received only moderate attention, Queensland One Nation leader Steve Dickson's bizarre comments about the Safe Schools anti-bullying programme was met with widespread condemnation. A tweet criticising Dickson's subsequent apology is now the second most retweeted post of the entire campaign:
Somewhat more surprisingly, the impact of Uber and similar ridesharing services on the Queensland taxi industry has also been a minor theme throughout the campaign. This was aided by some orchestrated activity by taxi drivers, and supported by Katter's Australian Party (KAP) candidate Robbie Katter, who has championed their cause in several campaign events. Meanwhile, transport also figured in the Premier's commitment to fixing the issues with troubled new Queensland Rail rolling stock in Maryborough, which generated a brief flurry of support as well as criticism.
These topical changes have affected the patterns of engagement with the candidates on Twitter. In total, Labor candidates still continue to be mentioned more frequently than their LNP counterparts. But over the past two weeks, this gap has closed slightly: as attention has shifted from Adani to One Nation, so have Twitter users moved to asking more questions of LNP and One Nation rather than Labor politicians. Retweets, however, continue to favour Labor by a considerable margin: its candidates have received more than four times as many retweets as all other party candidates put together.
A network of interactions around candidate accounts (combining both @mentions and retweets over the course of the entire campaign) demonstrates the state of play at this late stage of the election campaign. Labor commands the largest engagement network, at the centre of the graph. Discussions about Adani have been prominent, and form a distinct cluster of debate that is most closely interconnected with the Labor and Greens networks.
Meanwhile, LNP and One Nation candidates are mentioned frequently alongside one another. These tweets are often asking about their preference arrangements or their willingness to work together in the absence of an outright majority for either major party.
This association is so strong, in fact, that our visualisation algorithm treats both groups as part of the same discussion cluster. Slightly to the side of this sits the Uber debate, which therefore appears to be more closely associated with – and perhaps supported by – LNP candidates than their Labor counterparts.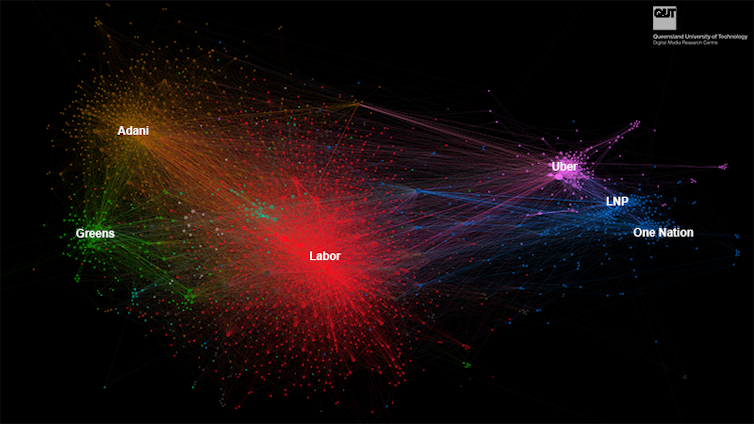 The picture that emerges here is one which points to the strengths and weaknesses of both sides of politics. For Labor, its troubled path to a firmer stance on the Adani mine may remain in environmentally conscious voters' minds even if the online discussion has died down somewhat.
For the LNP, the emerging view that its best path to government is through an arrangement with One Nation will similarly dent the electorate's enthusiasm for a change of government. That Labor commands by far the majority of retweets for its messages may give it hope, though – at least in urban electorates, where Twitter is likely to have its greatest footprint.